The blockbuster summer transfer.
It's one of the most bloated, soap-operatic, indulgent parts of professional football.
And yet, it's a sirens' call to a lot of supporters. You want to resist its nonsense, but it's hard not to be lured towards the mysterious waters of a rumour mill.
Even if a lot of the juiciest ones turn out be red herrings or ploys from a player to get a few more zeroes added to their current contract, every so often a big shark jumps pool and the ripples change the game.
Certainly Neymar's €222m move to PSG from Barcelona in 2017 had that kind of impact.
It led to Barca shelling out €160m for Philippe Coutinho, and Liverpool in turn making Virgil van Dijk the most expensive defender of all time when they paid Southampton €84m for the Dutchman's services.
They later forked out €75m for Roma's Alisson, a record fee for a keeper. Chelsea smashed that a couple of weeks later when they brought Kepa Arrizabalaga in from Athletic Bilbao for €80m, while the following year Manchester United eclipsed the Van Dijk fee after they stumped up €87m for Leicester centre-half Harry Maguire.
The hysteria around these transfers isn't a modern phenomenon either. In 1984, Napoli paid Barcelona €11m to lure volatile genius Diego Maradona to Italy, triggering scenes of adulation on a religious scale. Seventy-five thousand supporters wedged into San Paolo Stadium for the Argentinian's unveiling.
In England, it took a while for such mammoth fees to become a regular occurrence.
The record transfer fee was broken there in 1995 when Andy Cole left Newcastle United for Manchester United in a £7m deal.
A year and a half later, Alan Shearer's £15m switch to the Magpies from Blackburn Rovers blew that out of the water.
Right now Jadon Sancho's on-again off-again move to Manchester United is the most glamorous bit of tittle-tattle around. How will it end? Time will tell. But if Sancho does leave Borussia Dortmund before the extended window ends in October, it'll be done with all the usual fanfare these stunningly expensive deals bring.
Expect it to tick a few familiar boxes...
THE BOMBSHELL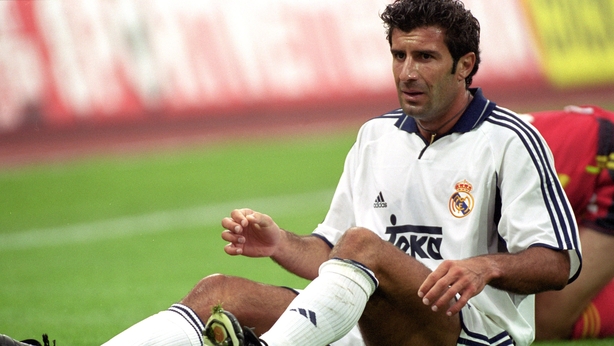 A rumour; a whisper; a leak from a well-placed source - the initial talk of a big switch usually comes from enigmatic manouevres in the background as the various parties of interest make their move.
In the summer of 2000 though, it was a public declaration of intent that seemed too outlandish to believe.
Talking himself up before the Real Madrid presidential elections, candidate Florentino Perez said that if he landed the role he would sign the jewel in the crown of arch-rivals Barcelona: Luis Figo.
Perez played the whole thing beautifully. He set up a deal through Figo's agent that lured the Portuguese star into agreeing to move to Real if Perez won the election. Figo's people did not believe it would happen, and Perez reportedly promised the payer a considerable sum (£1.7m) if he didn't get the presidency.
It looked like easy money. However, if Perez did win and Figo didn't move, he'd have to pay Perez a penalty fee of £22m.
Perez was voted in, Figo and his agent were left in an impossible situation, and he headed for the Bernabeu in what remains one of the most contentious transfers of all time.
In 1990, there was a famous fallout to rival it. On the eve of the World Cup, Juventus broke the world transfer record to sign Roberto Baggio from Fiorentina, the €10m deal leading to riots in Florence. Supporters took to the streets to vent their anger at losing Il Divin Codino (The Divine Ponytail), with around 50 people suffering injuries in the chaos.
They threw bricks, chains and petrol bombs, leading to club president Flavio Pontello locking himself inside the ground to take refuge from the mob.
On his return to Florence the next season with Juve, Baggio declined to take a penalty kick that his team had won when trailing 1-0.
They missed it anyway, and Baggio later picked up a Fiorentina scarf that had been tossed onto the pitch just after he was subbed in what was perceived to be a warm gesture towards his former club.
Two days later, a couple of hundred Juve fans came to the training ground to give Baggio a piece of their mind and remind him where his loyalties should lie.
You can't please them all.
THE SULK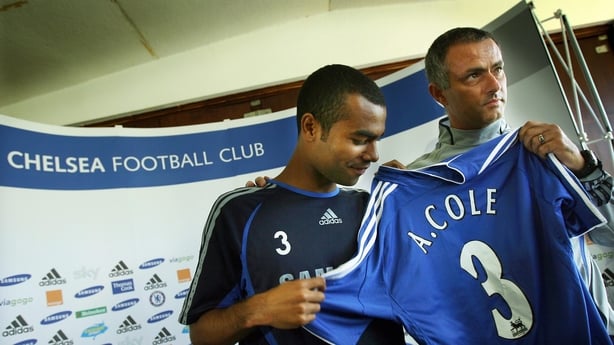 Players who don't get the big move they want have a tendency to throw some toys out of the pram. Van Dijk and before him Dejan Lovren both made life difficult for Southampton after Liverpool came calling.
The Merseysiders were on the other side of it when Luis Suarez wanted to go to Arsenal in 2013. Had the Gunners bid a bit more than the £40m and one pound they wrongly believed was enough to trigger his buyout clause, they would have gotten the Uruguayan.
Instead Suarez stayed put, stewed in the reserves for a while as punishment before re-emerging and almost leading Brendan Rodgers' men to the title.
Then there's Peter Odemwingie, the unwitting star of a marvellously bizarre deadline day saga.
The West Brom striker drove from Birmingham down to London to try and complete a move to QPR.
But the deal collapsed as QPR failed to get it over the line by the 11pm deadline. "(Afterwards) I said I'm going to play a song from Akon, Lonely, and drive home. I wish it all didn't happen, but that's life," said Odemwingie who had to return to the Baggies with his tail between his legs.
Still, nothing defines the absurdity of life as a top-level earner in the game better than Ashley Cole's infamous reaction to Arsenal's contract offer of £55,000-a-week in 2005 [he'd previously been on around £27,000 but wanted £60,000].
"I nearly swerved off the road," he writes in his autobiography. "'He [Arsenal vice-chairman David Dein] is taking the piss, Jonathan!' I yelled down the phone. I was so incensed. I was trembling with anger. I couldn't believe what I'd heard. I suppose it all started to fall apart for me from then on."
By the summer of 2006, he was a Chelsea player.
THE SLANGING MATCH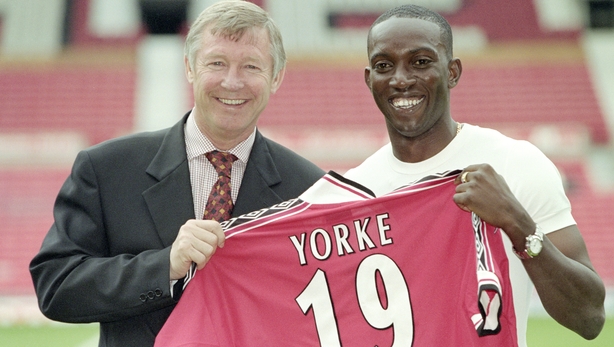 Things get testy when managers are trying to keep a hold of their prized assets.
In December 2008 when Real Madrid were circling around Cristiano Ronaldo, United boss Alex Ferguson came out swinging.
"Do you think I would enter into a contract with that mob?" he said. "Absolutely no chance. I would not sell them a virus. There is no agreement whatsoever between the clubs." Ronaldo was gone for £80m by the following June.
Back in 1998, Aston Villa's John Gregory didn't take the departure of Dwight Yorke to Old Trafford particularly well. "A couple of weeks ago Dwight openly stated to me that he wanted to play for Manchester United and not Aston Villa. That really hurt me, and if I had had a gun I would have shot him," he deadpanned after Ferguson got the attacker for £12.6m.
And Ferguson was involved in another heated affair in 1993 when he angered Blackburn Rovers manager Kenny Dalglish by swooping for Roy Keane very late in the day. The Corkman had told Dalglish he would go to Ewood Park from relegated Nottingham Forest but once United got in his ear, the midfielder had a change of heart.
"You've made a bad move," Dalglish growled at Keane.
Twenty-five years later, when reflecting on the transfer, Dalglish was able to laugh it off, telling Keane on Sky Sports: "The next time I saw you, you'd won about three [league titles] and a European Cup. I said, 'I told you you'd made a mistake'."
THE FANS' ABANDONMENT OF ALL RATIONALE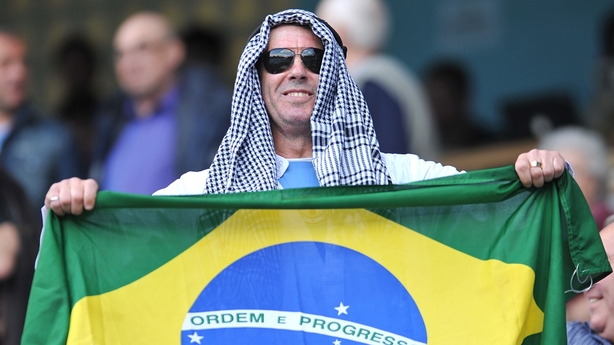 All bets are off once your team is linked to an exotic new signing.
The presence of cameras around the various grounds in the hours before the deadline day cut-off point has attracted nosy supporters keen to get involved in the excitement.
It's led to many an ashen-faced reporter stiffly soldiering through an update surrounded by a gurning crowd hellbent on going viral. Some outlets have actually stopped the practice now after things got a little too... colourful.
In this age of endless scrutiny, fanbases have developed an almost comical level of sophistication when it comes to staying in the loop.
In 2018, 32,000 Arsenal fans spent an an hour and a half watching a virtual screen tracking a private jet from Dortmund to London.
Why? The Flightradar24 Twitter account had claimed that striker Pierre Emerick Aubameyang was on board and heading to England to sign a deal.
The constant monitoring of footballers' social media activity is another favoured tactic.
Last October, eagle-eyed Liverpool supporters spotted that Kylian Mbappe liked an Instagram post from Mo Salah, who'd published a photo of himself with Jordan Henderson after a 2-1 win against Spurs.
It could only mean one thing, right? Well, wrong. Despite giving Salah a virtual love heart, Mbappe has yet to make a move to Merseyside.
THE LATE TWIST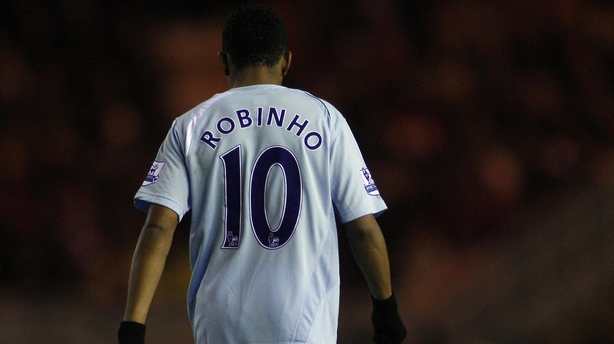 In recent years TV coverage of transfer deadline day has become this weird assault on the senses where we're told absolutely anything could happen but, often, nothing really does.
There's been exceptions in fairness. Manchester City upset the old order in 2008 when Sheikh Mansour took over the club and immediately started to spend his money on a scale the Premier League had never seen before.
They tried, and failed, to hijack Manchester United's move for Dimitar Berbatov but offset that very quickly by pulling off an outrageous deal to sign Robinho from Real Madrid. The Brazilian looked certain to link up with compatriot Felipe Scolari at Chelsea until the newly minted Citizens threw down a huge offer to get him north.
As revealed in a lengthy piece on Robinho in The Athletic, when faxing through their offer City put the paper in the wrong way and it came out the other side blank. "Try again," Real told them. They did, and they got him.
Robinho may not have taken off at City in the way they would have hoped but his capture signalled the dawn of a new era at the Etihad.
In 2011 we had one of the barmiest sequence of big-money moves ever. Chelsea, who had long admired Liverpool superstar Fernando Torres, finally got their man for £50m.
The Reds were desperate to make a statement of their own after losing their poster boy and ended up paying an eye-watering £35m for Newcastle's Andy Carroll - and this came after they'd swooped for the then lesser know Suarez, who arrived for £22.5m from Ajax.
On the helicopter to Liverpool to complete the deal, Carroll had his agent Google the Liverpool squad because he only knew two of his new team-mates - Steven Gerrard and Jamie Carragher.
"That's actually a true story," he said years later. "It's bad because it's Liverpool players, but it's not disrespectful - I just literally didn't watch football, so I didn't know."
Maybe we take this stuff too seriously.