Watford captain Troy Deeney admits he could have played his last game for the club after they were relegated on the final day of the Premier League season.
Knowing their fate was out of their hands, Watford endured a disastrous start against Arsenal and found themselves three goals behind with just 33 minutes on the clock - rallying back to lose 3-2.
Pierre-Emerick Aubameyang struck either side of Kieran Tierney's first goal for the club before a Deeney penalty and a Danny Welbeck strike gave Watford hope.
But it was not enough to extend the club's five-year stay in the top flight as they join Bournemouth and Norwich in dropping into the Championship next season.
Deeney, who revealed he would undergo surgery on a troublesome knee in the coming days, conceded he was unsure of his immediate future.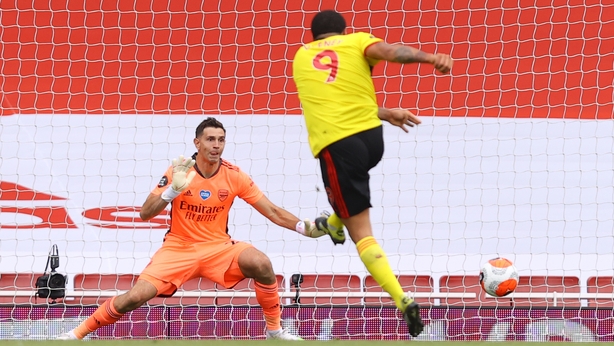 "I will be having a knee operation next week," he told Sky Sports.
"Clubs can go in different directions and players can. If that is my last game, I am happy I went out on my shield.
"I am a simple man. Did I go out and do everything I could? Yes. Was it good enough? No."
Speaking about the campaign as a whole, Deeney added: "This is a reflection of the whole year. (We have) not quite been good enough. It's heartbreaking for the people who work behind the scenes and we feel sorry for them.
"As a club and as a community we will go again. Ultimately we have not been good enough, there's no point dancing around it.
"Things happen in football. I have been here 10 years - if it is my time to go, it is my time to go."