Liverpool captain Jordan Henderson believes claiming last year's Champions League proved the catalyst for ending the club's 30-year wait for a League title.
Henderson lifted the trophy at Anfield on Wednesday night following Liverpool's 5-3 win over Chelsea.
"It makes it even more special after last season, getting 97 points and not winning it with Man City winning the league was hard to take," said Henderson.
"But we won the Champions League and that made a difference, and then at the start of the season we knew we had unfinished business.
"The Premier League has been a dream of mine since I've been a kid, that's one of the reasons why you come to Liverpool.
"It was tough, it was never easy. It's been a process, a journey, five years since the gaffer's come in.
"After this, next season's going to be a big challenge for us."
A moment we'll never forget ❤️#LFCchampions pic.twitter.com/QaGW6PuEXr

— Liverpool FC (Premier League Champions 🏆) (@LFC) July 22, 2020
Midfielder Henderson downplayed his own role in Liverpool's title-winning campaign, preferring instead to lay the plaudits at the collective effort.
"Well it's obviously nice to hear people say good things, but in time it's not really about me, it's about the team," said Henderson.
"I wouldn't be where I am without the players I've played with, the managers I've had, the coaches I've worked with.
"The team has been immense and helped me massively the last few years.
"I've been lucky enough to be part of this football club. I've always tried to give everything I've got and that will always be that way until I finish."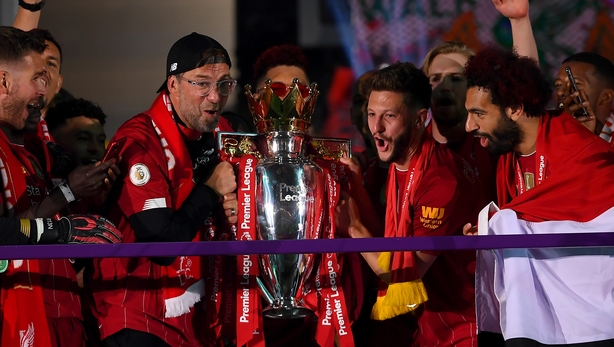 Manager Jurgen Klopp admitted he will break his usual practice and take the time to have his picture taken with Liverpool's stunning trophy haul, with the Reds now Premier League champions alongside holding the Champions League and Club World Cup titles.
"Champions of England, Europe and the world; it's unbelievable to be honest," said Klopp. "We've won four trophies, big ones, and I couldn't be more proud.
"I don't normally worry about pictures, because as long as I can remember it, it's worth it.
"But I will make sure I will have a picture with all four trophies because it doesn't happen too often.
"We have internal challenges, we can improve, we have the chance to make another step. We have to because the others will not sleep."
Reflecting on the season, the German said getting the win was a nice way to collect the trophy.
"Special. Absolutely special. We don't have to compare as we never have done it before," said the 53 year-old.
"We all know it could have been different. It could have been worse, for example, if we never won the game. The boys gave us the opportunity to have a really special night. I think a lot of people thought before the game one team fights for the Champions League, the other team is maybe already on the beach.
"But these boys are so special. I could not be more proud. Throwing a performance like this in on the pitch tonight... it was an open game but nice, nice goals.
"Incredible goals, super footballing moments. I loved the game. We could enjoy it and we will enjoy the rest of the night."
Klopp was involved in a heated exchange with Lampard after Mateo Kovacic was penalised for a lunge from behind on Sadio Mane which led to the free-kick from which Alexander-Arnold scored the Reds' second.
And the Chelsea boss warned the new champions not to get arrogant on their success.
"For me, it wasn't a foul from Kovacic, and there were a lot of things that weren't going our way," he told Sky Sports.
"But I've not got a problem with Jurgen Klopp. The way he's managed this team has been fantastic. Fair play to Liverpool Football Club, they've won the league, but also don't get too arrogant with it.
"That was my point, but it's done. In match play, you can get emotional and that was it."
A draw against Wolves at Stamford Bridge will be enough for Chelsea to secure Champions League football, however.
"We should have a feeling of achievement to this point... not many people expected us to be in the top four race but we have it in our own hands," Lampard added.
"We are at the Bridge we have a really strong opponent coming in Wolves and it is up to us. I have belief in the players. We have to carry it on for one more game in the league."