At the start of the Covid-19 lockdown, the advice was to use the time wisely for when life would return to some sort of normality.
Stephen Kenny met the media at the FAI headquarters in Abbotstown yesterday, at a social distance, and informed them of how he had spent the last few months.
It involved watching more football matches than the dozens that are taking place each week at the moment, with the help of a digital database.
Not being able to get out to stadiums and meet in players has been a regret, but he sees the bigger picture.
"That has been a little bit frustrating of course, but listen, it is a great opportunity as well. With the beauty of Wyscout, you can watch all of the games.
"It gives all of the coaching staff a chance to analyse the games through, scrutinise all the games, check everyone's current form. Some players have played more than others. We've been able to watch all the games.
"You have to maximise everything you can. It has given myself, Keith Andrews, Damien Duff and Ruaidhri Higgins time to watch all the eight games from our own qualifying campaign, Bulgaria's qualifying campaign, Finland, with Pukki scoring 10 goals for Finland and qualifying for the Euros.
"Then we watched Wales and all of their games in the Nations League and, even more importantly, Slovakia. They have a very consistent selection and this is a very significant game in October. We have eight games to look forward to and we're looking forward to them."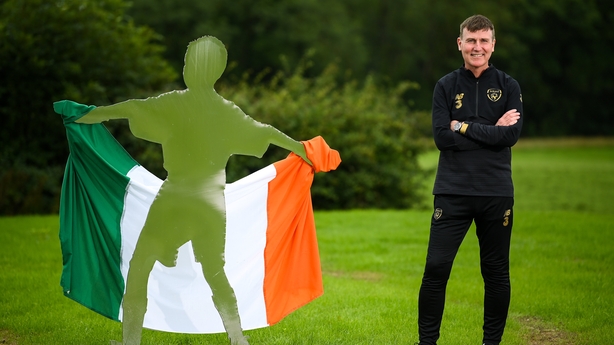 His first game will be in Bulgaria, with barely any time at all to work with the players before departing for Sofia.
All of the sacrifices made for football to return matter little in the eyes of the new Republic of Ireland manager.
Putting his plan in place to revolutionise the Irish team will clearly take time, and there is not much to waste.
"Nothing is perfect, but you have to make the best of everything, It pales into significance, 1,700 people have died. It's an absolute crisis," he said.
"Players have had to modify their training programmes, one season joins into the next. That can be difficult. Our game against Bulgaria will be, for a lot of them, their first game or after one league game. It is early, but we'll maximise everything we have.
"It is a quick turnaround [for the Bulgaria game], we get the players in on a Sunday - they may be playing league games on that day. Then we fly on the Tuesday. It's so quick. It is a 9.45pm kick-off local time too, which in itself is unusual. That is the first game.
"We're positive about how we approach things. It is a very exciting opportunity in the group with Bulgaria, Finland and Wales, and of course the game against Slovakia. We have lots to look forward to."
The League of Ireland remains close to the Ireland manager's heart. He was quick to point out that his executive role will not involve in any way dealing with the issues presenting themselves currently.
As always, he was keen to point to some better times ahead for the league.
One is that the FAI Cup remains on the calendar - although he did namecheck the Aviva Stadium and there is talk it may take place in Tallaght Stadium this year in order to save on costs.
"It has been very difficult for the players in the League of Ireland. At the moment, the summer season has been fractured, it is a shorter season. But a lot of the players have a lot to look forward to. Bohemians back in Europe, Dundalk are seeded in the Champions League.
"Vinny Perth, and Stephen Bradley at Shamrock Rovers, will be determined to do well having had European experience last year, and Declan Devine at Derry City in Europe again.
"I'm delighted the FAI Cup is still on because there was speculation it might lose out. There is a great tradition and the FAI Cup final and the great day in the Aviva Stadium is very special."
Jack Byrne remains the one player who has risen from the Premier Division to international level.
Kenny was reluctant to go into too much detail of what his role could be in the group and what he could bring -except one key word - "different".
"He's certainly in my thoughts. He is a very talented player. He is different, with his range of passing. A lot will depend between now and then.
"Midfield is a competitive area, probably our most competitive area. The competition for place will be…interesting to see."
That is also one way to describe the entire Stephen Kenny project.
In exactly eight weeks he will manage the Irish senior team for the first time. The nation remains intrigued by how it all will unfold.