Republic of Ireland manager Stephen Kenny has said his new role in the FAI executive will allow more football expertise to be involved in decision-making at Abbotstown and for the game itself to be the most important factor within the body.
A review of FAI structures by interim chief executive Gary Owens earlier this year has seen Kenny included in a position where he will have a voice at board level.
Kenny is keen to take advantage of the fact that he is based in the country – along with his staff of Keith Andrews, Damien Duff and Ruaidhri Higgins – to ensure that his vision for football remains on the right path.
Despite the move, he does not believe it is an overly new departure.
Kenny told RTÉ Soccer Correspondent Tony O'Donoghue: "To be honest my position has not changed really. I'm the manager of the international team, that is all I ever wanted to be. Since I've been appointed here as Under-21 manager, I've always had a strong voice on football issues.
"I think the international teams should be the centre of the FAI at all ages, very prominent, and the national leagues and amateur football of boys and girls. Football should be at the centre of the FAI and I think we need more football people contributing to decisions that are made.
"Nothing has changed because I've always had a strong voice. The chief executive has maybe recognised that and said that any time you want to come in and voice your opinions, there is a seat at the table to do that.
"I'm the only manager that has ever lived in Ireland. You can't do it from another country, that is the difference with us.
"All the other managers have lived in other European countries, myself, Keith Andrews, Damien Duff and Ruaidhri Higgins all live in Ireland. We'll be working here all the time, every week.
"We'll have a video analyst room installed here in the FAI, we'll be monitoring all the players.
"Obviously we'll be in the UK and elsewhere watching players, but it is a different dynamic. From the Under-15s to the Under-21, right through to the first-team, we want a cohesive working environment where players can fluctuate throughout the age groups and we can promote players into the first-team. It's not the way it was before."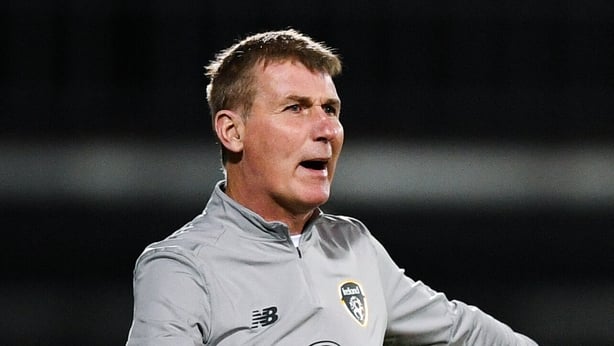 Asked whether there is a danger where he could be drawn into the political issues of the sport, and at all levels, such as the difficulties in resuming the League of Ireland, he said: "Not really, no. I'm very sympathetic to all clubs, traditionally under-funded as well.
"Some clubs are looking to make their mark in Europe, some are trying to qualify and some clubs are trying to exist.
"I'm sympathetic towards the players and I'm hopeful the league will finish strong. But that's not my remit."
Kenny confirmed more appointments in his backroom team this morning. However one man who remains off the ticket is Robbie Keane.
The legendary striker, who turned 40 today, is under contract with the FAI from his role in Mick McCarthy's management team.
Happy Birthday to Ireland legend Robbie Keane 🎂🇮🇪⚽#COYBIG pic.twitter.com/Np1M8rmBfj

— FAIreland ⚽️🇮🇪 (@FAIreland) July 8, 2020
Kenny confirmed his stance has not changed: "I have huge respect for Robbie Keane, he has been an incredible goalscorer for Ireland and I'm sure he'll have a great career in management. He won't be short of options for sure.
"Ruud Dokter is our technical director, he makes the appointments for all our positions. From my point of view, I have my own team with the senior team. We appointed Keith Andrews as assistant who I worked with for 18 months. That is where it is."
Andrews has come under scrutiny in the media from Roy Keane in recent weeks.
In an interview with a Sunday newspaper, the former Manchester United captain opined: "If I can make one point about the new Irish staff. I've heard a lot of bull****ers over the last 10 years and Keith Andrews us up there with the best of them."
Kenny defended his assistant in a pragmatic fashion, adding he has a "great future" with the FAI.
"We all live in a society where people are free to express their opinions. I'm fine with that. I found Keith to be very hard-working and diligent. It hasn't come easy to him.
"He's worked with the Under-16s, the Under-17s, Under-18s for 18 months and then did another 18 months with the Under-21s.
"He has got through all his licences, worked with MK Dons in the Championship and League One as a coach. He is a great analyst and a very, very good coach. He'll have a great future I feel within the Irish set-up."
We need your consent to load this SoundCloud contentWe use SoundCloud to manage extra content that can set cookies on your device and collect data about your activity. Please review their details and accept them to load the content.Manage Preferences
Listen to the RTÉ Soccer podcast on Apple Podcasts, SoundCloud, Spotify or wherever you get your podcasts.