Finn Harps boss Ollie Horgan has called for a "one up, one down" scenario in the Airtricity League Premier Division this season.
The FAI and the Premier and First Division clubs have agreed an 18-game season to kick off again on 31 July but discussions are continuing about the actual format of proceedings, with some top-flight clubs feeling the significantly truncated run-in isn't a fair way to decide relegation.
A vote is being taken later this morning.
Horgan, speaking on the RTÉ Soccer Podcast, suggested a straightforward structure.
"Finn Harps are, by the skin of their teeth, still in the Premier Division," he said.
"We've got to look at it, as every club is looking at it, from their own perspective. There's no point in me pretending that I'm not wearing a Finn Harps cap when I'm talking here.
"We want to be in the Premier Division come the 2021 season. I think the general view of it is, it's half a season for the Premier Division clubs. To us it should be half the punishment.
"Would we get away with no relegation? We know that's not acceptable. We fully understand that. Our point from our board, and where we're at in the football end of it, is: half a season, you get half the punishment, which means one up, one down without a play-off.
"If you finish bottom, which could easily be us, you go down."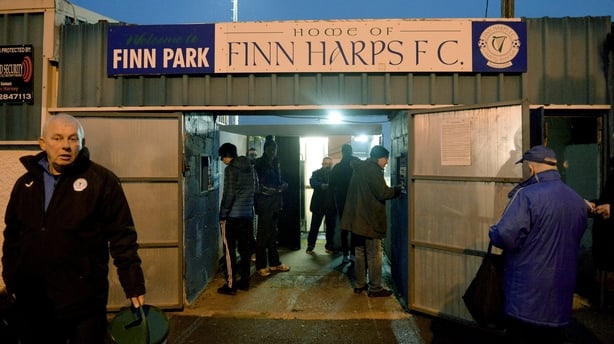 Horgan also praised the response of the community in Ballybofey to a fundraising drive to help the club build a portable dressing room that would facilitate their return to League of Ireland action.
Longer term, Harps are hoping for a Government grant to help them construct a new stadium but for now they need €30,000 to build a portable changing room that would ensure their current ground, Finn Park, is compliant with Covid-19 protocols.
Currently, the facilities in Finn Park are too small to accommodate two teams.
"Even before the virus we needed changing rooms, we needed to upgrade our facility," Horgan told the RTÉ Soccer Podcast.
"We're still waiting on what we hope to be our new stadium. We're hoping with the new Minister [for Media, Tourism, Arts, Culture, Sport and the Gaeltacht] Catherine Martin, we might send her a season ticket and she can come up and have a look at the place!
"It was Ivan Harvey, who's a member of the board, it was his brainchild to launch a GoFundMe page to try and get a second changing room on the far side of the pitch that would allow for social distancing, allow us to get football back in Finn Park, which basically is key to whether we can financially survive.
"We're trying to reach €30,000 to build this basically. It's a portable changing room with showers, a medical room and a little mini kitchen.
"Should we get the go-ahead to go to our new stadium it's portable and we can take it with us so we're not putting dead money into the place. If we've got to stay there we've got to stay there. If we've got to move we can take it with us.
"It's gone great. It just shows you the good will and nature to try and get football back. Please God, we'll have it back at the end of July or the start of August, whenever our first home game is."
Horgan's men are back in training and preparing for a comeback next month, though he admitted it's been a difficult challenge to reassemble his squad.
"We've tried to assemble the local lads and the lads from within the country at the latter end of last week," he said.
"We have got a few of the lads from overseas who basically can't join us until next week. We're still trying to get one or two lads who are on loan to see if we can extend those loans.
"It's very much all over the place and there's no point pretending any different. We've tried to get up and running as quickly as we can... we certainly aren't up and running properly yet."
We need your consent to load this SoundCloud contentWe use SoundCloud to manage extra content that can set cookies on your device and collect data about your activity. Please review their details and accept them to load the content.Manage Preferences
Listen to the RTÉ Soccer podcast on Apple Podcasts, SoundCloud, Spotify or wherever you get your podcasts.