Katie McCabe and Ruesha Littlejohn can laugh about a time where they weren't on the same page this season.
The Republic of Ireland internationals have, like many other couples, spent all their time together in recent months, training together in lockdown to keep fit for when women's football eventually does restart.
The smiles come from when they were on opposing teams.
McCabe scored for the Gunners against Littlejohn's Hammers in the FA Cup.
Littlejohn was on the bench when her Irish team-mate hit the net but had conveniently nipped into the dressing-room, and so missed the goal.
It was one of the rare times football was not on the agenda for the evening as Arsenal went on to win the game.
McCabe can point to a couple of examples when they don't talk shop, but more often it is the main talking point.
"After the FA Cup final with Chelsea [for example], I was fuming. It's not something you want to go in and talk about straight away," she told RTÉ Sport.
"But I think our passion for football is pretty much even. We always talk tactics and stuff. We're currently doing our UEFA B licence together through the FAI so that is obviously a fantastic opportunity for us. We revolve our lives around [football] I guess."
Midfielder Littlejohn admits the sport is a "massive part of their relationship", one which was moved somewhat into the spotlight when they spoke openly about being a couple 12 months ago.
The response to that revelation has been "very moving", according to Arsenal forward McCabe.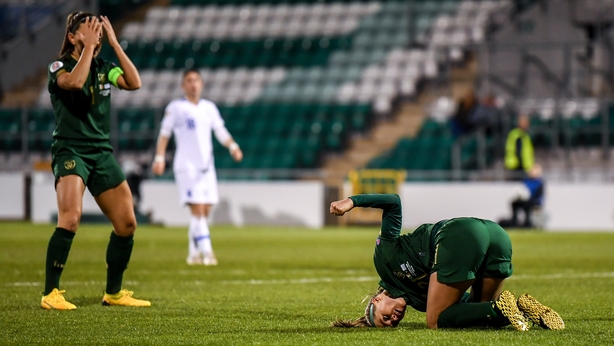 "Within the last year we have been on the pitch for Arsenal, West Ham United and the Republic of Ireland, so we are in that public eye a bit more.
"But when you are receiving direct messages on Instagram from people you don't know that are telling you their story and how what we did empowered them to come out to their friends and family...That's what the campaign was all about. We knew we did the right thing by doing it.
"When we were first approached by Aviva for this (Pride) campaign, it was a no-brainer for us to collaborate with them and give them the opportunity to use our platform in a positive way and help the LGBT community.
"As footballers we're role models but we really wanted to become better role models off the field as well and to be able to help people [with] anything. It was fantastic for us."
The Ireland players have been working on individual fitness programmes for the last three months – as well as combining the best of the guidance from their coaches.
Few footballers throughout the world have the advantage of an international team-mate being able to join them in staying sharp.
McCabe explains it allows them to keep something of a team spirit: "We've kept competitive. Having each other to keep training and bouncing off each other [is great]. We've been working our own schedules.
"I had Arsenal's schedule, Ruesha had West Ham's, it was good to keep it interesting and not be doing the same thing day-in and day-out. You love having team-mates and the camaraderie so for people to not have that, it [must] has been difficult."
The Glasgow-born Irish international quickly adds: "We've mixed it up. We've had some sessions, done some individual.
"Katie can't keep up with me and goes off in a strop. It has been good. Some people hate training on their own, they want to train around people."
Having played in the same city and been on Irish duty together, life will alter slightly when Littlejohn joins a new club following her release from West Ham.
An announcement is imminent but she is reluctant to give details of where her future lies, except that it will be within travel distance of the English capital.
"Yeah I've got a rough idea. You'll have no idea where I'm going but it is not too far away. It is quite close to home.
"I can't say right now as it has not been totally signed off, but I have something lined up. I'm quite excited and looking forward to what is in store."
It remains extremely difficult to secure long-term deals at a high level in the women's game, with fellow Irish international Louise Quinn's departure from the Gunners this summer another example.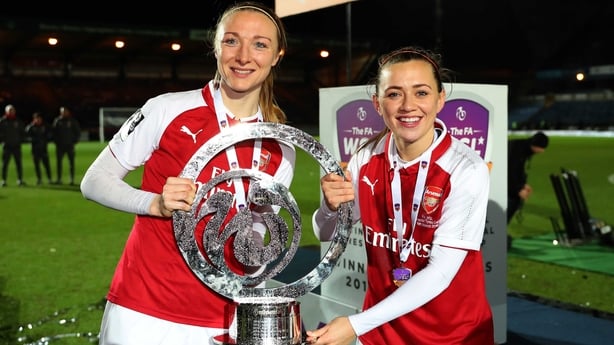 It is one change McCabe must get used to, knowing she is losing an international team-mate at her club, but she is at least comforted by the achievements they can look back on together and the times ahead in the green shirt.
"Louise and I were the two Irish at Arsenal. I was gutted to see her go," she said. "She has been an absolute professional for the entire time at Arsenal. It was tough. It hasn't really hit me, I think it will hit me when I go back to pre-season and I don't see her.
"Obviously I haven't seen her for a while now. She has been fantastic, professionalism, football ability, on and off-the-pitch intelligence, everything about her is 100%. My high with her was obviously winning the league.
"We sat down together after we beat Brighton that day (to win WSL in 2019) and said we have joined the Irish group that wins trophies at Arsenal. It was special and to share that moment with her was fantastic.
"She's not getting away from me yet, we still have unfinished business with Ireland. You want her in a team all day long. I'm lucky I can still play with her at Ireland."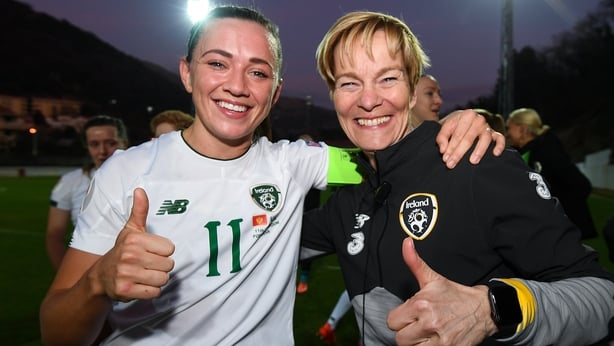 After a most eventful year, even with delayed international football and a curtailed club season, McCabe and Littlejohn can now look forward to what is to come with Vera Pauw's side and trying to create history for the nation.
Ireland will travel to Germany in September for the first of three remaining qualifiers, knowing their fate is in their hands.
Having broken down some barriers together in the past year, reaching Euro 2021 (now to be held in 2022) would be a seismic moment for the women's game.
McCabe is quick to praise those who have worked on the frontline in the Covid-19 and recognises just why football had to take a back step.
"It was important to do the right thing. The men's competition is postponed and for us it is not the worst thing that could happen. What is most important is the safety of players and everyone else.
"Of course you are like 'ah, another year', but I think it was the right call. I wasn't too disappointed. We now have more time to prepare and to get our squad together."
Time is what everyone had on their hands and the Ireland internationals have made the most of theirs together so far.
The future can be even brighter.
To help celebrate Pride this year, Aviva Stadium is lighting up Dublin's night sky in the colours of Pride on Friday 26 June and are encouraging people to get on board and #LightUp4Pride.
Listen on: Apple Podcasts, Soundcloud, Spotify or wherever you get your podcasts