The day after Gaizka Mendieta rolled his skittery penalty over Shay Given's trailing leg to knock the Republic of Ireland out of the 2002 World Cup, the Irish Times' Joe Humphreys prophesied that the Valencia midfielder probably wouldn't be commemorated in an Irish beer commercial.
Sure enough, 18 years have passed and the call from Smithwicks – or any of their Irish competitors – hasn't come and is probably unlikely to now.
The Irish were a more expectant and less wide-eyed people in 2002, so the story went, and thus were less inclined to rhapsodise wistfully about the man who put them out of the tournament.
The Italia 90 summer was clearly such a magical experience for those who remember it, so fondly recalled in all its details, that even the scorer of the goal which eventually eliminated Ireland became a kind of ironic folk hero.
Colm Meaney may have worn a 'F**k Schillaci' T-shirt in 'The Van' but there was no real venom behind that sentiment.
Schillaci has appeared in the Irish media a few times down the years. There's the aforementioned Smithwicks ad, released in and around the time of the 2002 World Cup, where Italian lager enthusiasts Giovanni and Giorgio belatedly introduced fake Dave O'Leary and Ray Houghton to their other friend.
During Euro 2012, looking much younger thanks to hair transplants (Toto has gone down the Antonio Conte route), he appeared in a sketch on the Craig Doyle Show in which his interpreter was asked to inform Eric Lalor's character that his "aul' wan" was "a g**bag".
A bookmaker brought him over for some promotional gig in advance of Ireland's game in Bari in March 2009, where he posed for photos with Ray Houghton and muttered a few complimentary words about his own experience of playing under Giovanni Trapattoni.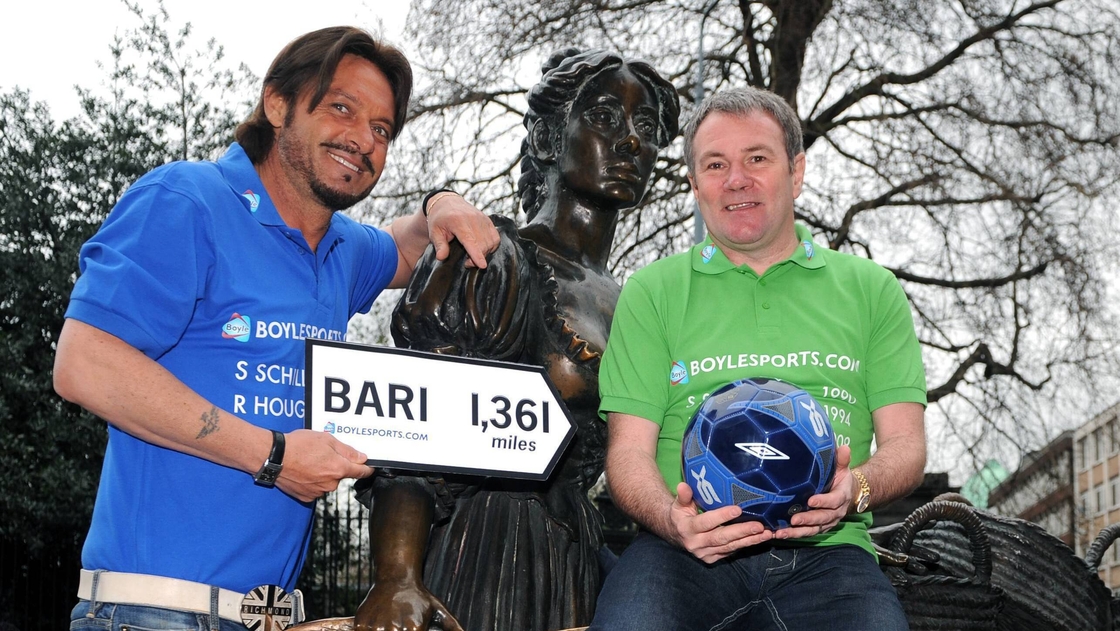 While his football career infamously turned sour in the wake of Italia 90, he has carved out a career as a media personality in Italy since.
In 2005, he finished third on an Italian TV show 'L'isola dei famosi', a reality show in which they dump a load of celebrities on an island and the public votes for their favourite, or rather votes out their least favourite – you'll be familiar with the drill. (Judging by the snatches of stuff one sees from Berlusconi's channels, this was probably one of the more high-brow programmes on Italian TV.)
With his long, matted hair and impressive moustache, he even played a Mafia boss in a TV series, ironic given the jibes – greatly resented - that were constantly thrown at him during his playing career on account of his Sicilian background.
Toto Schillaci was the sensation of the 1990 World Cup, the tournament which, "more than any other", according to Rob Smyth, "felt like a World Cup."
He also had a short stint in politics, briefly serving as a local councillor (in a centre-right coalition, since you asked) in his native Palermo, where he still runs a football academy.
Toto Schillaci was the sensation of the 1990 World Cup, the tournament which, "more than any other", according to Rob Smyth, "felt like a World Cup."
So deeply associated is he with that summer that he probably can't appear at a public event without Nessun Dorma following him around.
Outside of the 1990 finals, his international contribution was derisory. He'd have barely registered in the Italian football story but for that month in June-July 1990.
He made 16 appearances in an Italian shirt, scoring seven goals, all bar one of them arriving in the World Cup finals.
He'd played just once for Italy before the finals began, in a friendly against Switzerland in March 1990 and was called up to the World Cup squad by manager Azeglio Vicini - very much the last name on the team-sheet, the dicey late call.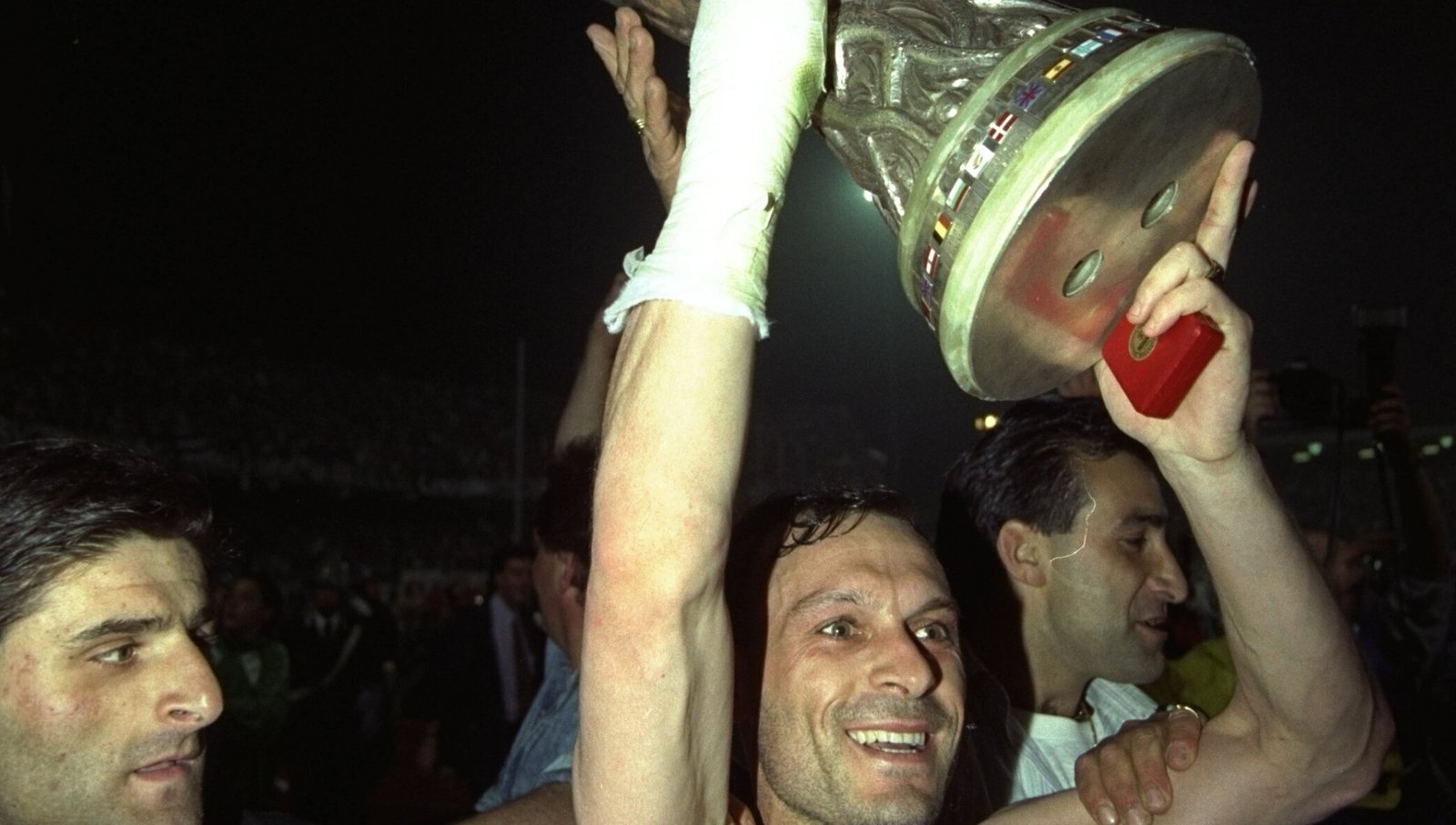 All indications are that he was originally envisioned as a kind of in-form substitute who might be called upon if Italy were struggling for a goal – which, given Vicini's partiality towards their traditional Catenaccio style gameplan, they usually were.
He made just eight more appearances for Italy after the tournament ended, scoring once in a 2-1 defeat away in Norway in June '91. The Italians missed out on the final eight-team European championships in 1992 - the last time they failed to reach a competition until the 2018 World Cup - and Toto's international career was done.
Vicini's successor Arrigo Sacchi infamously used about 7,000 different players during his four-year stint as Italy manager between 1992 and 1996 but Schillaci, by then out of form and having plummeted down the pecking order, wasn't one of them.
His was an abrupt rise and an abrupt fall. There was a touch of the Ian Wright style late bloomer about him. Prior to 1990, he spent the majority of his career at Sicilian outfit Messina, who at the time of his signing were stuck in Serie C2, the fourth tier of Italian football.
Promotions followed in 1983 and 1986 and by the late eighties, Schillaci was one of the most prolific strikers in Serie B.
He enjoyed his finest season in 1988-89, under the tutelage of Zdenek Zeman, known to the Gazetta Football Italia generation as the droopy-eyed Lazio manager who permanently had a fag stuck in his mouth, scoring 25 goals and seeing Messina finish high up the Serie B table.
This earned him a move to Juventus and a ticket to the big time.
Though Juve were suffering through a lean era in league terms, Schillaci was an unqualified success at the Turin giants.
He scored 15 goals, finishing fourth in the scorers chart, behind only Van Basten, Baggio and Maradona and ahead of Rudi Voller.
Juventus won both the UEFA Cup and the Coppa Italia in his first season in Turin though there were darker moments.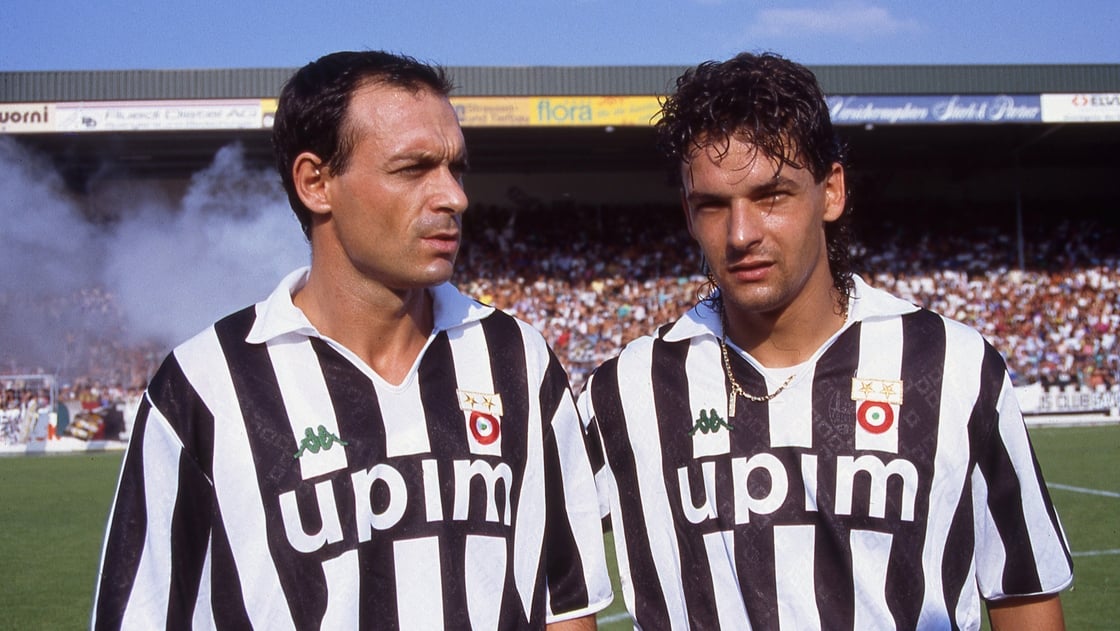 Ahead of a European tie, news filtered out that his brother had been arrested in Palermo for stealing tyres.
A chant along the lines of 'Schillaci steals tyres' would reverberate around northern football grounds in the years to come, particularly after his performance levels dipped in the early 90s.
His burst of form arrived just in time for the 1990 World Cup, a competition which, by all accounts, was approached in Italy with the kind of seriousness other nations reserve for big wars.
Italy is terrifyingly serious about football at the best of times – with a fairly conspiratorial cast of mind to go with it – and this was rarely truer than during 1990.
While Ireland went to Italy in a giddy, relatively carefree mood, the Italians, according to Brian Glanville, "had such colossal pressure on them that one doubted from the first whether they could resist it."
The leading strikers were expected to be Gianluca Vialli, then of Sampdoria and star man Roberto Baggio, whose recent switch from Fiorentina to Juventus sparked three days of riots in Florence.
Also on board were the experienced Aldo Serena and Napoli's Andrea Carnevale, though the latter was frozen out for kindly telling his coach to 'Vaffanculo' (Google Translate is your man there) after being replaced by Schillaci against the United States.
In the circumstances of Italy's highly pressured build-up, perhaps it was Schillaci's relatively peripheral status beforehand that enabled him to thrive, as opposed to others, like Vialli, who under-performed and failed to score in the tournament.
The little Sicilian took off on a Tardelli-esque, wide-eyed celebration. The world would become more and more familiar with it over the coming weeks
Toto's exploits in those few weeks are well known.
The hosts created chance after chance against Austria in their opening game but failed to score until the 78th minute when Schillaci, introduced as a second half substitute, headed Vialli's cross into the roof of the net.
The little Sicilian took off on a Tardelli-esque, wide-eyed celebration. The world would become more and more familiar with it over the coming weeks.
For the only time in the competition, he failed to score in the next game, a laboured 1-0 win over the United States.
Carnevale's bout of insubordination and a loud campaign by the football press meant Schillaci started the next game against Czechoslovakia. He headed Italy in front after reacting quickly when a miscued shot was shanked in his direction. On this occasion, it was Baggio's scintillating second goal which grabbed the headlines.
In the second round, Schillaci sent a booming, first-time shot past the startled Uruguayan keeper Alvez, putting Italy 1-0 up with 25 minutes remaining, Serena adding the second shortly before the end.
In the quarter-finals, Ireland were up. For the Irish fans, these were dizzy heights. We were already deep, deep into bonus territory. Taoiseach Charlie Haughey, fresh from a successful stint as EU President and on top of the world, arrived in Rome for the game.
For Italy, it was a means to an end. A quarter-final exit would have been regarded as a catastrophe. Vicini, as Glanville noted, was a tightly wound bag of nerves in the dugout. Even after the game, he was inclined to moan about decisions which went against his team rather than express simple satisfaction with the win.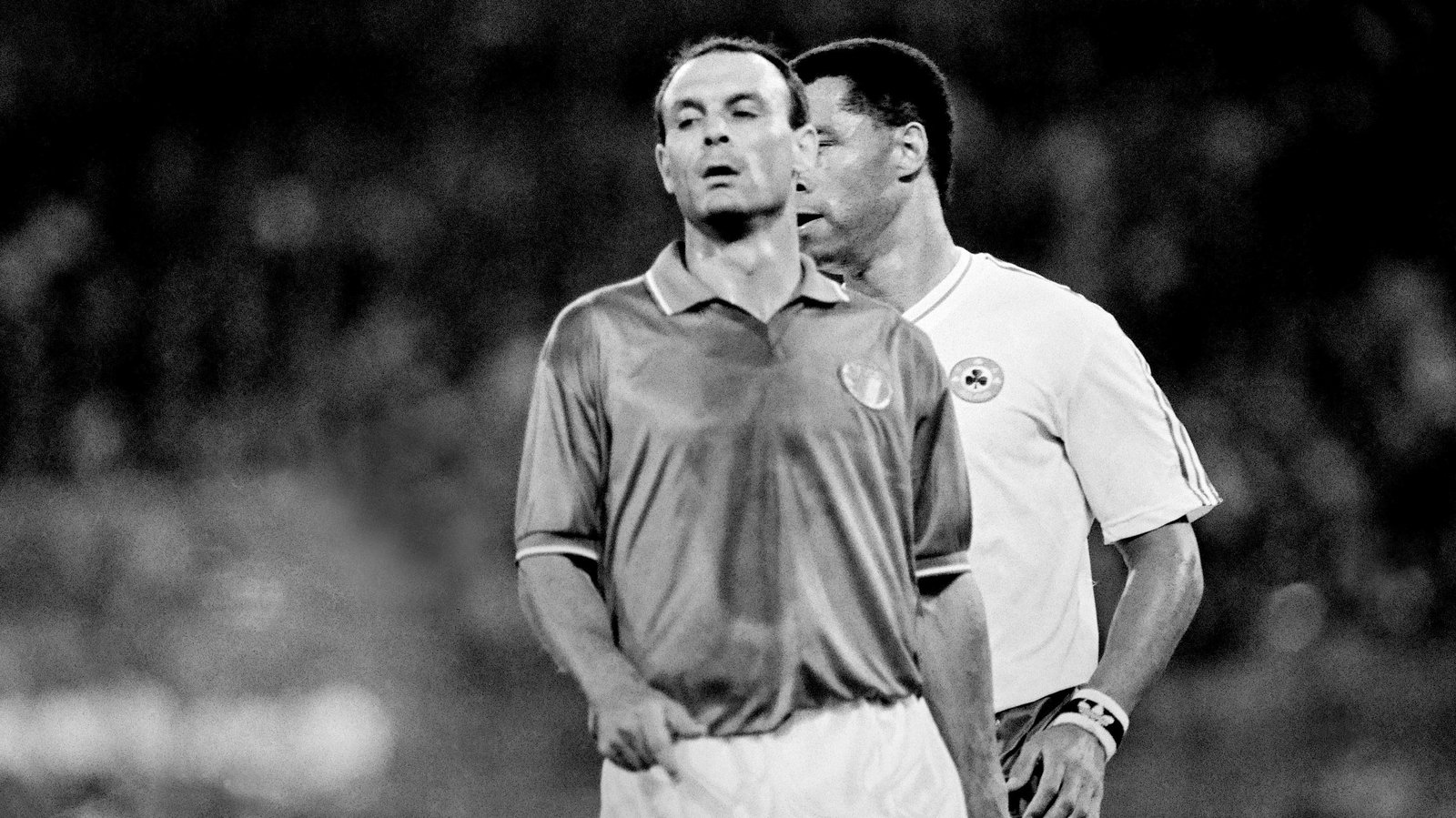 The goal hardly needs to be described to Irish readers but, suffice to say, Schillaci was in the zone and pounced swiftly on Bonner's parry.
"And Schillaci has scored again," sighed Jimmy Magee, in keeping with the mood of the time.
On the day the Irish team returned to Dublin, rather overshadowing Nelson Mandela's visit in the process, the Italian media were fixated on Schillaci.
'Please Don't Wake Me Up', read the headline in the Gazzeta Dello Sport on 1 July, above a close-up of Toto.
Onto the Naples semi-final against Argentina, one of the most political and highly-charged games in World Cup history.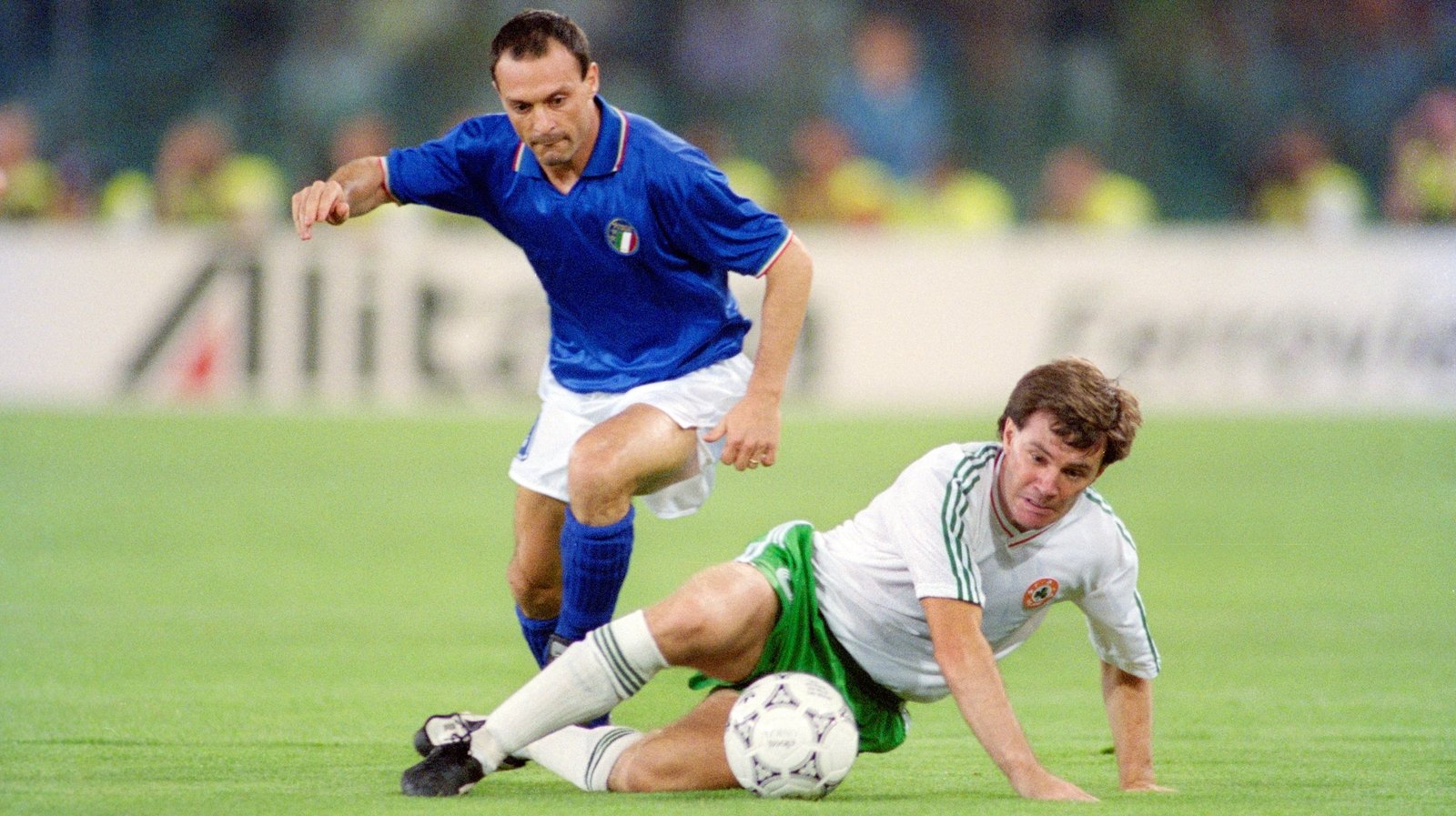 Maradona, a God in Naples, made the rather explosive suggestion that southern Italians, traduced and derided by the wealthy north, should support Argentina in the game. The fraught, heated debate on the streets of Naples on the eve of the match was well captured in Asif Kapadia's 'Maradona' film.
This question naturally had particular relevance for Schillaci.
There was, during the World Cup, much jokey talk that he had single-handedly united the north and south. A satirical, left wing magazine had run an article entitled 'Schillaci resolves the southern question'.
For the time being he had but it wouldn't take long for the baiting to start again afterwards.
Tuesday 3 July was a traumatic night for Italian football. Schillaci's stunning form continued. He shinned home a typically instinctive rebound in the opening minutes and the odds shortened further on Italy reaching their home final.
They held a lead and had yet to concede in the tournament.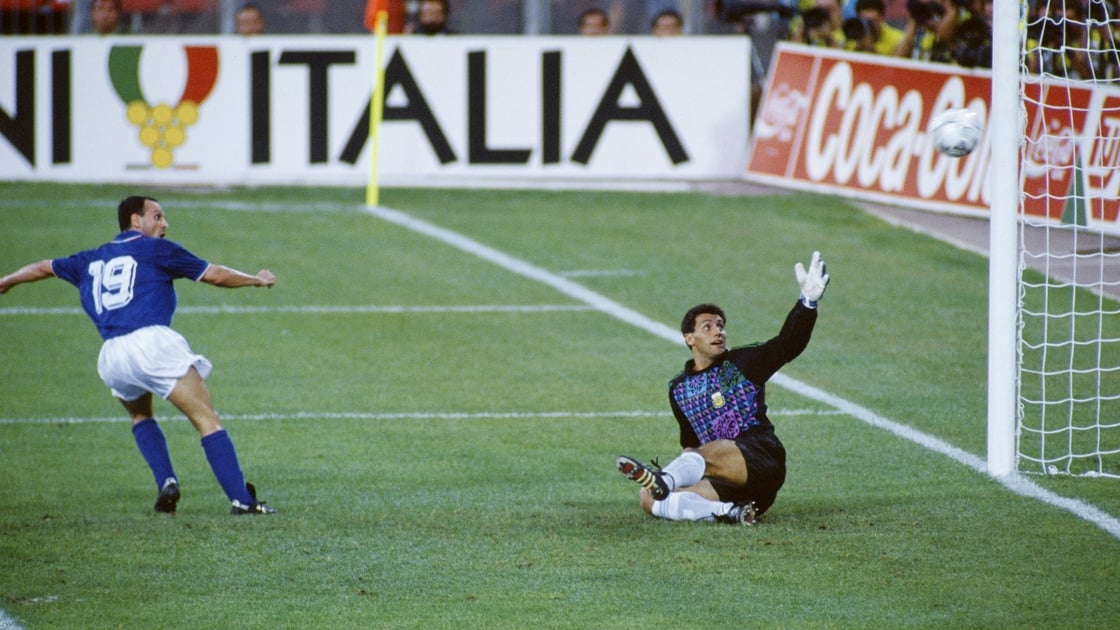 In the second half, Zenga flapped horribly at a cross and Cannigia flicked a glancing header into the far corner.
It proceeded to penalties where Argentina's man of the tournament Sergio Goycochea saved from both Donadoni and Serena, while Maradona nonchalantly slid Argentina's final penalty down the middle.
Argentina's obnoxious and uninspired team were through the final and the favourites were out.
"That's the time when everything starts to go wrong for him in Italy," John Foot said of Maradona after the game.
Schillaci, by contrast, was still the darling of the Italian nation though, sadly, things wouldn't be a picnic for him either over the next few years.
He scored again, from the penalty spot, in a 2-1 third-place playoff win over England in Bari. He collected the Golden Boot afterwards, having scored six goals, the same tally Paolo Rossi managed when Italy won the World Cup eight years earlier.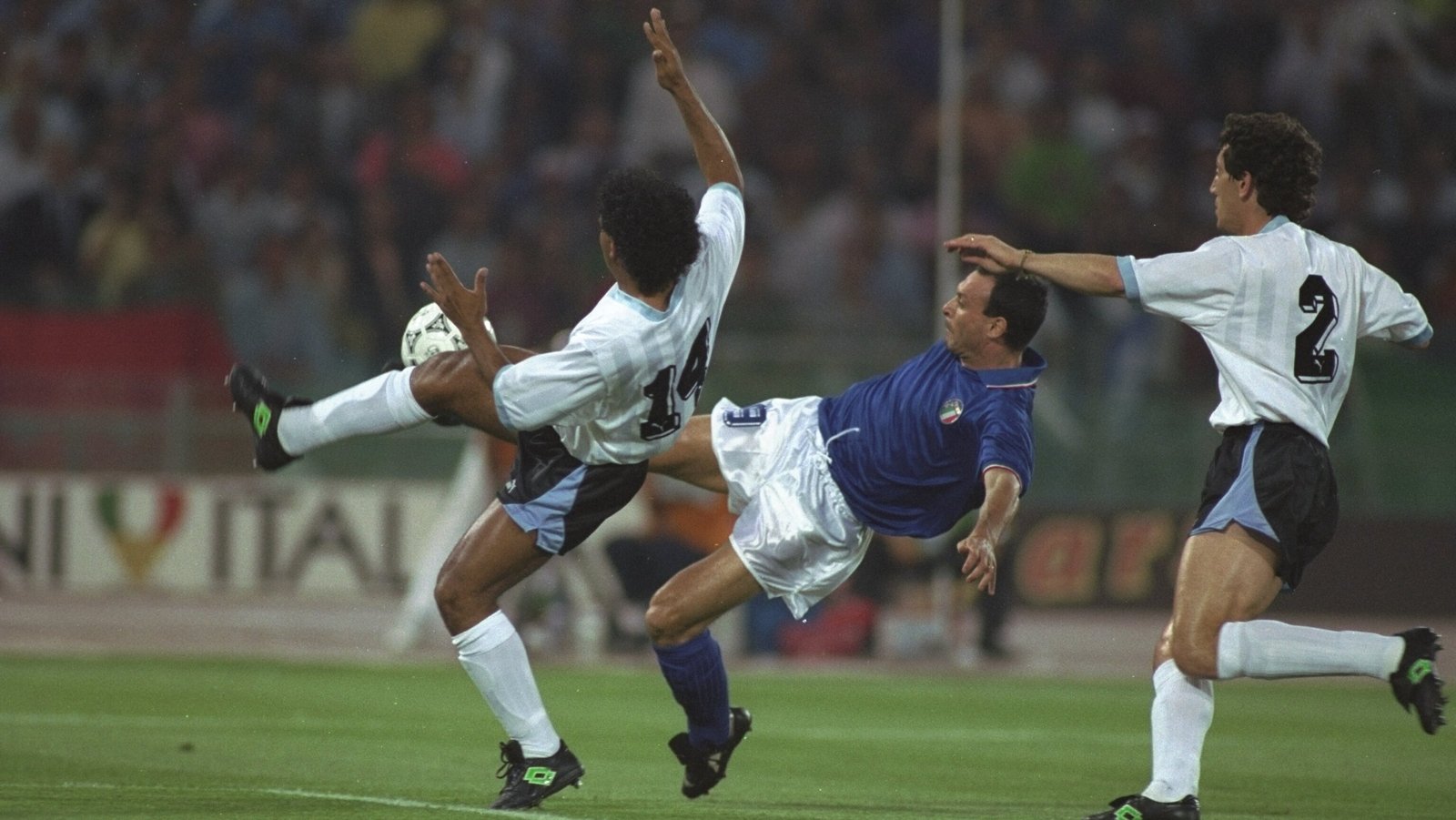 By the end of 1991, his Italian career was over and the goals had dried up badly at club level.
He attracted bad press once more. In November 1990, he was banned for one match for telling Bologna striker Fabio Poli: "I'll have you shot."
He managed just 11 goals over the next two seasons at Juventus and moved along to Inter where injuries intervened and his numbers were roughly the same.
The slurs re-emerged. Graffiti was daubed on the wall of his apartment complex, branding him a 'Terrone', which, needless to say, is another of those slurs frequently directed at southern Italians by northerners.
Schillaci told Simon Hart in his book 'World in Motion': "I was very proud to be a terrone... In Italy, there's always been this racism or antagonism between north and south."
Amazingly, the first sentence of Schillaci's autobiography read "You've killed Falcone", words directed at him by Giovanni Trapattoni, shortly after the latter had been re-installed as Juventus manager in 1992.
This related to the infamous killing of the celebrated prosecutor and anti-Mafia investigator Giovanni Falcone, blown up by a Mafia bomb near Palermo airport in May '92 - still regarded as something of a 'where-were-you-when?' moment in Italian society.
Despite beginning his book with the words, he didn't hold it against Trap, acknowledging that the future Ireland boss was upset, as was the rest of Italy. Nonetheless, it was another example of Schillaci the Sicilian being pegged as a creature of Mafia country.
In 1994, after a couple more frustrating seasons and aged just 29, he abandoned Italian football for good and headed for Japan to the emerging J-League, where he was "thinking more of my wallet", as he acknowledged to Hart.
He spent four years out of sight in the J-League, making enough money until he could retire.
No one could claim he belongs in the first rank of Italian strikers but he is, in Ireland at least, one of the most famous Italian footballers of all.
Indeed, the fact that his professional career at the highest level was otherwise chequered means his name and face is instantly redolent of a specific time and place.
His beaming face remains synonymous with Italia 90, possibly the most heavily memorialised World Cups of them all.