In Spanish football circles, the term 'Hay Liga' is exclaimed when there is real hope of a title race breaking out.
Over in Germany, neutrals had fingers crossed when Tuesday morning dawned.
The top two sides in the Bundesliga were about to go head-to-head with the dominant force that is Bayern Munich holding a four-point advantage over a Borussia Dortmund side who knew victory on home soil - albeit without the presence of their vociferous support base - would cut that deficit to a single point and set up a sprint to the finish line.
However, Bayern had other ideas and their 1-0 win means "Hay Liga" is now "Nein Liga" or whatever the German language equivalent of "no league to see here" is.
With the record champions now seven points to the good at the top and third-placed RB Leipzig also dropping points at in-form Hertha Berlin the following day, we can almost forget about the notion of a title battle.
That's not to say that there aren't other narratives to keep the rest of the globe transfixed before Europe's other leagues return next month.
Tonight, Bayer Leverkusen will hope to get their Champions League qualification hopes back on track at SC Freiburg after suffering a setback at home to Wolfsburg by losing 4-1 on their own turf.
Having earned two wins in a row following the resumption of action to leap into the top four places, that defeat promptly cast them back down to fifth, albeit only behind Borussia Monchengladbach, who they had beaten in a crucial head-to-head last Saturday, on goal difference.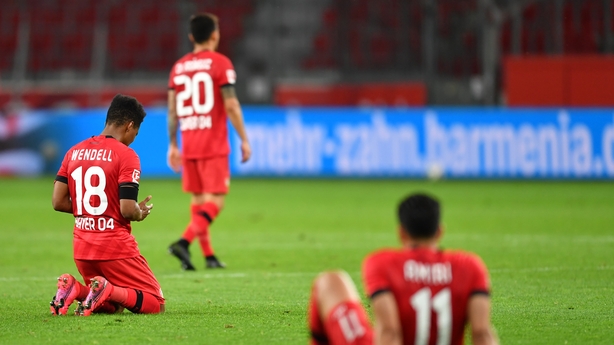 Victory is even more crucial for Leverkusen given that Bayern Munich are the visitors next weekend.
Monchengladbach host Union Berlin off the back of mixed results.
Their loss to Leverkusen was followed by a home draw with relegation-threatened Werder Bremen, which adds pressure to get back on track, especially when they visit Bayern Munich the week after Leverkusen face the leaders.
As for Dortmund and Leipzig, their league hopes might be dangling by a thread but they would also be wise to keep an eye below them as a sudden fall away in form would draw them into the clutches of Monchengladbach and Leverkusen who are within four points of second.
Five into four won't go so the Champions League qualification battle is definitely one to watch.
Below that, the hunt for the final Europa League place has turned on its head over the last fortnight.
Where Schalke had held sixth when the Bundesliga resumed, the form of David Wagner's side has begun to resemble his Huddersfield side in their second season in the Premier League - relegation form, although Schalke are in no danger of that given how they started the campaign.
Three defeats in a row, including a thrashing in the Revierderby at the hands of Dortmund, has plunged Schalke down to ninth, five points behind Wolfsburg who now occupy sixth.
They face Werder Bremen on Saturday at the same time that Wolfsburg are at home to an Eintracht Frankfurt team yet to win since action resumed.
Wedged in between Schalke and Wolfsburg in the table on 38 points apiece are Hoffenheim and SC Freiburg. The former visit Mainz knowing that a win will lift them level on points with sixth place should Wolfsburg lose.
The latter, as aforementioned, face a tricky clash against Leverkusen tonight.
Down at the bottom, Paderborn are now eight points adrift of the relegation play-off place held by Fortuna Dusseldorf.
More intriguingly second from bottom Werder Bremen's gain of four points from their last three matches has given them hope of a great escape.
The northern club are now within five of Dusseldorf with the benefit of a game in hand.
Should Bremen defeat Schalke and win their game in hand against Eintracht Frankfurt on Wednesday, then they will climb out of the automatic relegation places in the event of Dusseldorf not pulling off a shock result against Bayern Munich on Saturday evening.
Should those eventualities come to pass, then it's all to play for in the final weeks with Mainz and Frankfurt also nervously looking over their shoulders should results conspire against them.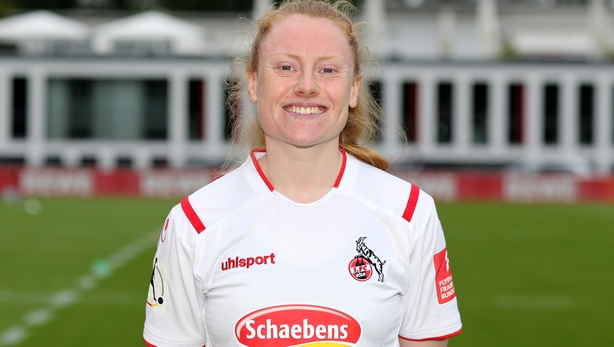 The Women's Bundesliga also returns this weekend with three Republic of Ireland internationals involved at German top division clubs.
Amber Barrett's FC Koln were the first to return but lost 4-0 at Wolfsburg with the Irish striker (above) sent off in the second half.
Defender Diane Caldwell's SC Sand are in action at Frankfurt, while Claire O'Riordan's MSV Duisburg are up against Bayer Leverkusen on Saturday.