Dietmar Hamann believes the Premier League will take great heart from two weekends of football in Germany and it should be all systems go for a restart in England.
Another round of matches were finished on Sunday evening in the Bundesliga, with plenty of entertainment and no obvious hitches ahead of another series beginning on Tuesday.
Reflecting on the games, he told RTÉ Sport: "I don't think it could have gone much better. Two sets of fixtures have now been completed, 18 matches.
"There has been 16 in Bundesliga II because Dynamo Dresden are in quarantine and they only enter the league in the coming week. So 30-odd games and things couldn't have gone any smoother.
"There was always a question mark because it's a new concept. I think the first round of testing was 1,720 people between players, physios, doctors, officials, people who are in contact with players.
"It takes a huge amount of discipline and obeying rules and so far the players have behaved impeccably.
"All the players around the clubs must have adhered to the rules that the DFL and government have put in place.  
"I didn't know what to expect, it was a little bit of a trip into the unknown. Judging on the first two sets of fixtures, you have to say it couldn't have gone any better."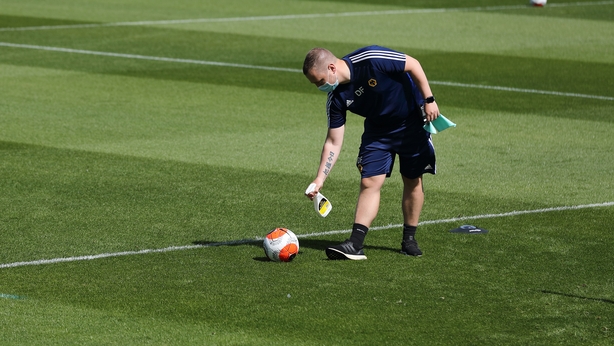 Premier League sides are set to begin phase two of their plan, with contact training, having made a tentative first step last week. A vote will take place on Wednesday to approve it. 
A date of 19 June is now being reported and the RTÉ Soccer pundit sees no reason why it shouldn't return, as long as the correct measures are taken.
"They should take encouragement from only two positive tests. I think they had six from the first batch. Two from almost a thousand people is 0.2%.
"We have to put things in perspective. All countries have eased restrictions and you see some pictures of other ones where they don't obey to the rules. I think we still have to be very careful and keep to social distancing.
"The Premier League should take encouragement from the Bundesliga. Guys went home after a week in quarantine and have been living at home for the last seven days. They went home last night.
"With their family members getting tested as well, I don't think there are many safer places than a football pitch or a changing room in the Bundesliga.
"If the Premier League can copy what the DFL has done, I don't see why the Premier League can't resume. The signs from Germany should be very encouraging."
One worry was what impact a lack of spectators would have on the games in Germany, and while initially it led to some criticism, the product has not weakened to any great degree, according to man who won the Champions League with Liverpool on this day 15 years ago.
"It has been brilliant. We've seen some brilliant games. It is different and we know that. We know in the mid to long term that we can't play football without fans. They are the ones who make the games.
"Without fans there wouldn't be grassroots football or any professional football. We need them back at some stage. For now there is no alternative.
"The statistics show there is hardly any difference in terms of intensity on the pitch. We've seen two weekends of brilliant games.
"Our classico of Bayern Munich v Borussia Dortmund is on Tuesday and I think it'll be a cracker.  The players and staff have done a brilliant job because in terms of quality there hasn't been any noticeable difference."