Premier League clubs will be subjected to no-notice spot-checks to ensure they are complying with pandemic training protocols, while the league has also committed to making every positive Covid-19 test public knowledge.
The 20 top-flight clubs unanimously agreed the protocols for small group training to resume from today and will gather again on 26 May to discuss protocols for contact training, which will be the clearest signpost as to when the Premier League can actually restart and will require further consultation with players and managers.
A start date of 12 June has been mentioned, but the league's chief executive Richard Masters has said that was only ever to be treated as a "staging post".
The first step involves small groups of up to five players working together, whilst practising social distancing, with sessions to last no more than 75 minutes for any one player.
The league's director of football Richard Garlick said it was important for every club to have confidence that their rivals were sticking to the rules, and said the league had given thought to how to police it.
"We can request information from videoing of the sessions and GPS data, too," he said. "We are also looking at bringing in our own independent audit inspection team that we'll scale up over the next few days which will give us the ability to have inspections at training grounds to start with on a no-notice basis.
"Gradually, we aim to ramp that up so we can have an inspector at every training ground. That will enable us to give everyone confidence that the protocols are being complied with, and give the public confidence that we are trying to create a very safe working environment."
Masters said any positive test would be made public in bid to be as "transparent and open" as possible, although the league itself will not name the player or club.
The results of the first round of coronavirus testing will be confirmed on Tuesday afternoon.
In the first phase, players will be expected to arrive at their club's training ground wearing kit, and leave three parking spaces between their car and any others present.
Players will not be able to gather in communal areas. Face coverings must be worn, while all training equipment will be disinfected by club staff wearing personal protective equipment (PPE).
The league's medical adviser Dr Mark Gillett did not rule out the idea of teams being based in effective quarantine in hotels once the action starts, but said those conversations had not taken place yet.
He also addressed the emerging data which shows people from a black, Asian or minority ethnic (BAME) background have worse outcomes related to Covid-19.
"It's a fair thing to acknowledge that there is an increased risk in BAME groups," Gillett said.
"In mitigation of that, the risk in young fit athletes is still very, very small and I think that is an important factor. I come back again to the fact that we're trying to create the safest possible working environment we can for these people.
"I'm happy we've mitigated all the risks that we can understand at this point and then when more information becomes available obviously we will do everything we can to mitigate against that as well. We will certainly move with it in real time as more information becomes available."
Following the Premier League's announcement, the Football Medicine and Performance Association (FMPA), which represents doctors, physiotherapists and sports therapists working in the game, said a survey of its members found a significant number do not feel they fully understand their "role, responsibilities and potential liability" in relation to the return to training.
Salmon said the FMPA was yet to receive a copy of the medical protocol from either the Premier League or the EFL.
The Premier League has drawn encouragement from fans staying away from Bundesliga grounds as it continues to work with its clubs on how the season can be completed on a home-and-away basis.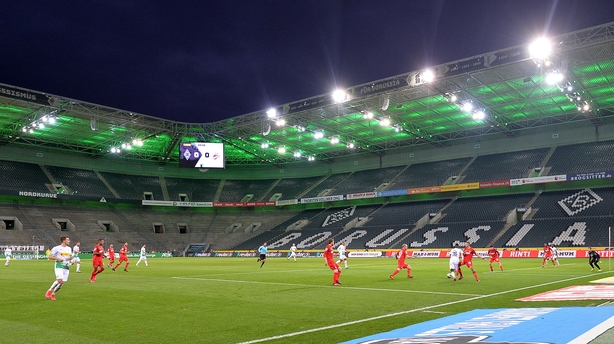 It is understood clubs were told on 1 May that using eight to 10 approved neutral venues was the only way the 2019-20 season could be completed.
However, the league held further talks with police and Government representatives last week to keep open the possibility of clubs' own stadia being used.
The German top flight resumed at the weekend, and Masters felt the early signs were good in many ways, not least the lack of supporters congregating outside venues.
One of the criticisms of the Bundesliga experience was the lack of atmosphere at matches. Sources with knowledge of the discussions have indicated that all options are currently on the table, including adding crowd noise and the use of computer generated (CGI) fans to replace the images of empty seats in the stadium.
No decision has been taken on whether to use such technology, with concerns that any changes do not make the game appear too far away from the reality of what is unfolding on the pitch.
Masters said a working group had been set up to ensure the product for viewers at home was as appealing as possible.
"In terms of the precise nature of what we are planning, we haven't really talked about it with the wide group yet so I don't want to share too much of the plans," he said.
"But obviously the big issue is that if there aren't fans in the stadium, what does the viewing fan at home, what's his experience like? And how different is it to a normal Premier League production and that's the question we're seeking to answer."