Celtic manager Neil Lennon has praised incoming Republic of Ireland coach Damien Duff after the club were awarded the Scottish Premiership title while relegated Hearts are threatening legal action if their proposal to restructure the division is not approved.
The season was halted on 13 March because of the coronavirus pandemic, with Celtic 13 points clear of Glasgow rivals Rangers, and having played a game more.
The top-flight clubs today reached a unanimous decision that the season could not be concluded and the Scottish Professional Football League declared the campaign had been determined on a points per game average.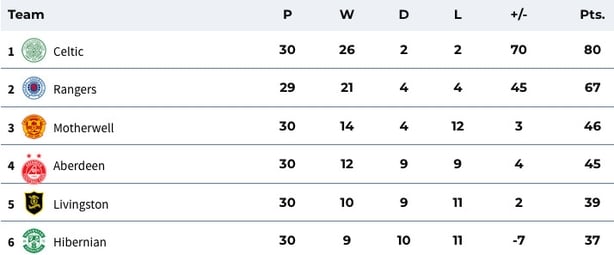 Lennon thanked the fans and singled out first-team coach Duff, assistant manager John Kennedy and club captain Scott Brown for particular praise.
100-cap international Duff is expected to leave Celtic to take up his new role with Stephen Kenny's Ireland management team but his departure has not yet been confirmed.
Lennon said: "Together we have shown that we are a powerful force and once again the best team in the country.
"It has also been an honour to work with such a special group of players, a squad crammed with talent, spirit, strength and resilience. I love these players - players who do their talking on the pitch and pride themselves in their professionalism.
"Led by a captain of the highest quality, these players are relentless in achieving their objectives - and they do it all for you, our great supporters.
"As manager of this great club it has been an honour to deliver your ninth successive title win. I could not have done this without John Kennedy and Damien Duff and thank both of them for their support.
"I returned to Celtic to win. In the tradition of our club I wanted to bring you positive, exciting football, to give you goals, an attacking, dynamic style of play which produced results. As a group we like to think we achieved that already and in this season in particular."
9???? #9INAROW CHAMPIONS ??

"It feels wonderful. I'm so proud of the players, it's an incredible record and to be part of that is something special. It's thoroughly deserved."#CelticFC's nine-in-row winning manager, Neil Lennon ????#StayHomeStaySafe pic.twitter.com/4MGmUSo2Or

— Celtic Football Club (from ??) (@CelticFC) May 18, 2020
Lennon admitted it was not how he would have chosen to claim a fifth league crown as manager, in what is his second spell in charge of the club, but insisted the circumstances took nothing away from what is a record-equalling win.
They are the third group in history to win nine in a row, after the Celtic sides of Jock Stein (1966–1974) and Rangers (1989–1997) under Graeme Souness and Walter Smith.
"We would have loved to play out the season in front of you, it is what we all wanted," said Lennon. "We were desperate to continue the blistering form we were in when the season was suspended.
"However, do not in any way let this detract from our achievement. While many will seek to challenge us, the title is ours and we deserve it. We are indeed champions for a reason."
A statement from Hearts suggested they could now take legal action, with the club saying it has not given up on a restructuring of the league.
The statement read: "Following today's decision to end the 2019/20 Premiership season and expel Heart of Midlothian Football Club from the top flight, the club would like to provide a brief update to both its fans and the wider Scottish football audience.
"We have stated from the outset that we don't believe it is right that any club should be unfairly penalised because of the Covid-19 pandemic. It was previously indicated that league reconstruction would not generate enough support to pass a vote between member clubs. In recent days a number of positive talks have been held with both the SPFL and member clubs and this topic is currently being revisited.
"Hearts will shortly submit a member's resolution that we believe is a pragmatic solution to the issues the game currently faces and a way forward that the clubs can unite behind. It is our belief that this resolution, if supported, will provide an opportunity to avoid disproportionately disadvantaging - financially and otherwise - any club.
"This is possibly the final chance for our game to stand together, protect each other and not only survive but flourish in the aftermath of this terrible pandemic. Players from across all leagues have shown a desire for reconstruction and having already received support from some clubs we are hopeful that this resolution can positively progress Scottish football.
"As previously intimated the club has been taking legal advice throughout this process and are continuing to do so. We hope that the resolution being prepared will avoid the need to go down this route. Legal action would be both time consuming and expensive.
"However, the cost to the club of relegation would outweigh these considerations."