Dietmar Hamann is hopeful that crowds could return to Bundesliga games as early as September.
The German top flight was the first of Europe's elite leagues to return to action over the weekend, with a full set of fixtures played behind closed doors.
One club, Moenchengladbach, allowed supporters to pay for a cardboard cut-out of themselves to be placed in the stand for the princely sum of €19, while some broadcasters offered the choice to watch the game with an audible crowd track.
"One of the minsters in the east said that he will allow fans at a sporting event as soon as September," the former German international told Darren Frehill on RTÉ Radio 1's Morning Ireland.
"It won't be a full stadium but [one] with the social distancing. He said it should be possible to have fans in the stadium in early September.
"That's a big step forward from what we've heard, and what we've known in the last four to six weeks.
"Things are slightly on the mend. We still have to be very careful. I think it's very important to obey the rules.
"But I think that if we do that, we've got the worst behind us."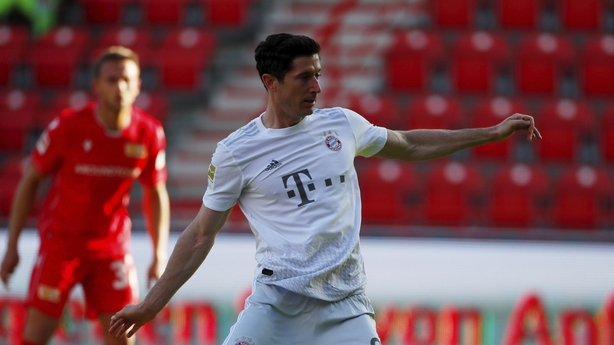 In Germany, no large outdoor gatherings are allowed to take place before 1 September.
Over the weekend Bayern Munich retained their four-point lead at the top of the table after a 2-0 victory over Union Berlin.
Hamann admits that it was a "different experience" to see such big games played behind closed doors, but he points out that the Deutsche Fußball Liga (DFL) have no other choice.
He said: "We know that sports, and particularly professional sports, without fans are just not possible over a longer period.
"The facts are that at this moment in time there is no alternative. The only way to resume and finish the season out fully is to play behind closed doors.
"What we know of the virus is that in two weeks' time, or six months' time, things won't be any different.
"We have to live with the virus and contain it. Yes it's not what we're used to, but the fact is at the moment there is no alternative."