Stephen Kenny is a fascinating manager and an unbelievable character who would do anything for his players.
That is the opinion of Bohemians midfielder Keith Ward who played for the new Republic of Ireland manager for two seasons at Dundalk.
By his own admission, Ward had a mixed experience at Oriel Park during his time with the Lilywhites.
However, he had nothing but praise for Kenny, who was in the midst of creating something really special at the club.
"I'd two years with Stephen, obviously it was a bit up and down with him for me personally, but I'm absolutely delighted he's been given the job, he's a breath of fresh air, it's great for the league.
"We've helped Stephen Kenny get the Ireland job because he came through our league and has done so well, even with the Under-21s you can see.
"I'm fascinated, I really hope it goes well, I think it's exciting times."
Long-term injuries, coupled with trying to break into a team that was winning every week were major factors that prevented Ward from becoming a key player in the Dundalk side that would go on to dominate Irish football for five years.
However, Ward also reveals that he did himself no favours on an away trip in Luxembourg, opting for a breakfast that certainly caught the attention of the manager.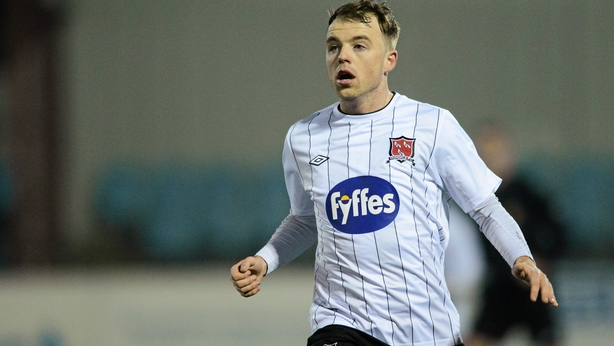 The Lilywhites were competing in the first qualifying round of the Europa League and impressed with a 2-0 away victory against Jeunesse Esch.
"We were away in Luxembourg in 2014, and I wasn't getting a sniff that year, as I came back from my cruciate.
"The team was flying. We played Derry in the League Cup, and I ended up getting injured.
"I got a hairline fracture in my arse - the worst pain I've ever been in in my life.
"The manager said 'we want you to come on the trip and you can get a bit of gym work done. I want the whole team coming'.
"We got a good result so he let us get a night out, but still had a curfew.
"We all came down for breakfast the next morning and we're all hanging.
"I don't really like breakfast, so I said to the girl serving us, 'can you just throw us out a bit of ice-cream?'.
"So the girl brought it out in this big glass, it might as well have had sparklers coming out of it, it was massive, a big fancy thing.
"As soon as it was in front of me, the first scoop, Kenny turns the corner, looks at me, walks over and goes, 'you're supposed to be getting f**king fit'.
"I don't think I ever played for the club again after that!"
"Honestly if you told him before a game that you wanted a bouncy castle out on the pitch because it helps you, he would get you a bouncy castle"
Yet Ward still holds the manager in the highest regard and admits that aside from not getting game time, it was a really exciting time to be at the club, and working under the new Ireland manager.
"It was such a great dressing room. We'd come so far in a year or two with him, there was such a great buzz at the club. We were on a rollercoaster.
"I know I wasn't playing but it was so hard not to enjoy being around the lads every day winning and what we were doing. There was no way I could disrupt that.
"Seeing the way Stephen is around the place and the way he treats his players, you couldn't fall out with him.
"He's an unbelievable character. I know he's not everyone's cup of tea but to see his team-talks, how much he loves the players around the place.
"He's mad but he's fascinating. His insights into the game, how much he loves his players.
"Honestly if you told him before a game that you wanted a bouncy castle out on the pitch because it helps you, he would get you a bouncy castle.
"He would do anything for his players, if the players buy into him, I think it could go well."
Bohemian FC's Keith Ward will face Aaron McEneff of Shamrock Rovers in FIFA 2020, a virtual #DublinDerby at 8pm on Friday 24 April. The event, produced by Teneo, will be streamed live on Balls.ie.