Former UCD and Sheffield Wednesday player Paul Corry believes that the FAI have shown real leadership in acting decisively to appoint Stephen Kenny as the new Ireland manager.
The FAI announced yesterday that Kenny, who was due to take over on 1 August from McCarthy following the Euro 2020 campaign, was taking over immediately due to the postponement of the tournament until next year and the rescheduling of the play-off fixture against Slovakia.
Kenny's new look backroom team will feature Damien Duff, Keith Andrews and Alan Kelly, with Jim Crawford taking over from Kenny as the manager of the Under-21s with John O'Shea.
Corry praised the FAI and it's CEO Gary Owens for making the tough decision and he believes that the clarity surrounding the manager will benefit the squad as they look to book their place at Euro 2020, which will be held next year.
"I think it was a big call by Gary Owens and his team," Corry told RTÉ Sport. "With so much uncertainty around at the moment I think we've seen really good authority and leadership from the top of the FAI and that's what we've asked for post John Delaney's regime.
"There's real clarity in what could have been quite a long, drawn out process, just with the qualifiers and not knowing when they're going to be.
"It's a massive statement of confidence in Stephen Kenny to take this job on and to lead us, hopefully, to the European Championships, but at the same time I think we have to feel for Mick McCarthy in the fact that he didn't get to finish out the job that he's put a lot of time and effort into."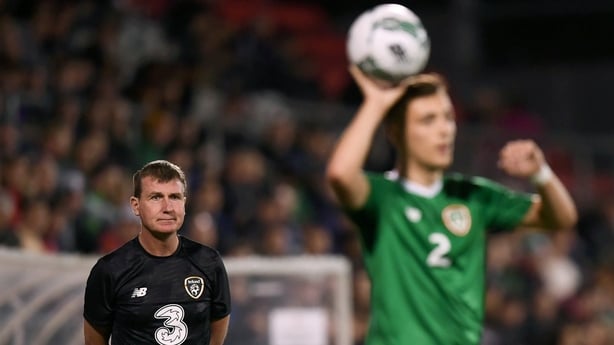 The new Ireland manager is set for a baptism of fire and he'll be thrown in at the deep end with the possibility that the crucial play-off game against Slovakia will be his first in charge.
However, while Corry admits that there may be some among the Ireland squad that are unaware of their new manager and his work, he believes that Kenny has the ability to make an immediate impact and quickly win over any doubters.
"He will be quite unknown to many at this level," Corry said. "Obviously his CV is very much based with Dundalk and what he did in Europe but I think that will stand to him.
"Tactically he showed his capabilities, particularly taking Dundalk so far in the European campaigns, but also what he's done with the Irish Under-21s.
"I think what we'll take confidence from is the fact that he managed to stamp his way and his style of play in such a short period of time and that's something that he's going to have to work hard to do because we have some seriously important fixtures coming up.
"What we do know of Stephen is that he likes to play with freedom, he likes to instill confidence in his players and he will ask people to get on the ball and play.
"If you're an international player with potentially a lot of fixtures coming up, that bit of freedom and that belief that Stephen puts in his players will hopefully stand to him. But let's not make no bones about it, he is coming in at a seriously important time and the pressure will be on from the get-go."