Dundalk head coach Vinny Perth says he is keen to rise to the challenge of leading by example in his own way during the current coronavirus pandemic.
League of Ireland fixtures have been suspended over the past few weeks with action not due to resume until 19 June, at the earliest.
But Perth told RTÉ 2fm's Game On that he has been at Oriel Park most days over the past week and a half as he keeps on top of non-footballing matters.
"I suppose you've got lead by example," he said.
"Things like our training ground, I've been giving our groundsman a hand up at the training ground
"We've been painting walls, the staff have, and Oriel needs a little bit of work don't get me wrong but you're just setting an example, if you're all doing it all in a safe way."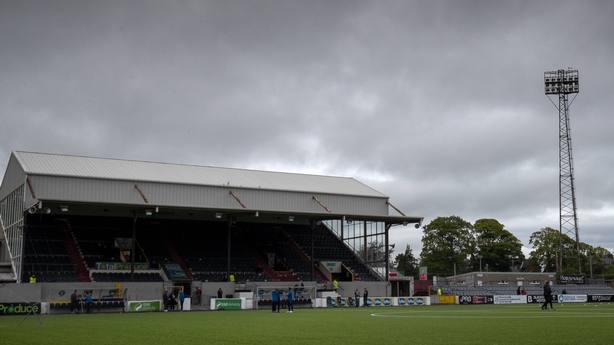 He added: "I see this as a real challenge for me and it's something new so it's probably something I can learn from and in a strange way take a positive out of it and tick another box in sort of someone who's young and starting out that this is my chance to put what I would have learned in leadership books or what my personality is from a leadership point of view, you try and put that into practice.
"So it's been interesting and it's been a good learning curve for me."
Perth echoed Cork City counterpart Neale Fenn's view that the period just before clubs return to action will almost be like a pre-season. In the meantime though, there are plenty of challenges to deal with.
"The modern day athlete is completely different now. They don't really want downtime," he said.
"So you're trying to manage that and there were some people actually doing too much and we were following their GPS units, saying, 'You need to slow down' and they were putting themselves at risk of injury.
"We just sent them new nutritional plans because what they would normally eat compared to what they can eat now are two different things because they're obviously not burning off those calories or they're exercising a different way."