Jack Byrne says that there needs to be perspective when it comes to the coronavirus, and how it might impact sporting events.
Speaking on RTÉ 2FM's Game On after receiving the SWAI player of the month for award for February, the Shamrock Rovers midfielder was blunt.
"It's a concern, but it's a relatively small issue with what's going on in everyday life," Byrne told Marie Crowe when asked if he was concerned about playing behind closed doors, or even postponements.
"People are getting very sick, and people are losing their lives.
"People can't go into work, and we can't play football; it's the same thing. If we have to call a game off, here and there, it's not a big issue."
'There are people's lives at risk' - @SSEAirtricityLg Player of the Month @Jackb_8 on the relatively small issue of sport. Full interview with @mariecrowe on @GameOn2FM 6pm #rtesoccer #COVID2019IRELAND pic.twitter.com/l8JJskkfDk

— RTÉ Soccer (@RTEsoccer) March 12, 2020
This week has seen both Champions League and Premier League fixtures played behind closed doors, but Byrne is of the view that it wouldn't be a solution for the League of Ireland.
"Looking from the outside, a lot of the clubs in the League rely on the gate to play their players," he said
"I think there's probably only a couple of teams that'd be able to play games behind closed doors and still be able to function properly as a club, so I don't think it's an option.
"I would rather see the games called off and re-scheduled for another time.
"At the start of the season there's a hell of a lot of games in this League, and towards the back end there's not a lot.
"So there's plenty of time to fit the games in."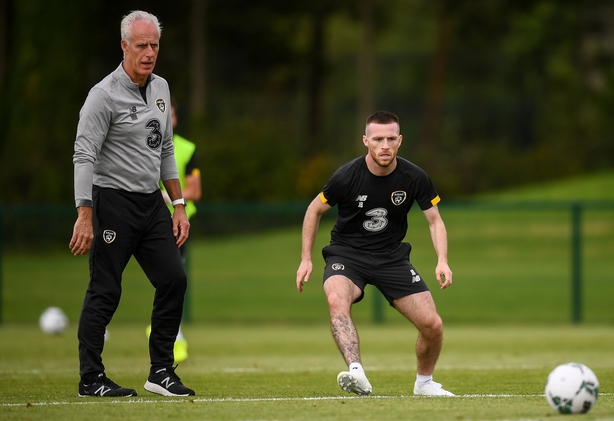 The Dubliner has been mentioned recently by Mick McCarthy, with the Republic of Ireland manager saying that he could be 'very handy in a tight play-off game.'
The situation of the play-off game against Slovakia is under threat. With the match already being put behind closed doors, the hosts earlier requested a postponement in light of the coronavirus situation.
The Bosnian FA had already sought a delay of their play-off against Northern Ireland, with the winner of that game due to play the winner of the Republic's clash on 31 March.
Byrne will find out later this week if he has been included in McCarthy's squad, and he admits that it will be "strange" to play such an important game in an empty stadium, if it goes ahead.
"I'm probably not the only one whose never been in that situation before. It's still the same thing at stake, the chance to qualify for the European Championships.
"So whether there's one person there, or 20,000 there it doesn't really matter. It's still the same goal at the end of the game."
Listen to the full interview with Republic of Ireland and Shamrock Rovers player Jack Byrne on RTÉ 2FM's Game On from 6pm