Liverpool manager Jurgen Klopp claimed Atletico Madrid had tried to get Sadio Mané sent off and insisted the Champions League last 16 tie was still alive despite a 1-0 first-leg defeat in Spain.
Mane was substituted at half-time in the often spiky clash, shortly after being booked for catching Sime Vrsaljko with a stray arm.
The Senegal striker could arguably have been shown a second yellow when clashing again with Vrsaljko just before the break and Klopp decided not to take the chance of finishing the game with 10 men.
"He was targeted obviously that was clear," the German said. "It's part of football but I don't like it."
"The plan today was to get Sadio out of the game with a yellow card, I was a bit afraid that his opponent would go down if Sadio only takes a deep breath or whatever.
"I didn't want to have that situation and that's why I took him off.
"You need to be really strong as a ref in this atmosphere and that was obviously not easy. So many things happened today.
"Already in the first 30 minutes three of their players went to the ground, I don't know what for."
Klopp was also shown a yellow by referee Szymon Marciniak for over-vigorously protesting against a borderline decision, though he admitted he deserved the caution and joked "All human beings make mistakes".
Jurgen Klopp claims Atletico Madrid tried to get Sadio Mane sent off and insists 'It's only half-time' after his side lost 1-0 #ChampionsLeague #ATLLIV pic.twitter.com/wFZKs7uybo

— RTÉ Sport (@RTEsport) February 18, 2020
The Liverpool boss insisted he was pleased with some aspects of his side's performance despite conceding what proved an expensive early goal against opponents who were mostly content to dig in and hold their lead.
Of Saul Nigez's fourth-minute opener, scored when Liverpool failed to clear a corner, the German said: "It's clear that's not exactly what should happen but it happened so...
"It was the fight we expected, it was the atmosphere we expected, but I loved so many parts of our game.
"Build-up was exceptional. Counter-press was exceptional. Would we have liked (to score)? Of course.
"We lacked of course in the final third, to be fair they defended with all they had. Their defending in the box was incredible to be honest but we had moments.
"But that's how it is. When you are 1-0 down against a team like this, they only want to have this kind of result. Nil-nil would have been okay for them.
"They got a result, the stadium wasn't here to see sensational football. Atletico were here to squeeze a result out of this game, they got the result and so they are happy and we are not that happy."
Atletico Madrid 1-0 Liverpool: Saul seizes the initiative for Atletico Madrid. #ATLLIV #UCL pic.twitter.com/Dv36LHJ7qy

— RTÉ Sport (@RTEsport) February 18, 2020
The teams will meet again on 11 March and Klopp is already relishing the prospect of another electric European night at Anfield.
"I had no problem with the result. I saw so many happy faces from Atletico tonight, I get that because it's a big win, but it's not over yet. That's the only thing I feel.
"We lost. But for me we didn't lose. It's half-time. We are 1-0 down but we play the second half in our stadium, which is obviously completely different.
"We have the longest half-time break you could wish for, we will use that and play again.
"Our people will be ready, I know that. We speak from time to time about the power of Anfield and the power a stadium can have, tonight you saw that.
"It's half-time and we are 1-0 down. Why should we give up? Even better, the second half will be in a different stadium, our stadium, that will be different and Atletico will feel that, and that's what we are looking forward to."
Klopp added that captain Jordan Henderson had been substituted as a precaution after tweaking his hamstring but he was hopeful the injury was not severe.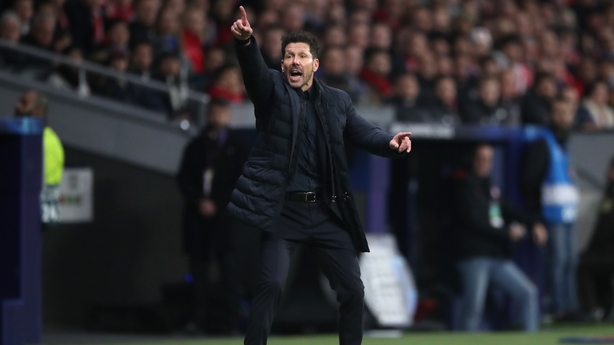 The win was a crucial one for Atletico boss Diego Simeone, who has been coming under pressure due to his side's indifferent form in recent months.
The Argentinian paid tribute to the attitude of his battling players and the fans for creating a ferocious atmosphere.
Simeone said: "My side started winning when we came up the road leading to the stadium.
"We saw players who believed. We saw the beautiful side of football. The crowd and the side were a block as one.
"Winning breeds winning. The best way to feel strong is to win and that's what we want to do. It was a very important win for the club tonight.
"In the eight years I've been here, I've not seen the crowd like that for the whole game. It was really emotional.
"It's not the best night ever because we didn't win a trophy but there are nights you don't forget.
"The best side in the world came here, and we beat them. But it's only one game down, one to go. Liverpool had their chances. They were dangerous, they've got good players all over the pitch."