Niall Quinn was on hand to usher in the new season of the SSE Airtricity League at the Sport Ireland campus on Wednesday and the FAI's interim deputy CEO believes that Irish footballers will lead the way to restoring the credibility of the game following an incident-filled 12 months.
The former Ireland international said he welcomes the return of the on-field action following a lengthy "political narrative" ahead of the commencement of the League of Ireland season and the upcoming Euro 2020 qualifier in Slovakia.
Just weeks into his new role with the FAI, Quinn also outlined his immediate vision for the League of Ireland, explaining that he now had an obligation to "enable" the league and its clubs as a result of the recent government agreement.
"It's just been one big political narrative for a long time, so to see guys getting ready to play is great," said Quinn, talking to RTE Sport.
"And I think that they are going to be the ones to bounce the credibility back into the game by playing football and obviously Mick and his team will do the same thing."
"We are an enabler to the League of Ireland, not a blocker, so wherever they [the clubs] want to go, we have to be there to support it, and use what we have in terms of our relationships with UEFA etc.
"The clubs have had a raw deal, and I hope they feel they have a friend in court, they will have three friends in court, Gary [Owen], Roy [Barrett] and myself, and how we go about producing that and go on a productive journey with the clubs, we have to do that by actions.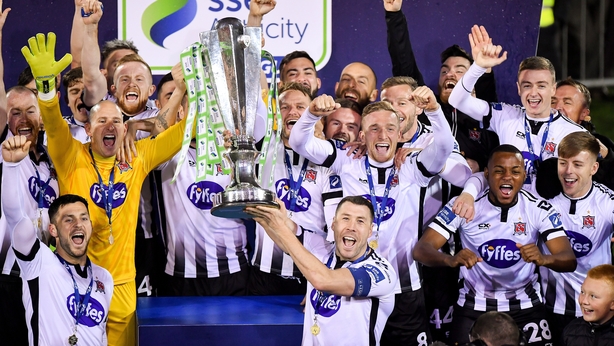 "We can't turn water into wine, but we can show shifts to where we feel the FAI should be funding.
"We would like to see every club with an academy playing national league football at underage levels. The quality coaches working with our elite, and the elite players getting hours and hours of fabulous coaching.
"We believe an elite League of Ireland lifts the whole game with it as you can see from any other country in the world."
The season starts on Sunday as the League champions take on the Cup winners in the President's Cup in what is a repeat of the FAI Cup final as Dundalk and Shamrock Rovers go head to head.
We have to be enablers for the advancement of the game, it has to start with the League of Ireland
The first round of league fixtures take place the following weekend as the champions open their campaign against Derry on the Friday night, before the big Dublin derby kicks off on Saturday afternoon as Rovers travel to face Bohemians.
"I'm looking forward to the President's Cup. The last game I was at was the Cup final and that was a great day out so you get the feeling when you see the game in action it is the start of a new approach for the FAI.
"We have to be enablers for the advancement of the game, it has to start with the League of Ireland – if we haven't got an aspirational League of Ireland that is in really good nick, how can the rest of our game aspire to be there?"
Quinn made several references to what he described as the "new-look" FAI and outlined his immediate priorities, which he believes will help grow a more vibrant and professional league.
"We have been charged with helping clubs with their facilities over the next five years and we will be putting an office together to equip clubs better to apply for grants.
"We are all pretty despondent about the recent public funding announcements where there were only two applications from Irish football – one successful, one unsuccessful. We should have had every club that needed upgrading in with a fabulous bid. We will pay for that to take the burden off the club.
"Football will lift this new-look association into a new era.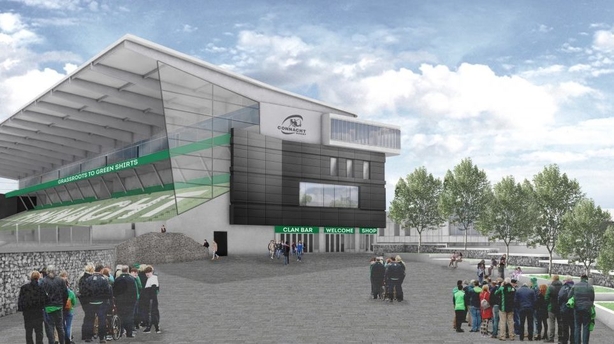 "We have to change our messaging and let the people know the value of football.
"At the moment there is a bit of tit for tat, but I will remonstrate with anybody who gives out about the money we got, because we are handing back €30m minimum back to the exchequer in four months' time.
"Connacht Rugby got €20m, delighted for them, would love to know how they did it, and would love to use best practice going forward so we can get our stadia in the same boat.
"I don't want to give out about Connacht, I don't want to give out that they are not paying back the exchequer in June with a huge profit, what I want to do is speak to the and find out how they did it and can we all do it together.
"You've seen the social and economic research of what football does for this country, it is conveniently forgotten by most people and just because we got the support we got, it doesn't mean I'm not going to keep that message going out there."
Quinn also spoke at length in relation to the affect that Brexit may have in shaping our footballing future with speculation that English clubs will not be allowed to sign Irish youngsters until they are 18.
And the former Arsenal striker, who decided against finishing school when he chose to move to Arsenal as a teenager, feels that all Irish players should be travelling with an education under their belt.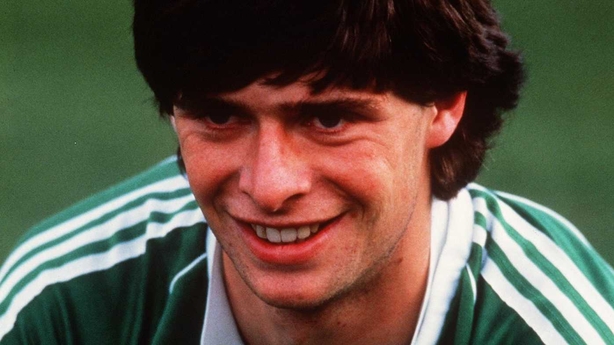 "There is nothing certain about Brexit but we have to put in a structure to help elite young players not only with their football but with their education, so if we are holding onto them longer, we are sending over qualified young men, which is a bit like the Danish and Swedish teams do.
"We are a long way behind in someways, but the last year or two have shown that we can deliver footballers from this country.
"I would like to see every young footballer to leave with an education – I was robbed of an education and I have seen too much heartache of young players going over without education…and coming back so annoyed with the game and the problems that it has caused them.
"I would welcome a lift in the age to 18 of any player to go over and sign full time in England."
Quinn said that the he is working off a five-year plan for Irish football in general and said that while his immediate focus is on the League of Ireland, the overall game will be very much part of the masterplan.
"There should be no fear from amateur football or from grassroots and particularly women's football because we have ring-fenced money that women's football that we never had before.
"And we are so close at senior level to the elite, elite of women's football, so we can see a time when women's football can trip the light fantastic as to where it will go.
"That's the five-year plan.
"People have said, "oh you're the face of Irish football" but what I am doing for League of Ireland today, I want to be doing for grassroots at time, I want to be doing for Euro 2020, I want to project an image that all of our game is in fine fettle."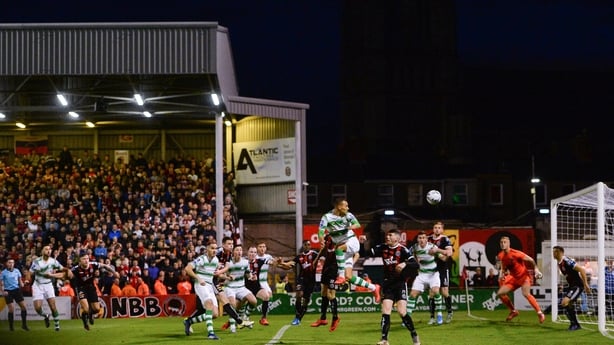 On the thorny issue of prize money for the League of Ireland champions, the former Sunderland striker and chairman suggested that there may be an increase but could not commit to it as the association attempt to come out of the current financial crisis.
"I would be killed if I said yes, but I would like to see it. We are not overflowing with cash falling out of the cash registers," said Quinn.
The new man in charge was, however, was more forthcoming in relation to his thoughts on the ongoing proposals for an all-island league, while the 92-time capped Republic of Ireland international also suggested that he was open to the idea of an all-Ireland international side.
"We are happy to let the clubs lead on that but it is very important that we don't jump ahead of our friends in Northern Ireland and if we are doing stuff, we do it together.
"Our association must be respectful to the needs of the association up north and the league up north.
"And if that starts to come together, and the clubs are giving us good feedback on that, we are here as an enabler to make that happen, only if it is wanted on all sides."
"If there is any questions, I would rather have that conversation with our counterparts up north to make sure that we don't jump ahead of them," added Quinn when asked whether an all-island league could have implications for the two international sides on the island of Ireland.
"I am a footballer. I love when our country are playing and winning, and if there was a way that both sides could get together and chat about that, my door is wide open, I'd love to."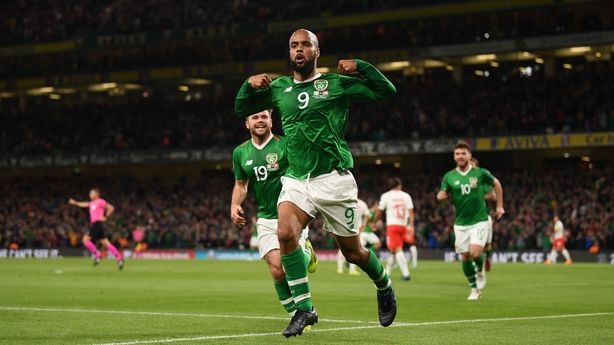 As well as outlining his hopes and plans for the new-look FAI, Quinn also said that he needed time to start implementing structures within the organisation and said that he would be happy to provide a further update in three months' time as to the progress that has been made.
"We need a settling in period, we don't want to go rushing in to stuff but we know our priorities, they are written on that [government] agreement.
"So we can't sit back have three months and decide we won't do anything with the League of Ireland. We have to, we have been charged with it and we will do it the best we can.
"And while we are not flowing with money, do you know what we have for the first time, we have optimism in the air, we have good people, we have good governance, the government, UEFA, Sport Ireland are releasing money, and this is giving us heart that we are in good fettle to go out and do the deliverables.
"We are not blasé about it but I believe when these guys start playing football and when Mick brings his squad in for the Slovakia game, we will all feel better that we are going in a particular route.
"And Euro 2020, the fact that five billion people will be watching those matches in Dublin around the world and that is big news.
"So I would hope to be back in a few months to talk League of Ireland and some of the things we have talked about, but we need a bit of time to put all that together."