It's now a case of when and not if and even the most pessimistic of Liverpool supporters are now planning for the celebrations when their 30-year wait for the league title ends.
Liverpool's 4-0 victory over Southampton coupled with Tottenham's 2-0 win against Manchester City on Sunday leaves the gap between first and second at a massive 22 points.
With Liverpool looking nigh-on invincible at the moment, attention now turns to the calendar to see when the party planning can begin in earnest.
Jurgen Klopp may be trying in vain to keep a lid on things but the facts are that six wins from their last 13 league games will see the Reds crowned champions, no matter what other teams do.
City have a maximum ceiling of 90 points this season so 91 will be enough for Klopp's side.
Liverpool's next six league games are Norwich (A), West Ham (H), Watford (A), Bournemouth (H), Everton (A) and Crystal Palace (H).
There are few if any banana skins in there, with the derby clash against Everton at Goodison the only game that could conceivably cause problems.
As things stand, should the Reds and Manchester City win all their games from here on out, Liverpool can clinch the title on 21 March when they welcome Crystal Palace to Anfield.
That would be the earliest the league has ever been won, both in terms of date and with games remaining – seven.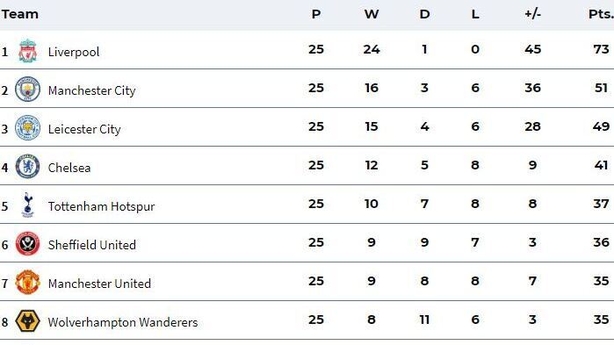 However while you'd expect Liverpool to do their part the same can't be said of Manchester City.
Pep Guardiola's men have been unable to live up to the lofty standards that has seen them crowned Champions for the last two seasons and they've already lost as many games (six) as they did in the entirety of their last two title winning campaigns.
City have failed to put together a winning streak longer than three games in the league this season and they've got a particularly testing run of games in front of them in the next two months.
Their participation in the Carabao Cup final sees City's home game with Arsenal moved so their next five league games looks like; West Ham (H), Leicester (A), Manchester United (A), Burnley (H), Chelsea (A), before they host Liverpool on 4 April.
Defeat for City against either Leicester or United could see Liverpool clinch the league with victory at Goodison Park on 16 March while defeat to both would mean that the Reds could wrap things up against Bournemouth a week earlier, should they continue their winning ways.
There is the tantalising prospect of the title being settled at the Etihad when City welcome Liverpool at the start of April but for that to now happen, Liverpool would have to drop points between now and then and City win all their games.
More likely, but no less galling for City and their supporters, will be a guard of honour from Guardiola's side as they welcome the newly crowned champions onto the pitch at the Etihad.
Liverpool next six fixtures: 15 February Norwich (A), 24 February West Ham (H), 29 February Watford (A), 7 March Bournemouth (H), 16 March Everton (A), 21 March Crystal Palace (H)
Manchester City next six fixtures: 9 February West Ham (H), 22 February Leicester (A), 8 March Manchester United (A), 14 March Burnley (H), 21 March Chelsea (A), 4 April Liverpool (H)