Amber Barrett made the move to professional football last July, and now, six months on, the Ireland striker is ready to start over.
By her own admission, the transition to life in Germany has been, at times, difficult as she made the step up to full-time football, adapted to her new environment and had to deal with the unfamiliar reality of not always being guaranteed a game at new club FC Cologne.
The Donegal native made her name playing for Peamount United and broke into the Ireland squad under Colin Bell's tenure, making her international debut against Northern Ireland in September 2017.
"It was a complete change of scenery," said Barrett, who signed for the German side on the back of a 30-goal season for the Dublin club.
"Having come from Peamount, playing every week and knowing that there was no fear that someone was going to take your place, and then arriving in Cologne and there was no certainty that I was going to be in the 18, I was completely shell-shocked.
"If you are comparing playing UCD for Peamount, we'd train Tuesday night and Thursday night and play the game at the weekend.
"Over there you are in Monday, twice on a Tuesday, off Wednesday, twice on Thursday, Friday night, Saturday morning and then game on a Sunday.
"And the first few weeks, the adrenalin was there, and I thought, 'this is great, I'm feeling really good', but then I had a complete slump. If you went to the local primary school you would get better players. I just completely went off the boil.
"But I was told that would happen, it was just a little dip, it lasted about two weeks and you just have to get over those things, the body is just in shock, I had been doing a lot of work to get into good condition going away, but you'd can't train yourself for the intensity of that training."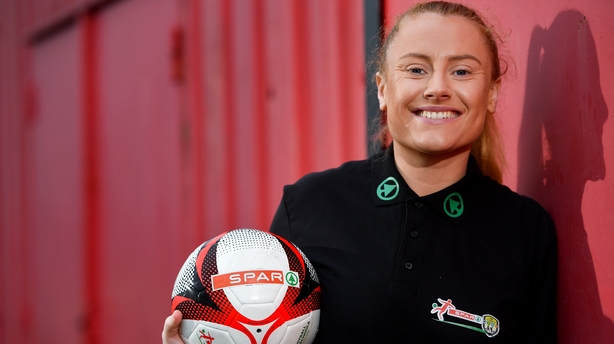 Perhaps the most testing thing that the Millford woman encountered, however, was working in an environment where everything was done through German, with no official translator on hand to guide Barrett through those early stages of her continental career.
"It was difficult at the start, I didn't understand a word," said Barrett.
"Everything is through German, football is through German, meetings are through German.
"I was lucky that there are good girls there that will say 'look, this is what he said to you', because sometimes I'm like, I haven't a bloody breeze what he's talking about.
"But it's all part of building adversity and overcoming challenges and things like that."
Barrett feels that apart from that two-week spell, she has adapted quite well to her new surroundings and feels that she should have been afforded more time in the first team, considering Cologne are struggling down near the foot of the table.
Barrett went away on international duty with the Republic of Ireland last November and scored a vital goal in a hard-fought 1-1 draw away in Greece, and while she returned to her club full of confidence, she was not handed the opportunity to show her form, which added to her frustration.
"There was a period before Christmas when I was thinking I could have being getting more of a shout.
"We went through a period of not winning any games and yet it was the same starting XI and the coach was not making any changes closer to goal, and that frustrated me.
"Having scored in the Greece game, and then that weekend, not even getting two minutes, so that was hard for me going back after coming from a high."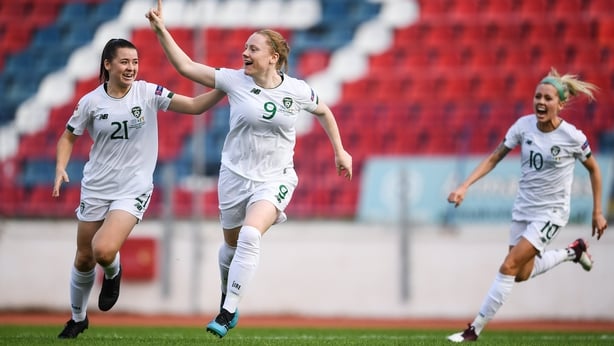 The women's Bundesliga is currently in the middle of a winter break and Barrett now finds herself under a new coach at her club, as Sasha Glass has taken over from outgoing manager Willi Breuer.
And the Ireland striker feels that she is now ready to kick-start her Cologne career, hopefully gaining better opportunities under the new coach, while she is also settling into her environs better, intending to become much more proficient in the native tongue.
"Football-wise it's good, we have a new coach who just came in after Christmas, so it is literally like a start-off period all over again," said Barrett.
"Now it is up for me to impress this new fellow and see how things go. Hopefully it won't take as long for this guy to give me more game time anyway.
"I don't have a tutor but it is something that I am looking into. Initially, I gave myself the first few months, do a little bit, listen to what people are saying, and I was getting a few sentences from people, I'd say 'what does this mean in German?', and I'd learn it off.
"[At least], the language of football is universal so a lot of the time you pick up things like that very quickly."
Barrett admits that the second "pre-season", ahead of the return next month, has been tough and intense, with a lot more running than under the previous regime, but she feels as though she is already reaping the rewards and it sets her up perfectly for the rest of the campaign.
"I feel, like I am officially starting anew now but also that I have a bit behind me and that's going to take through a little bit better now.
"It's really important now for the next few weeks: new manager, so it is very exciting now and you want to go out and just get back to what you're good at.
"For me, it's creating chances and scoring goals. It's nearly like a clean slate for me. I'm going back there with that optimism again. And I've absolutely no doubt that we have a very good side and if everybody plays to the best of their ability, we can not even just stay up but get up the middle of the table."
Back at the FAI headquarters for the school football launch, Barrett revealed that she randomly bumped into the new Ireland head coach, Vera Pauw, who did not immediately recognise one of her star strikers.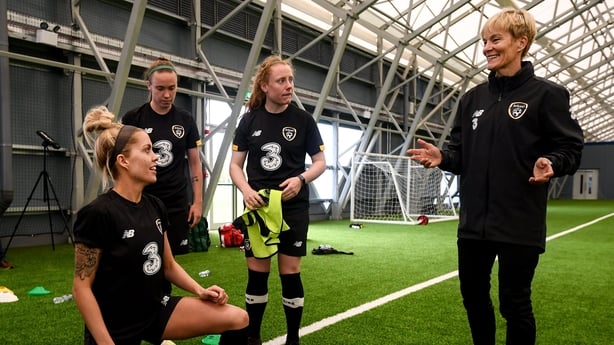 "She didn't recognise me with the make-up on!" laughed Barrett.
"It's nice for the player to have that [contact] as well because sometimes the gaps between internationals are quite large."
And looking ahead to the upcoming qualifiers with Ireland, Barrett believes that the national side are confident of gaining automatic qualification to the 2021 European championships.
Pauw's side are currently unbeaten after three games, with seven points on the board and with a double-header to come against top seeds and group leaders, Germany, Barrett believes that on their day, this Ireland side are capable of getting positive results to aid with the qualification push.
"It's as realistic as it was to take points off the Netherlands away," said Barrett, referring to the last qualifying campaign when Ireland secured an impressive 0-0 scoreline with a side who would go on to reach the World Cup final.
"When we are good and we are organised, we can do anything, I have absolutely no doubt. And with Vera, she wants us to play more attacking football.
"Being realistic, Germany are the favourites, but we are looking to get a result off them, and then hopefully get a result against them away from home, which would set us up to be one of the automatic qualifiers as one of the best runners-up.
"There is a long way to go in the group, but seven out of nine points, we would have taken it."