Minster for Sport Shane Ross has reiterated his strong desire to see "real regime change" in the FAI and described the delay in appointing independent directors at the organisation as "inexcusable".
The uncertainty about the future direction of the FAI continued on Monday when John Foley, who was due to take over as interim CEO, chose not to take up his appointment. 
The former chief executive of Athletics Ireland had agreed to take on the role from Noel Mooney, whose period at the helm of the FAI ended at the weekend.
However, Foley decided against taking up a role at the troubled organisation, which has been embroiled in controversy since news emerged of a €100,000 loan given to the Association by its then CEO John Delaney.
An independent chairperson and three independent directors are due to join the FAI board on the back of recommendations of the Governance Review Group Report of the association, which was released last June.
"I can't understand why the independent directors haven't been appointed yet," Ross told RTÉ Sport's Tony O'Donoghue.
"The delay for that is absolutely inexcusable and it worries the government that that's happened. I want to see regime change... and that means real regime change. 
"It means not going back to the FAI for people like Noel Mooney, people who in the past have had identification with the FAI. That's not acceptable anymore. We've got to see a complete clean out."
Foley told RTÉ Sport on Monday that he had been willing to bring his experience to the FAI as interim chief while a permanent CEO was recruited but ultimately believed that support for his appointment across key stakeholders was not at the level required for him to succeed.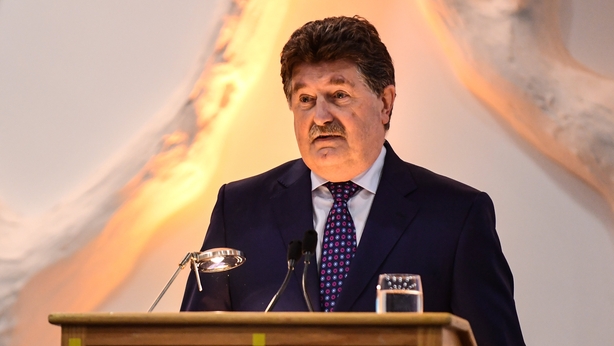 "He was a very able guy, he's got a very good record as well," Ross said of Foley.
"There's no question about his integrity or his ability but what we want to see is a new generation in the FAI. That's very important.
"It's not government interference at all. It's government funding that is at stake here. What we're talking about here is restoration of funding. We'll restore funding when we're certain that the old habits have died and that corporate governance is back in order.
"We don't want to interfere with anything at all but we do want to see a well-run, clean-run organisation which puts its past behind it."
Ross also said that, although government funding to the FAI is currently frozen over concerns around corporate governance, there will be efforts to get financial support to particular areas of the sport.
"We're looking at ways of (restoring funding) for the women's national team, we're looking at ways of doing it for the sports clubs," he said.
"It's so important that the small sports clubs, the people who (bring) out young girls and boys on a daily basis for training, for health... that they're funded.
"I think you can expect (to see) something very soon to channel money to them, not through the FAI but through another way, to ringfence it in a way that it's safe that they get it."