Kenny Cunningham, Stephen Kelly and Pat Fenlon believes that Mick McCarthy should set his team up to get the maximum from his full-backs when Ireland contest the Euro 2020 play-offs.
Enda Stevens and Matt Doherty were among the standout performers in Ireland's 1-1 draw against Denmark in their final qualifier in Dublin on Monday, which ended the home hopes of automatic qualification.
Speaking on the RTÉ Podcast, former internationals Kelly and Cunningham both highlighted the defenders as key attacking options, and suggested Shamrock Rovers Jack Byrne, who has earned two caps in friendlies under McCarthy, could improve supply to the raiding wide men.
"We're a good side when we get the ball wide and into the box early. That's how we play to our strengths," Kelly said.
"We didn't do that and when we did get wide, there was a lack of quality. We hit the first man and that was disappointing because the goal came from a good cross into the box.
"We've got two very effective full-backs and do we change to suit them and go into a three (at the back)?
"But a massive part of that is the player in midfield that recycles the ball. You can't be pedestrian when you're passing across, it has to be done quickly.
"You need someone that looks up and whips it out. If it's Jack Byrne that does that, that's amazing, but that's what we need. If it's tippy-tappy around by the time it gets out there, the space is gone and we can't use it."
Cunningham agreed, saying: "Enda Stevens, Matt Doherty and Seamus (Coleman) if he comes back in, that's where we have our real quality.
"When we can get them high up the pitch, these people are match-winners and they almost were tonight.
"When you have someone like Matt Doherty, it's almost more beneficial to have someone who plays on the inside and opens those channels up.
"Where's that incisive pass going to come from? Probably not from the central midfield area of the pitch, but we'll get them from our full-backs if we get them high up the field.
"Jack Byrne is an orthodox number 10. He can play in tight areas, he manipulates the ball really well and his head is always up, even when he's under pressure, looking to play that killer pass.
"This isn't me beating the drum, saying Jack Byrne has to start, but as an impact player I see something in him."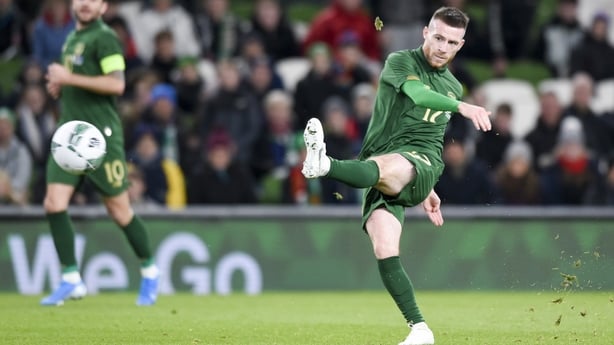 Pat Fenlon suggested McCarthy now has a selection dilemma between goalscorer Doherty and captain Coleman, who was suspended for the Denmark draw.
"Most foreign teams struggle to defend crosses into the box or set-pieces," said the Linfield general manager and multiple League of Ireland winner.
"Our delivery wasn't good enough.
"There is a lack of quality for us in key areas. Defensively, we're very solid, the goalkeeper is decent. We've got good defensive midfielders, but it's trying to find someone to open the door for us.
"James McClean works so hard but spends most of his time defending, and when he gets into good areas his delivery is not always right.
"We've changed the right area of midfield so many times over the last couple of campaigns, I thought (Alan) Browne actually did quite well there in what is a strange position for him.
"McGoldrick worked really hard, but for me he's not in the box enough.
"We have a big dilemma. Who plays right-back? Matt Doherty was very good tonight in an attacking sense.
"If Seamus' absence from the Everton team extends over the winter months, the argument will become a bit stronger for Matt to stay in the team."
Watch the Euro 2020 play-off draw from 11am on Friday on the News Now App or on the RTÉ Player
Listen to the RTÉ Soccer podcast on Apple Podcasts, SoundCloud, Spotify or wherever you get your podcasts.