Manager Michael O'Neill stopped short of confirming he would remain in charge should Northern Ireland reach the Euro 2020 qualifying play-offs, but conceded "that's the plan".
Northern Ireland meet Holland in what could be O'Neill's final match in charge at Windsor Park on Saturday after he was announced as Stoke's new boss last week.
O'Neill will remain in charge of the Green and White Army until the end of their Euro 2020 qualifying campaign, whether that ends in the next seven days or extends into March.
On whether he will manage in the play-offs, O'Neill said: "That's the plan at the minute."
Northern Ireland face Holland in Belfast on Saturday and Germany in Frankfurt on Tuesday in their final Group C fixtures, knowing automatic qualification is highly unlikely but they are currently well placed for the play-offs.
O'Neill added: "The week has been no different from any other week. We've got the work done.
"The players have been very focused, maybe more so because they're thinking, as a club manager I might sign them."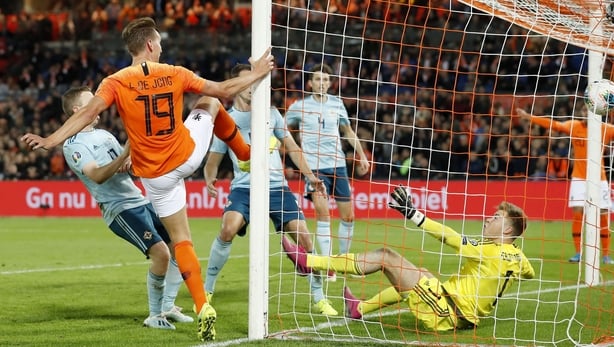 Northern Ireland can take encouragement from their performance in Rotterdam, where Holland needed two stoppage-time goals to complete a come-from-behind 3-1 win last month, and would dearly love to send O'Neill off in style.
O'Neill - on his probable final game at Windsor Park - added: "I haven't thought about it to be honest.
"I'm not one for big emotion. I'll just try and prepare the team as well as we can. The main thing is to try and get a result and take it to the last game."
O'Neill added with a smile: "Maybe I'm young enough to come back in the future..."
Rangers midfielder Steven Davis said O'Neill's decision to step down at the end of the campaign had not affected the squad.
He said: "It hasn't affected us at all.
"From a selfish point of view, we were disappointed but as Michael says the plan is for him to take us through the rest of this campaign so we have to give ourselves the best chance."