They are, says Jack Byrne, "mad games... frantic games".
Nobody can get enough of Bohemians versus Shamrock Rovers; a ferocious rivalry, League of Ireland box office, guaranteed drama.
They're not always great spectacles, but they're always great occasions, and the carnival atmosphere that decorates the meetings of Dublin's two great rivals promises to crackle with even more tension than usual tonight.
There's a place in the FAI Cup final on the line at Dalymount Park and the stakes are enormously high.
IN THE GREEN AND WHITE CORNER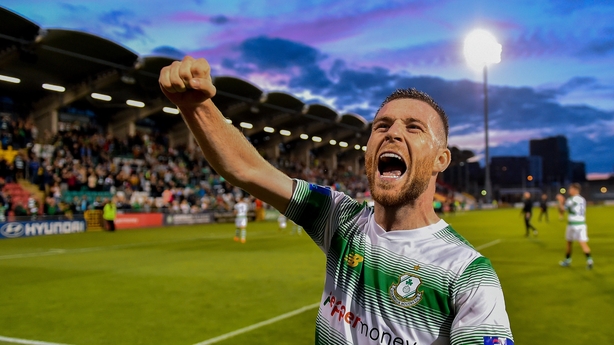 Bohs estimate they could have sold over ten thousand tickets for this game. The club have warned fans to be wary of counterfeit tickets and overcrowding in some parts of the ground; Keith Long even suggested it should have been played at the Aviva Stadium. The hype is inescapable.
"You can't hide from it," Rovers playmaker Byrne told RTÉ Sport at the FIFA 20 League of Ireland Cover Launch.
"You have to embrace it. If you don't want to be part of these games when you're playing football for one of the biggest clubs in Ireland, then you shouldn't be playing football. It's going to be a great night."
It's been a strange week for the Hoops.
They come into this one off the back of Monday night's 3-2 defeat at Dundalk, a result which sealed another Premier Division title for the Lilywhites. Watching their league rivals pop the champagne stung, but Stephen Bradley's side have the perfect opportunity to wipe it clean from memory in Phibsborough.
"We obviously didn't want to go up there and roll over," added Byrne. "We wanted to respect the league and give a good account of ourselves. We showed good character in the second half.
"We could have easily made changes and started thinking about Friday but I don't think the manager did that. He obviously believed we could still get something out of the game and we nearly did. It's full steam ahead now for Bohs.
"They're good games for Irish football. The game on Monday night was a great advertisement for Irish football. It's going to be the same on Friday. It's the biggest game in Irish football.
"They've been mad games, frantic games. We know what to expect."
"To have it as a cup semi-final in Dalymount is going to be special. Hopefully we can do our bit to make it a night to remember.
"I think we've broken that kind of crazy thing that was going on where we hadn't beaten them in so long (eight games, stretching back to May 2017). Look, they're a good team. It's not going to be a case where you show up, you play well and you win.
"If they play well and they get a bit of luck, and we don't get the bit of luck, they could easily win. They've been mad games, frantic games. We know what to expect."
What you expect is another pounding contest that wraps up everyone involved. These clashes create such a feral atmosphere that it's hard not to get caught up in the hurricane of noise and confusion.
A fired-up James Talbot caused a stir in June after Bohs' 2-1 win at Dalymount.
"It's always good to beat them," the keeper said just after the final whistle. "We don't have much respect for them to say the least. They look down on us, they don't think we're good players."
Byrne laughs it off. "I know James well. He's a good bloke," he said.
"I didn't really see what he said about us - I only seen the ones he said about UCD! If he did say something that's on him but it's just what he thinks at the time after being worked up in a big game against your rivals.
"I don't think we've said anything about them. When they've won we've said 'well done'. When we won the other week I don't think anyone went off too crazy or anything. They are a good side and you want to be respectful of them. If you win the game, great. You walk off happy with your own side. If you don't win the game then it's, 'well done, all the best'."
IN THE RED AND BLACK CORNER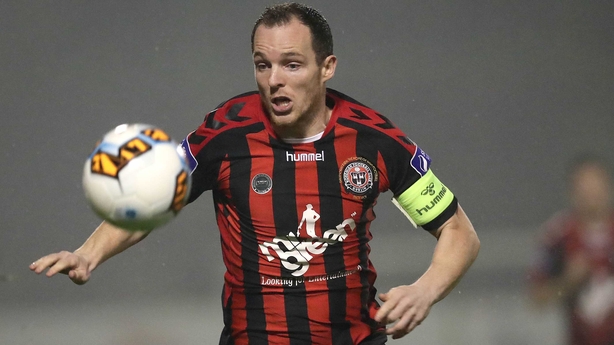 Derek Pender has a few of these battles under his belt.
The 34-year-old is very much the elder statesman in a young dressing-room and takes an old-school approach to these showdowns: play the game not the occasion.
"They're all standalone matches," said Pender. "The rivalry the last three years with the crowds and stuff has made it bigger. But we never thought about the record we had against Rovers because every game is different and every game is tough.
"The derbies have only grown in the last three years. And that's down to the clubs and how they promote the games, the little videos they do. They're great for motivation.
"We obviously went on a run (of wins) and you enjoy them at the time, but you know that you're going to have to play them again down the line so you can't dwell on the victories. It's the semi-final of the FAI Cup and we're all buzzing for it. Plus, it just so happens that we're playing against Rovers in Dalymount. It'll be a great occasion and we're looking forward to it.
"We're at home in Dalymount, we're glad it's there. We're going to need everything in order to get a result. It's a little bit of an advantage that it's in Dalymount, so... happy days."
Happy days indeed. Bohs have defied expectations once again this season. They're third in the league and 90 minutes away from a Cup final.
After a winter that saw the squad shorn of several experienced men, even Pender admits he feared the worst until Long worked his magic to cultivate another batch of quality young footballers.
"We were worried at the start of the season with the players that we lost: Supps (Shane Supple), Morro (Ian Morris), Dan Casey, Daniel Kelly, JJ Lunney.
"You're coming into pre-season with all these young lads that Keith has signed. Keith is unbelievable at his job and he does his homework on players that he goes about getting. And those lads have done unbelievably well, their consistency. We're in October, semi-final of the Cup, third in the league. It's great.
Highlights from Friday's Dublin Derby as Shamrock Rovers held on to beat Bohemians 1-0 in Tallaght Stadium pic.twitter.com/ITSChBEAjA

— Soccer Republic (@SoccRepublic) September 2, 2019
"I've been around a long time, I'm obviously the oldest in the dressing room. Going in every day and seeing the young lads excited... they all love going out and playing in Dalymount. They just love playing football and that rubs off on you.
"We haven't really spoke about the semi-final (defeat to Cork) last year. We were close and it still hurts. But we haven't spoken about it. We've gone about a normal week. The attention around the game, we're trying not to think about it."
In team news, Bohs welcome Keith Ward back after a knee injury but Long is still without Darragh Leahy (ankle), Danny Mandroiu (hip), Keith Buckley (hamstring), Conor Levingston (groin), Dinny Corcoran (ankle) and Cristian Magerusan (cruciate).
Neil Farrugia, sidelined with a hamstring problem, was on the bench at Dundalk on Monday night and has a chance of being involved tonight. Joey O'Brien is a doubt though; Bradley will make a late call on the defender's inclusion.
It's the fifth time the teams have met this season. Expect a bear-pit atmosphere and a hammer-and-tongs game to match.
Follow Bohemians v Shamrock Rovers (7.45pm tonight) and Sligo Rovers v Dundalk (5pm Sunday) with our FAI Cup semi-final live blogs on RTÉ Sport Online and the RTÉ News Now App, watch live on RTÉ2 and listen live on RTÉ Radio 1 Extra