Here's a list words the Republic of Ireland players, and their manager, used to describe their own performance after Thursday night's draw with Switzerland at the Aviva Stadium.
Mettle. Bottle. Character. Commitment. Heart. Never-say-die attitude. Durability.
And here's a list of words they used to describe the Swiss.
Top team. Good. Good team. Quality. Strong. Pacey.
And that, in the most basic terms possible, is the story of the match.
"Are we the best team in the group?" Mick McCarthy asked rhetorically. "Probably not. But we don't half keep going."
Praising this Irish side for their grit and spirit may sound cliched, and even hollow, but it's important to highlight those qualities. Ireland have consistently shown two things over the course of the last three years: technical inefficiency, and enormous heart.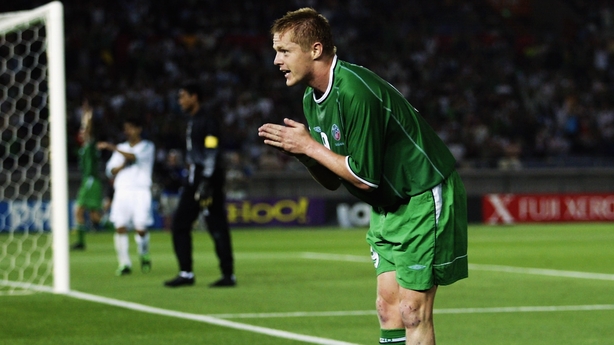 That's where we are with this group. When we look back misty-eyed on the Charlton era - and indeed on the first McCarthy era - and reminisce about how those sides punched above our weight, it's worth name-checking some of the talent that allowed us to catch the big guns on the chin.
Throughout the 90s and early noughties Ireland always had a handful of top-class footballers operating at the high end of the Premier League, embellished by solid campaigners who dutifully put their shoulder to the wheel.
This current bunch have the same steely heart without the coat of class the likes of Roy Keane, Robbie Keane, Damien Duff, Wes Hoolahan and Paul McGrath dusted on the sides they graced.
We're game but limited. Still, it's always heartening to see superior sides scratching their heads trying to figure out how they made all the chances, had all the ball but failed to come away with all the points.
"Our opponents play a very unpleasant style of football, very hard," Swiss goalkeeper Yann Sommer warned in the build-up to the game in Dublin.
Asked about the home jubilation after they'd snatched a point, a stoic Granit Xhaka may as will have pursed his lips to remove the after taste when he deadpanned: "I'd be happy as well if I was on the opposite side - we were the better team."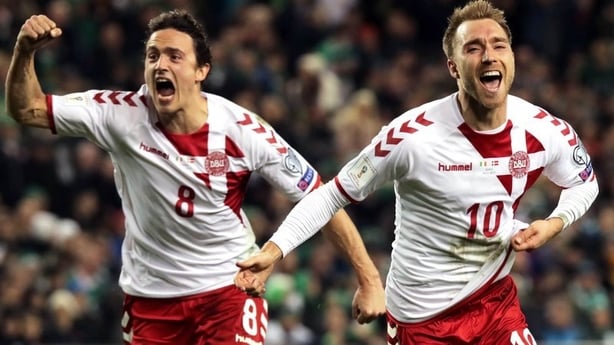 It was reminiscent of some of the Danish remarks around the teams' meetings over the last two years. Who could forget Christian Eriksen's icy assessment of Martin O'Neill's men following the Nations League stalemate in Aarhus last November?
"It was a lot of defending on their side and we were trying to attack against 11 players in their own half," he groaned. "They've played like this in every game we've played."
There's been a few other backhanded compliments, references to tins of beans and the slightly condescending stock compliments opponents tend to toss our way - "spirited", "gritty", "fighters".
It's true Ireland have all sorts of flaws: a worrying inability to establish anything resembling controlled possession, a midfield that sometimes looks porous even with three central men running themselves into the ground, a lack of goals, a lack of imagination and creativity.
Grinding it out looks like it's our best bet. Expect more of the same in Tbilisi and Geneva and then Dublin against the Danes
But at this stage, in a truncated campaign that's already heading for its climax, it feels pointless to keep highlighting those failings. They're obvious, and they've been there to varying degrees for years.
Mick McCarthy's brief is to get this team to the Euros.
He needs results. He meets up with his panel for short bursts and tries to get a tune out of what he has, and what he has is a side limited in technical ability but bursting with desire to do solid, unforgiving graft.
Grinding it out looks like it's our best bet. Expect more of the same in Tbilisi, Geneva and then Dublin against the Danes.
A chest-thumping Seamus Coleman probably put it best when the dust settled on Thursday night's contest.
"We never go away," he said.
"It's just in us. I think it's in the Irish people and I think it's in the Irish fans, the Irish players. We don't get things handed to us. Every one of us that was out there on the pitch probably got rejected at some point in our careers.
"The Irish commitment, desire and heart will never go away."
Denmark had 21 attempts on goal in their 6-0 win in Gibraltar on Thursday night.
When Ireland played there back in March, they had 14 attempts, three on target, Jeff Hendrick's 49th-minute goal getting them out of the wind-hammered Victoria Stadium unscathed.
Against the Danes in June, the Irish completed 217 passes compared to their hosts' 449.
Switzerland completed 157 more passes than Ireland on Thursday night. They had 59% of the possession, and forced their hosts into 30 clearances and 15 fouls. They hummed with a lovely fluidity, a lightness of touch that peaked with Fabian Schar's superb opening goal, Ireland defenders welded to the turf as a red wave washed through their resistance.
But here's Ireland heading for October still unbeaten.
For ages now we've been waiting on Ireland's luck to run out as they squeeze out points from impossible looking situations. Yes, Denmark mauled them in that infamous World Cup play-off but this side have so often come through adversity that it's churlish to call it dumb luck. They've earned a lot of that luck with the honesty of their endeavour.
This may yet unravel in the last three games of the qualification campaign, the three that were always going to determine Ireland's fate. If that's how it plays out then familiar question marks about their ability will surface. But there'll never be an examination of the commitment to the cause.
And that's something to embrace as we prepare to circle the wagons for a crucial autumn stand.