VENUE
Thursday 5 September, Aviva Stadium, Dublin, 7.45pm
TV
Live coverage on RTÉ 2 from 7pm
ONLINE
Live blog on RTÉ.ie and the RTÉ News Now App from 7pm.
RADIO
Live match commentary on 2fm.
ELSEWHERE IN GROUP D
Gibraltar host Denmark in the windswept Victoria Stadium at 7.45pm.
Shaqiri, No Shaqiri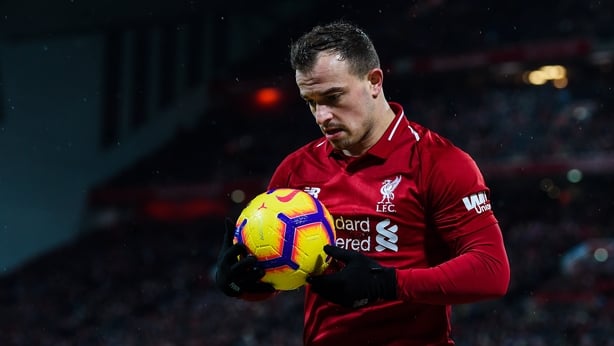 The Swiss press have talked of little else but Xherdan Shaqiri this week. The Liverpool player has opted out of international football to concentrate on his club career at the best possible moment for Ireland.
Our luck could be in. It reminds of Gareth Bale's perfectly timed injury ahead of the October 2017 World Cup qualifier in Cardiff.
The reasons for Shaqiri's decision are a matter of debate. Some have accepted his claims of tiredness, specifically mental tiredness. 
Naturally, many are pondering whether there's been a rift with manager Vladimir Petkovic. The Swiss boss was relatively empathetic and tolerant in his comments on Shaqiri's absence but acknowledged that his relationship with the midfielder "could be better." 
That being said, Petkovic insisted there had been no bust-up with his star player. 
"He thought the best thing was not to come. I've accepted that. We spoke to Xherdan regularly and we decided to do this. There was no sense having him come if he could not give 100%," the manager told today's press conference.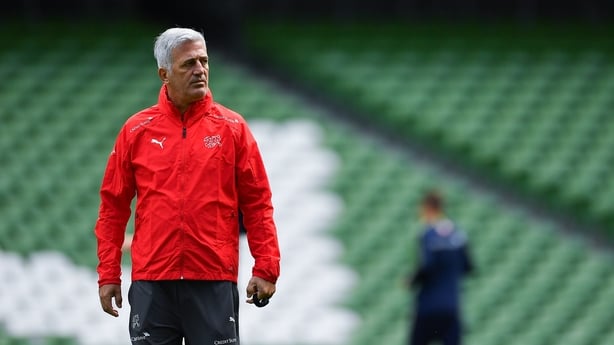 Another factor which some have suggested is weighing on the player is his occasionally troubled relationship with elements of the Swiss popular press. 
Shaqiri was born in Kosovo, emigrating with his family as an infant during the Yugoslav Wars of the early 90s. He is known to still have a very strong affinity with his birthplace, famously celebrating with the sign of the eagle, the Kosovo symbol, after scoring the winner against Serbia in last year's World Cup. Granit Xhaka, also the son the of Kosovar Albanians performed the same celebration after equalising earlier in the game. 
While most of the aftermath centred around the Serbs' fury, parts of the Swiss media were none too impressed. The accusation of dual loyalty has floated about before with populist newspapers cranking up the pressure on both players. (In 2012, a Swiss television commentator suggested Xhaka wasn't unhappy at missing an easy chance against Albania in a World Cup qualifier). 
Whatever the reasons, Shaqiri's self imposed exile is clearly good news for Ireland. 
We need your consent to load this SoundCloud contentWe use SoundCloud to manage extra content that can set cookies on your device and collect data about your activity. Please review their details and accept them to load the content.Manage Preferences
The Premier League minutes...
Sheffield United's elevation to the Premier League means a lot more Irish players are currently playing in the top tier in England. 
There were four Irish internationals on the pitch for the final half hour of their impressive 2-2 draw, with Enda Stevens especially impressive at full back while the in-form Callum Robinson grabbed an equaliser. (Robinson sat out training this afternoon but is expected to be fit).
John Egan played the full 90 minutes on Saturday but has yet to properly dislodge Richard Keogh from the international starting XI. 
News is less positive elsewhere with Jeff Hendrick apparently out of favour at Burnley. He has played just four minutes in the Premier League season, as well as a League Cup game against Sunderland. 
Shane Duffy was dropped by Brighton for their inevitable pummeling at the hands of Manchester City at the weekend, with manager Graham Potter switching to a back three.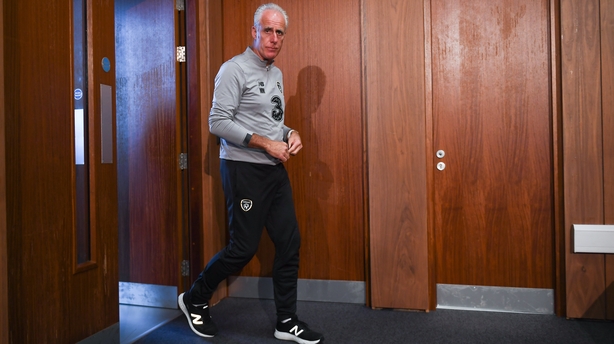 McCarthy has traditionally set great store by game-time at club level - it's why Shane Long was axed from the squad - but isn't yet concerned by Hendrick's lack of minutes or Duffy sitting out Saturday. 
"He played in the behind-closed-doors game, he played in the cup game the other night and Jeff is one of the most athletic players I've seen, one of the fittest guys I've had around the place.
"The distances he covered in the games that we had – he looks great, he'll be fine. That's assuming I pick him, of course."
Conor Hourihane, despite impressing on the pitch, has been reduced to the role of late appearing substitute for Aston Villa, as Brazilian Douglas Luiz has been preferred. The Cork-born midfielder played the last 20 minutes of Villa's loss to Crystal Palace at the weekend. 
'Unpleasant' evening in store?
We've got so used to listening to blunt-spoken Danes ragging on us for two years that Irish ears are now hearing barbs all over the shop. 
Either that or there is a subconscious desire to provide Mick and the lads with some tasty morsels for the dressing room wall. 
Swiss goalkeeper Yann Sommer's press conference proceeded as these things always do with the net-minder hitting on all the old reliables - "Lots of passion", "very physical" and "strong on corners". 
However, Mr Sommer apparently introduced a new element to this familiar brew by recklessly tossing in a pejorative.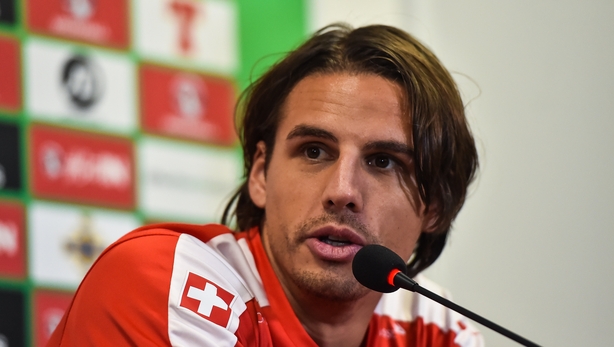 He was quoted in the Irish press as saying "our opponents play a very unpleasant style of football", a statement which would be rather hard to re-frame as a compliment in the aftermath of a battling draw. 
Obviously, a foreigner saying this kind of stuff is just not cricket. 
But there may be a misunderstanding. 
Swiss journalist Robin Carrel, who attended the press conference, told Off the Ball that this reading was off and it was "impossible" than Sommer had said such a thing.
He stressed that Sommer was the "nicest guy in the world", nicer even than Roger Federer, if you can possibly conceive of such a person.
'Unpleasant' is not an accurate rendering of what he said, according to Carrel. He had, in fact, merely trotted out the aforementioned old reliables.
Perhaps it's just those notoriously mischievous wags over at Google Translate selling us a pup again.
Swiss implosion against Denmark offers hope
What lessons can be learned from studying the bizarre Switzerland-Denmark game in Basel in March?
The Swiss, also shorn of Shaqiri that night, clearly played well enough for 83 minutes. Feuler drilled home an early goal after Rodriguez's long range shot deflected into his path, Granit Xhaka doubled the lead with a smashing shot from the edge of the box. 
Some madcap defending at a corner from the Danes allowed Embolo to score a messy goal. Ireland are relatively good at defending set-pieces and should be able to cope. 
A 93rd minute equaliser saw Denmark escape Switzerland with a 3-3 draw after a cracking second half #RTEsoccer #irlgeo #irevgeo pic.twitter.com/Kd5U4UUBGE

— RTÉ Soccer (@RTEsoccer) March 26, 2019
As far as madcap defending goes, we hadn't seen the half of it. The Danes pulled one back from the kind of situation that Shane Duffy (our fox in either box) lives for. 
The second goal was of the slicker variety, Eriksen splitting the defence with a lovely threaded ball and Paulsen laid on Gytkjaer to slide home. 
Swiss heads were fried at this stage and the Danes took advantage by looping a few aerial bombs into the mixer. The home defence dealt with these horribly, the goalkeeper, our friend Sommer, unwisely came for a ball he couldn't win and Dalsgaard headed to the net to secure a remarkable draw. 
McCarthy meets Swiss again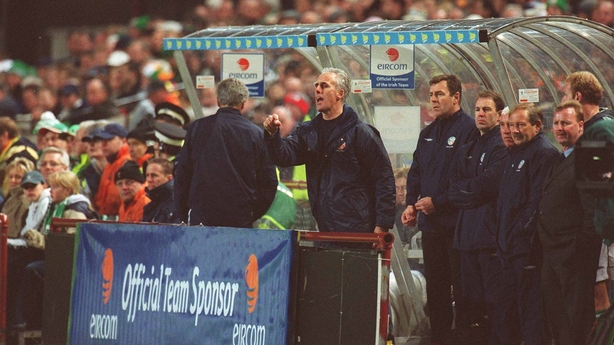 Mick McCarthy's memories of the Swiss coming to town are not so much bittersweet as just bitter. With the unpleasant aftertaste of Saipan (that's the 'Dick of the Day' award sewn up) still lingering in the air, Ireland followed up defeat in Moscow with a rare home loss against Switzerland, getting the Euro 2004 campaign off to a dismal start.  
Afterwards, McCarthy decided he'd had enough and walked, opening the way for Brian Kerr's arrival and Roy Keane's return. 
While Ireland's head to head record against Switzerland is more wins than losses, this is chiefly down to our supremacy in friendlies, the most recent of which resulted in the FAI being fined over the 1916 symbol on the Irish jersey. 
Switzerland also proved to be Brian Kerr's nemesis, adverse results against them confirming our exit from the Euro 2004 and World Cup 2006 campaigns. 
Ireland's last competitive win over Switzerland was a 3-0 demolition in Lansdowne Road at the tail end of the Eoin Hand era. 
Verdict: 
The Swiss are ranked 11th in the world but there's enough to suggest the camp isn't as happy as it should be. Ireland's nose for a 1-1 draw, if there's one available, remains unparalleled in world football. We'll draw our way against the big boys in the group and hope one beats the other in Copenhagen. 
Ireland 1-1 Switzerland
Follow Republic of Ireland versus Switzerland on Thursday via our live blog on RTÉ.ie/sport and the News Now app, watch live on RTÉ2 from 7pm and listen on 2fm.