The routine changes for four Airtricity League Premier Division clubs over the next two weeks.
A blank canvas lies before Dundalk, Shamrock Rovers, Cork City and St Patrick's Athletic, an unknown landscape laden with possibilities. There's nothing like a great European night to pump life into the veins of a club.
Irish clubs have taken plenty of scalps through the years but sustained runs are a rarer thing. They require luck, desire and a lot of ability.
Here, RTÉ Sport speaks to Pat Fenlon and Stephen O'Donnell about what it requires to take a deep dive into European competition, and the nuggets of glory those feats unearth forever.
Every great European run captures the wider public's imagination and Shelbourne's gallop to the final hurdle of Champions League group-stage qualification back in 2004 is one that still resonates.
Pat Fenlon, then 35, had already been at the helm for two years having taken over from Dermot Keely in 2002. He took his side into Europe's premier competition after delivering the Premier Division title in his second campaign and had cultivated a hungry, streetwise and talented outfit.
A squad studded with quality - Wes Hoolahan, Jason Byrne, Alan Moore, Joey N'do - was primed to make its mark.

After squeezing past KR Reykjavik on away goals in the first round of qualification, they faced Croatia's Hajduk Split. They lost the first leg 3-2 but those Glen Fitzpatrick and Alan Moore away goals gave them a huge shot in the arm. It was all set up for a Tolka Park classic.
"The night against Hajduk Split is probably the best night I've ever had in football," Fenlon tells RTÉ Sport.
"Seeing how people reacted to it...

"We felt if we had have gone for it too early we would have left ourselves open and the away goals we got over there would have been done away with. We had a gameplan to keep it tight for 60 minutes and give the signal then to open up a bit more and have a go.
"The goal that Rodgey [centre-half Dave Rogers, who broke the deadlock with a sensational volley] got, it was just one of them goals... I mean to win a game like that...
"Dave had real quality. He was a very good passer of the ball. That was his biggest attribute, reading the game and passing the ball. He had that technique which was very, very good. But look, there's not many you hit that fly into the top corner like that.
"It was one of them nights where everything went right.
"It was a top, top team. We brought Joseph N'do on to kill the game and bring it to the corners. He ran into the corner then he ran up the end line and put the ball across for Alan Moore to score. Two-nil. They were two top-class players."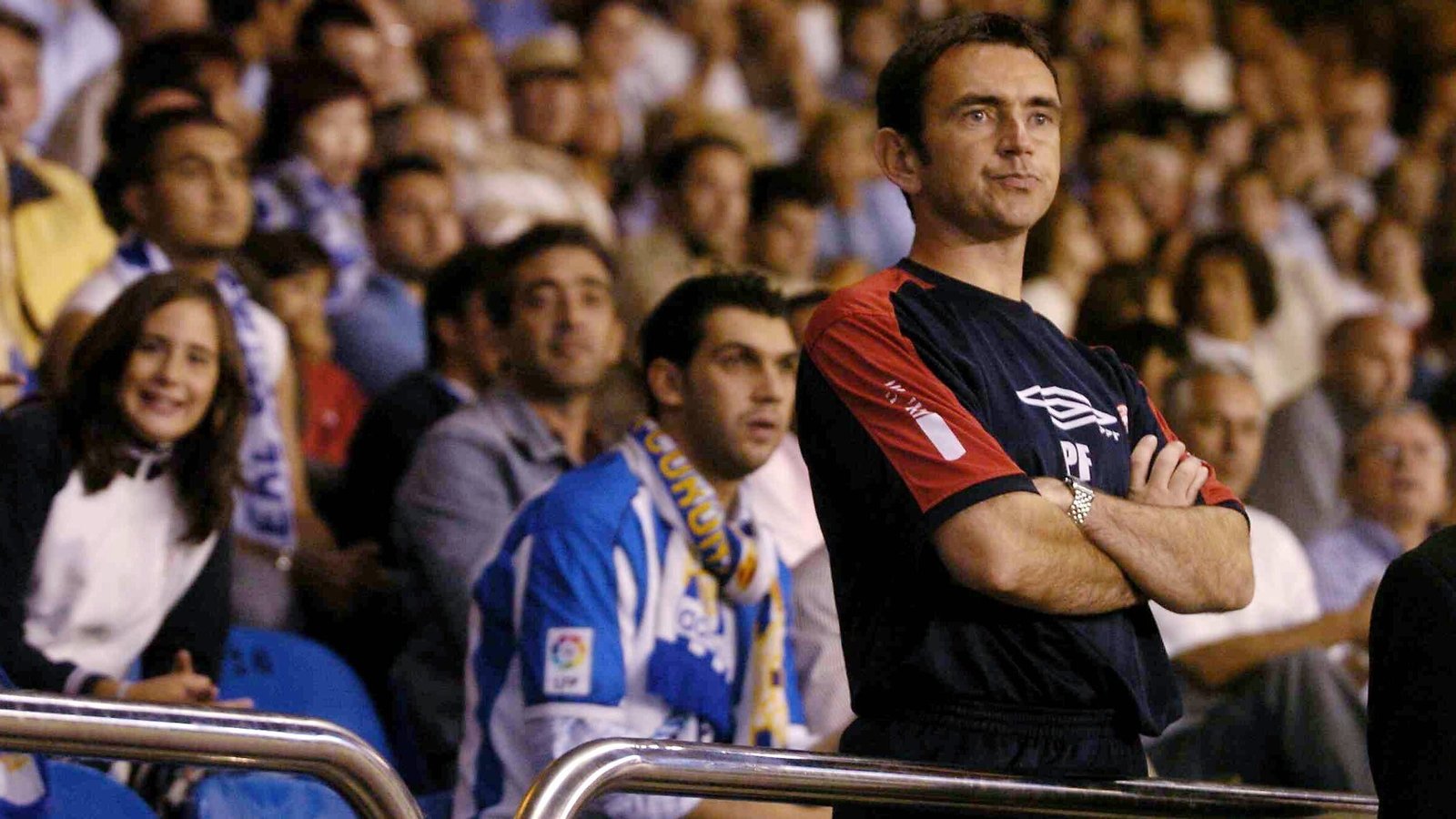 That meant Shels would face Spanish side Deportivo La Coruna in the third qualifying round, with the winners making the eye-wateringly lucrative group stages.
Deportivo had made the semi-finals of the competition the season before, losing 1-0 on aggregate to Jose Mourinho's Porto, the eventual winners.
Nobody gave the Dubliners a chance but a hugely impressive 0-0 draw in the first leg at Lansdowne Road -Deportivo sat third in La Liga at the time - was followed up another fine showing at Estadio Municipal de Riazor.
Shels embraced the stage, the likes of Hoolahan proving they were born to play at that level. Ultimately, three home goals in the last half an hour from Victor Sanchez (2) and Walter Pandiani ended the dream. Had Shels gone through they would have been drawn in the same group as Liverpool, who went on to lift the trophy in Istanbul the following May.
"When you go up a level, it's the movement, the pace of the players," Fenlon adds.
"Giving the ball away cheaply is one of the things you just cannot do at that level of football. They'll punish you where you might get away with it domestically.
"Obviously you keep an eye on the team that knocked you out and we saw how they fared against Liverpool [a goalless draw at Anfield and a 1-0 loss at home]. They were a good side. They were in the semi-finals the year before. That shows you the quality they had.
"We were lucky enough we'd another game Lille from France [in the first round of the UEFA Cup, which Shels lost 4-2 on aggregate]. If you asked most of our players they'd tell you Lille were technically better than Deportivo to be honest. They were two good games as well."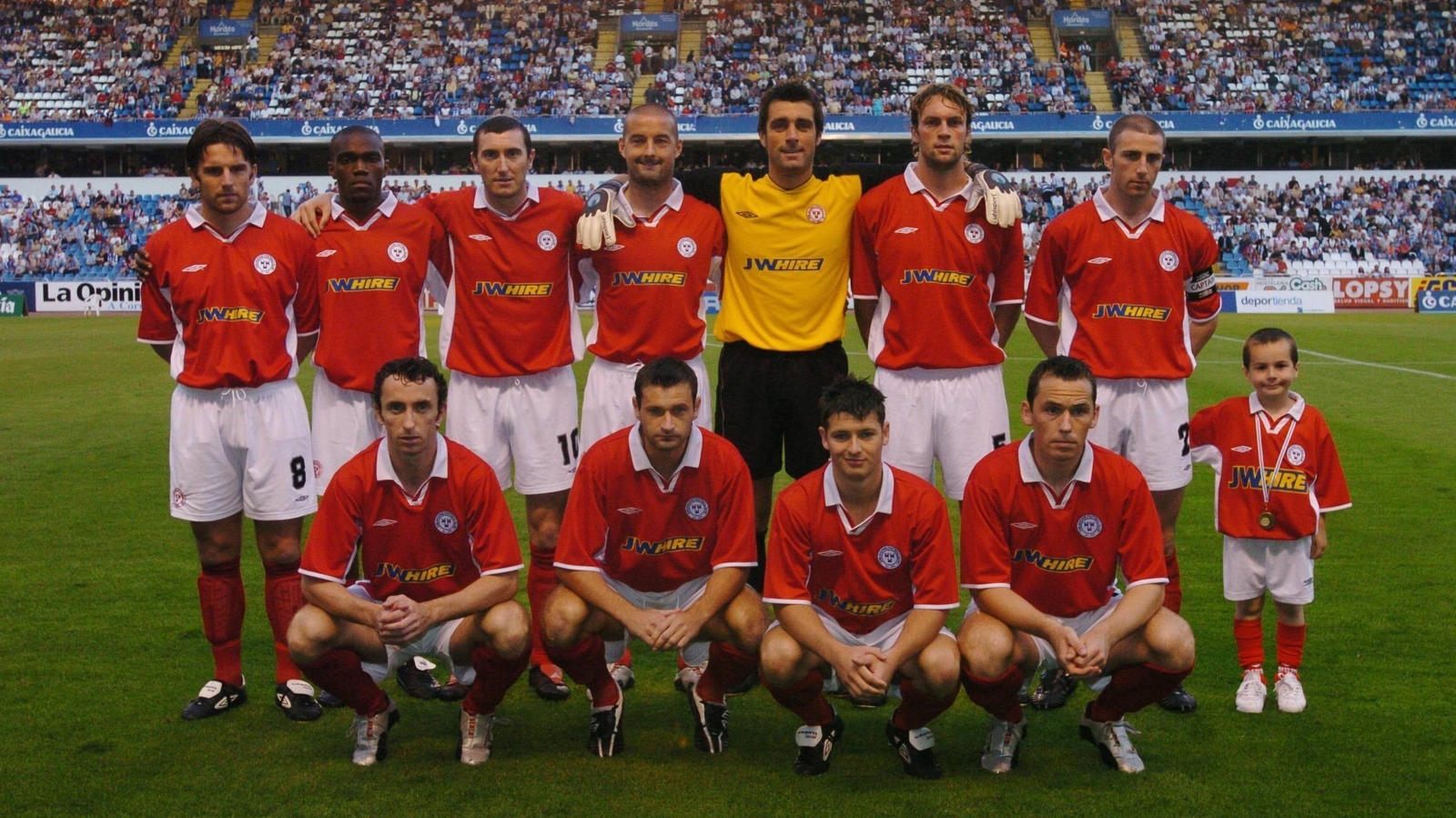 Heady days, and memories which will always linger.
Considering the chances of an Irish club breaking the glass ceiling now and making the group stages of the Champions League, Fenlon adds: "The fact we're playing in the summer is a massive help, and you can throw in the fact that most of the teams that are making it to Europe are full-time.
"That's a huge help in terms of preparation. There's not that fear of going into these games and not being fit, not being strong enough. You know you're going in on a level playing field from that point of view.
"Quality wise, we're not far off in relation to the teams in the early rounds of Europe.
"I think most of the teams now are better coached now in how they approach games. That's a help. I don't think the players are any better. I'd still say the Shamrock Rovers team I grew up watching was the best team I've ever seen playing League of Ireland football. But going into European games they wouldn't have been fit enough."
"But it's getting harder. The way UEFA want to go with the Champions League it's going to get even harder. If [making the group stages] is going to be done it needs to be done in the next year or two. I think after that it becomes really difficult... unless we see a real change in terms of resources and finances in the league."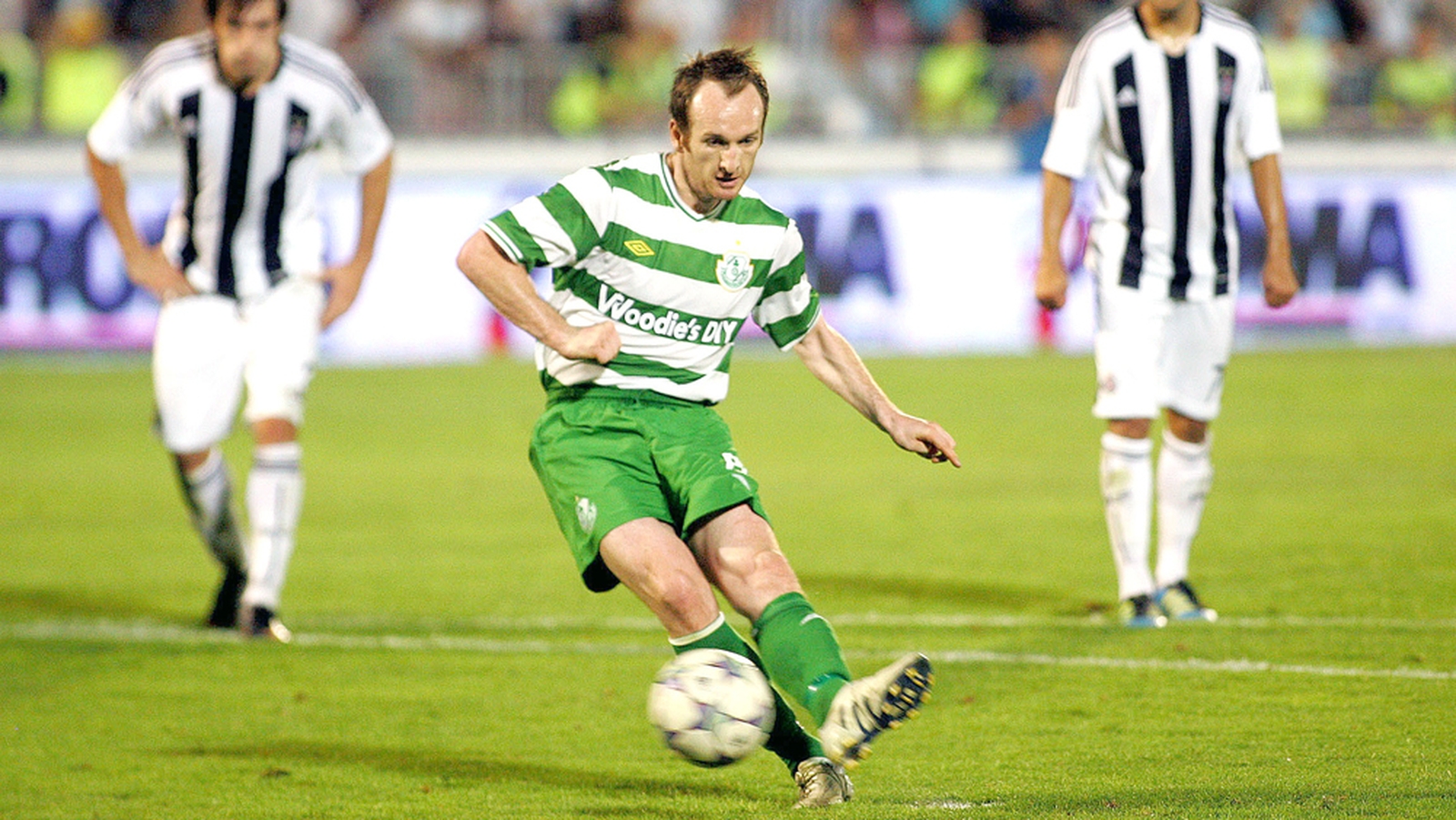 Stevie O'Donnell twice made it to the promised land of the Europa League group stages, with Shamrock Rovers in 2011 and then with Dundalk in 2016.
Rovers' journey, under Michael O'Neill, broke new ground. Having acquitted themselves well in a 2-0 aggregate defeat to FC Copenhagen in the third round of Champions League qualifying, the Hoops had the consolation of a Europa League play-off clash against Partizan Belgrade.
Underdogs, but themselves quietly confident, O'Donnell recalls a unique buzz around the camp in the build-up to those games.
"The best way of putting it is, when you go into these European nights, it's those times where you feel like a proper footballer," he says.
"It's definitely in your mind when you come back to pre-season; can you get to the levels that will be good enough to get on the pitch against these top European teams? Even as far back as January it would be talked about. It's in players' minds.
"You can never tell how you're going to get on because the games take on a life of their own. You always needs a little bit of luck. It's fine margins. Certain things need to go your way but you'd have a fair idea of the strength of your squad, the quality of your squad.
"You'd always be hopeful that you might knock a dent in Europe but you can never be certain. It's just a case of getting yourself as best prepared as you can and giving it a proper shot."
They certainly gave it a shot in 2011. After a 1-1 against Partizan in Tallaght, Rovers plundered an outstanding 2-1 win away - O'Donnell slotting home the winner from the penalty spot - to bound into the group stages where they faced Tottenham Hotspur, Rubin Kazan and PAOK.
"When I was at Rovers it wasn't so much talked about. It just sort of happened," adds the Galway man.
"We had a good draw in Copenhagen and then were probably unlucky to lose 2-0 to them in Tallaght. They were a decent side but we knew we weren't far off.
"Against Partizan we started so strongly at home and we fancied our chances in Serbia. Things went our way and it was a great win."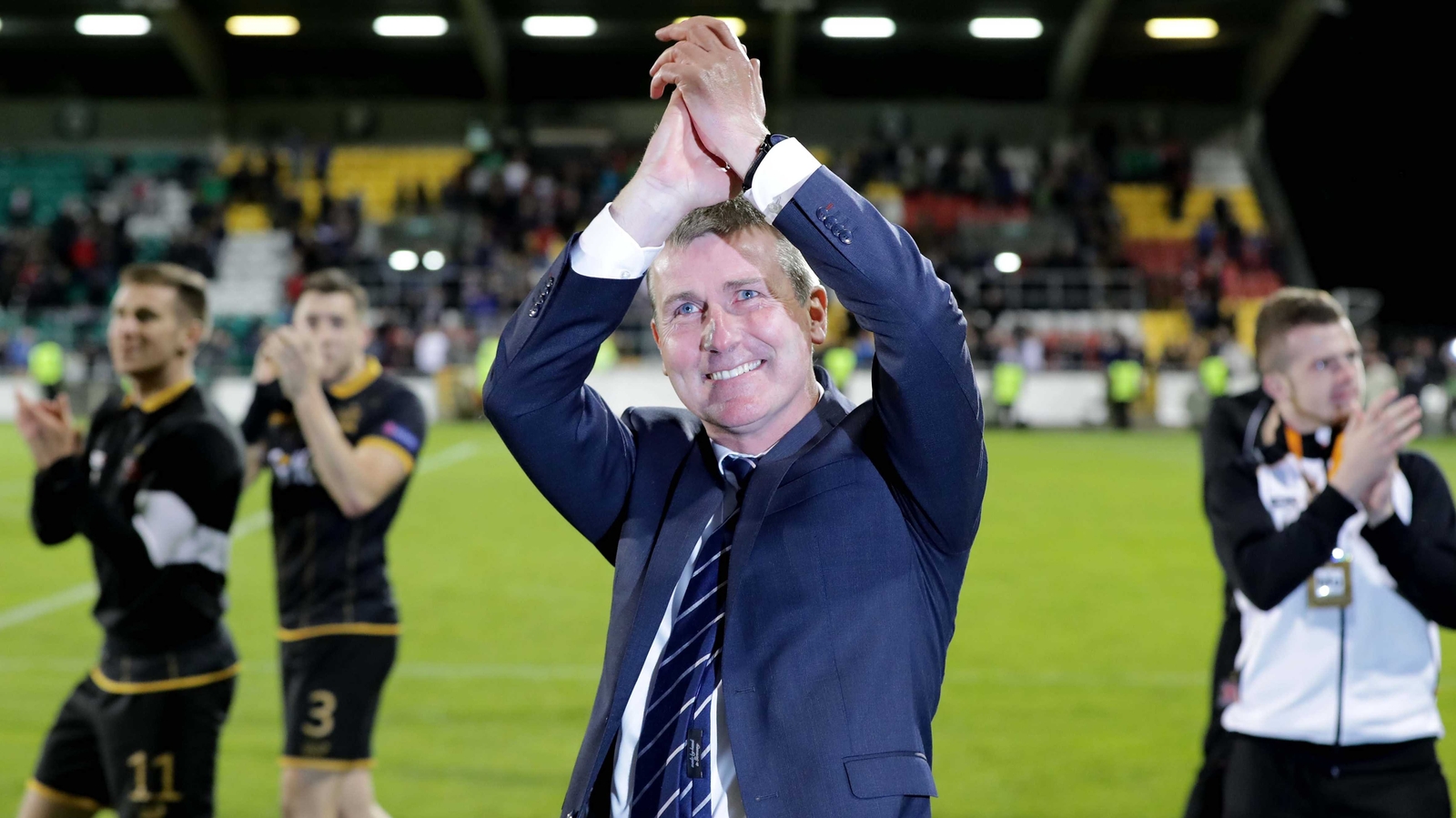 O'Donnell did it all again with Dundalk five years later. This time Stephen Kenny masterminded their march into the Europa League group stages. Quality and the experience of coming up short, says O'Donnell, was key to the accomplishment.
"With Dundalk we had pushed Hajduk Split very close [in the second round of Europa League qualifying in 2014]. Then we had BATE [in the second round of Champions League qualifying] the next year. We lost 2-1 over there and played really well. In the second leg we weren't so good and we drew 0-0. But we knew that if we just added little bits to the team we wouldn't be far off.
"We brought in Patrick McEleney, Robbie Benson, players like that for the next year. We knew we could give it a rattle. We got the bit of luck you need too."
They drew BATE again in 2016 in the third round of Champions League qualifying, a little bit stronger, a little bit wiser. A 1-0 first-leg loss was followed up by an incredible 3-0 victory at Tallaght Stadium week later.
"We went over to Belarus, probably didn't play well and lost, but we all felt the tie was alive. That was how it proved."
The Lilywhites lost to Legia Warsaw in the Champions League play-off but, just like Rovers, the Europa League group stages offered them considerable consolation. Dropped straight into the group stages, they'd draw with AZ Alkmaar, beat Maccabi Tel Aviv and earn an army of admirers with their brave, free-flowing style of football.
"Athletically the top teams can be a few levels above you," adds O'Donnell, now on the Dundalk coaching ticket and helping the side prepare for Wednesday night's Champions League first-round qualification game with Riga FC at Oriel Park.
"They get to the ball that little bit quicker, they cover the ground quicker, they're stronger. It's not so much that they do amazing things in the first two-thirds of the pitch, but they are capable of injecting that bit more sharpness and quality than you might be used to coming up against. It's a combination of those things.
"Everything is different. You have to monitor the strengths and weaknesses of the teams you're coming up against. Our lads are experienced enough in Europe, they're playing at a good level, it's just a case of getting used to the opposition."
Now looking at things with a coach's eye, McDonnell finds himself swotting up on unfamiliar opponents to aid those Lilywhite players taking to the field.
Before he left for the Ireland Under-21s job Stephen Kenny had said: "We're seeded in the Champions League first round and we want to get through that, we're not thinking negatively at all."
The ambition at Oriel Park is to make that step, to take their seat in the Champions League group stages.
If, as Fenlon believes, the window is closing fast for an Irish side to do that, then this is surely Dundalk's moment. They've got to go for it.
"We have Riga this year. The lads wouldn't have seen much of them so we'll be getting them used to playing in certain positions, showing them clips of them to get them used to the opposition," says O'Donnell.
"Then we'll go through where we can exploit them and where they're dangerous.
"Those nights we got through to the group stages, they were great nights. They're nights you'll remember for all of your life. They're memories, feelings of elation that you rarely feel. The jubilation in the dressing room... for each and every player the sense of accomplishment is something you will always remember.
"You go on that stage and come up against internationals. To get over those hurdles and play in great venues and stadiums, as I said it's those occasions when you feel like a proper player.
"You'll always remember it."
It's time to make more memories.