Matt Doherty may not be expected to start for Ireland in Friday's Euro 2020 qualifier against Denmark, however, the in-form Wolves defender still believes that both himself and Seamus Coleman could play in the same starting eleven.
The Dubliner has just enjoyed a remarkable season at club level, yet admits that he will have to wait for his chance to cement a starting role in Mick McCarthy's side.
Doherty started McCarthy's first game back in charge of the national side, yet was taken off after 55 minutes away in Gibraltar as Ireland struggled to break down the perceived weaker side.
And the Wolves man was then surplus to requirements three days later back in Dublin as Ireland took on Georgia in their second qualifying match.
McCarthy was quick to suggest following the Gibraltar game that the experiment of playing Coleman and Doherty on the same flank did not work, and the Wolves man admitted that he had a good idea that he would be dropped for the Georgia game.
"It was fine; he said what he was going with," said Doherty, when recalling the conversation with the manager ahead of the Georgia game.
"I didn't necessarily have a problem with it. I could have seen it coming, it is never a good thing when you are taken off after 55 minutes, you know you are going to be in trouble for the next game."
But Doherty still believes that both himself and Ireland captain Coleman could be facilitated in the same team, and feels that he did not do too much wrong away in Gibraltar, where Ireland snatched a fortuitous 1-0 victory in extremely windy conditions on the southern Iberian coast.
"Me and Seamus spoke about it, and we didn't think we were that bad actually," said Doherty, speaking at the launch of the new Ireland team suit from official sponsor Benetti Menswear.
"Not much came off for anybody really, it was just one of those games.
"But we believe we can play in the same team. We know each other's games and we are both confident players, I don't see how we wouldn't be able to work.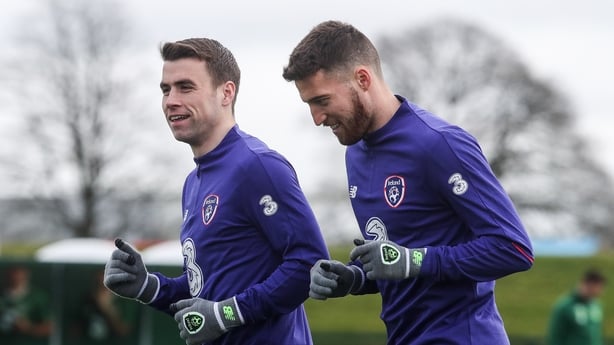 "But that is not our choice, so we will just have to wait and see when the team gets announced, who plays."
Doherty has received multiple plaudits for his play throughout the season as his high-intensity, attacking style on the right flank helped Wolves to a seventh place finish in the Premier League, yet the wing-back insists that he is not frustrated with the situation with the national side.
"Frustration, I would say no; it is just the way it is. Myself and Seamus are very close and really good friends.
"Whoever plays will do a good job – right now, it's not me so I'll just have to wait for my chance."
Doherty has been first choice at Wolves over the past two years, playing in that attack-minded, right wing-back role, while he has also played all across the defence throughout his career at Molineux.
And while many have called for Doherty to be accommodated in the same XI as Coleman, the Wolves man knows that in reality, it is the defence-focused, right-back position where he is mainly being considered for at international level.
"He knows I can play in a number of positions, but in training I'm playing right back so I guess I'll just have to bide my time and see how it goes.
"There is a lot more defensive responsibility and it will be different, but I've played right back my whole life really, the wing-back role has only been the last couple of years, so I can still play the conventional back four and play on the right side of that, it wouldn't be a problem."
And that mindset will remain focused on giving his all for his country ahead of the two upcoming matches against Denmark on Friday and at home to Gibraltar the following Monday,
"Definitely, the team has not been named yet," said Doherty, who admitted that he will be preparing to start the game at the Parken Stadium in Copenhagen.
"In my own head, I will train hard and before the team is named, still prepare as if I am playing.
"And if I'm not, I will still do the same because I might need to come on after five or ten minutes; who knows what could happen.
"So if I don't play, I will support Seamus, and if I do play, I will try and do my best."