Seamus Coleman wants the Republic of Ireland squad to stay united, even if manager Mick McCarthy has to make some tough decisions for the upcoming Euro 2020 qualifiers, including about his own position.
One of the talking points in the build-up to McCarthy's first games was how he would fit in form player Matt Doherty and the Irish captain.
They both featured in the win over Gibraltar but the Irish boss admitted it didn't quite work tactically.
Doherty was subsequently left out against Georgia.
After the positive results, Coleman is wary of thinking places are assured, but wants every individual to put focus on the team.
The quandary of the right-back position is something the former Sligo Rovers man is leaving to his boss.
He told RTÉ Sport's Soccer Correspondent Tony O'Donoghue: "That's the manager's decision. Matt and I get on quite well. We work hard in training. Everyone knows Matt's played that role a little bit ahead of me, that right-wing back role, whereas I play the right-back role.
"I'm sure if the manager was playing wing-backs then it could be a different situation. It's not different for Matt, me or whoever. None of us take our places for granted. My whole career I haven't taken my place for granted.
"My whole career I haven't taken my place for granted because it's a slippery slope. It'll just be working hard and trying to get the best out of each other.
"Whatever XI plays, it's very important the lads don't play are they to support. You can be annoyed for five or 10 minutes. That is only natural. But the squad needs to support each other at all times.
"I'm sure the manager was happy with that performance against Georgia and that group that played that night. As individuals though we can't take anything for granted because if you don't train well this week I'd say there'll be no qualms from the manager changing it up, which I like.
"We all need to be at it every day in training. If you watched yesterday, the tempo was high, and it will be again today. Everyone is fighting for that one place and that team makes the team stronger."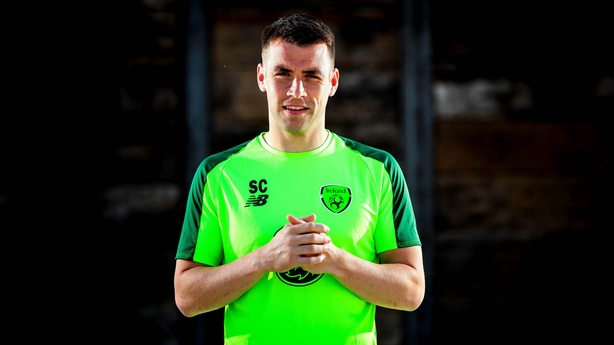 Ireland are based in Portugal at a high performance sports complex in Quinta do Lago, with Coleman acknowledging "top notch" facilities and sharing McCarthy's view that a player can't help but enjoy it.
The long break from the end of the English season to the qualifiers is something that can be turned into a positive,
"It is a strange one definitely. You think it would be done straight after the season but with the Champions League and what not interfere with. Some lads have been off for a week, some two weeks, so I think the manager made the right call getting us in early.
"We won't drop much in terms of fitness but you will drop a little bit, so getting us back in and ready to go is definitely important.
"Away to Denmark is a tough game and we have had that bit of history as well which makes it that little bit more exciting. We have been on the wrong end of that a few times.
"The group are looking forward to it. We take great confidence from how we performed against Georgia.
"That was the manager's first squad as well so we have more time work together as a team and a unit. We are going into that Denmark game with full confidence. We're really looking forward to getting over there for the game."