Mark Quigley had a stellar League of Ireland career that was laced with silver.
But he never got to play at the Aviva Stadium.
There were great days: Setanta Sports Cups with Bohs and Shamrock Rovers, a President's Cup with St Pat's and, of course, a memorable Premier Division title with Sligo Rovers in 2012, sealed when Quigley slammed home an 88th-minute penalty in deciding game of the season to beat the Saints in a Showgrounds thriller.
A day out on the main stage eluded him, however, though the Dubliner came close.
In 2014, Quigley missed out on playing in the FAI Cup final with St Pat's due to a back problem which required surgery. He had featured in every round up to the decider, and watched from the stands as his team-mates beat Derry City 2-0.
On Saturday, he'll get to scratch that itch when he leads his local club Sheriff YC out at the Lansdowne Road stadium to face St Michael's of Tipperary in the FAI Junior Cup final as manager. It will be a proud moment.
"This was my first club. I grew up playing with the lads, they're all my best friends. It'd be an amazing achievement for the club, for me personally and for all the lads," 33-year-old Quigley told RTÉ Sport.
"This would be up there with the best achievements of my career. When I think of what I could achieve on Saturday, to do it with these lads, to be able to do it with them, it would make it more special than if I was to win it with a club I had no affiliation to. It would be up there with my greatest moments."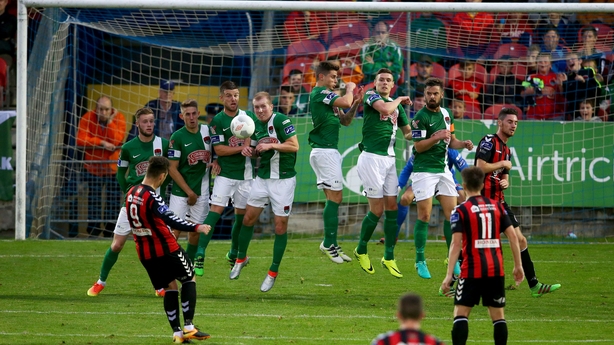 Quigley admits he never really considered going into management during the tail end of his playing days.
He dipped his toe into coaching tentatively at first, and then got bitten by the bug. He hasn't ruled out trying to prove his chops in the dugout of a LOI club either.
"When I was playing, I never thought about management. When I was with Bohs, I started doing a small bit of coaching with [Dublin amateur club] Eastwall Bessborough. I done that for a few months and got a bit of buzz for it.
"When I left Bohs, I always wanted to come down to Sheriff and finish playing there. I did that last year, the manager Alan Reilly left and there was a void. I hadn't even thought about it, but basically the lads off the team pushed me to go for the job. I went for it and luckily I got it.
"I haven't really looked back since, and I'm absolutely loving it. The buzz you get on a Friday night or a Sunday morning, even training, when you put something across and you see it come to fruition what you've been practising and preaching, it's a different kind of buzz to playing and it's a buzz that I like.
"I think the ideas that I put across and the training methods, the way I interact with lads, I do think I could progress. But it's down to me, if I have the hunger and desire for it, doing the badges and stuff like that.
"The more I do with Sheriff the more of a buzz I'm getting from it. I'm very lucky to have a really top bunch of players. Picking the team, because the squad is so good, that's the hardest part."
Blast from the Past - A look back to 2012 and a memorable day for @sligorovers as they ended a 35-year wait for the league title in style #RTESoccer pic.twitter.com/YmcPrgI5h9

— Soccer Republic (@SoccRepublic) April 30, 2018
Sheriff have been one of the best junior teams in the country for the guts of a decade now. They've won four of the last seven FAI Junior Cup finals and were beaten by Liffey Wanderers in another.
There's some impressive pedigree in the ranks including Anto Flood, who won a league title with Pat's in 2013. Stephen Maher has plied his trade with St Pat's Dundalk and Drogheda United while Gary Burke was with Bohs, UCD and Athlone Town before dropping down to the amateur game.
Others, like John Lester and goalkeeper Lee Murphy, have also had spells in the LOI.
Quigley firmly believes he has players at his disposal capable of holding their own at Premier Division level, particularly the younger batch of talent that's been nurtured at the north inner city Dublin club.
"There's plenty in my team who could play at a higher level, especially some of the younger lads who are coming through now. There's 18, 19, 20-year-olds who I personally think are top quality. Then we have older fellahs whose time has probably gone but how they haven't played League of Ireland I'll never know.
"I've played at that standard and trained with lads who wouldn't lace some of the players' boots that I'm coaching at the moment.
"You just have to be lucky. They probably hadn't got the will and desire when they were younger, maybe stuck with their jobs instead of taking the gamble and going for the League of Ireland. In my team I think there's a lot of players who could have made the jump."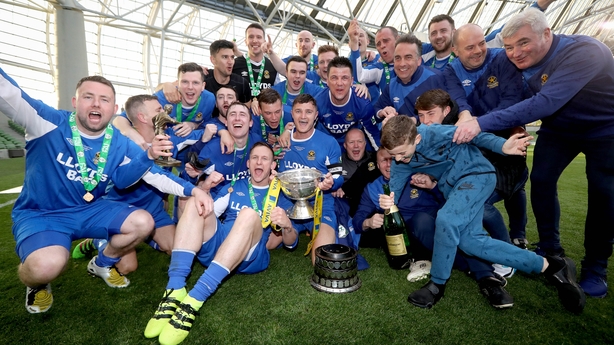 Saturday's showdown will be a real community affair. Quigley laced up his boots for the semi-final win against Aisling Annacotty but he's ruled himself out of playing at the weekend as he welcomes back several key men who missed the last-four win in Limerick.
He'll be stationed on the line, desperate to bring the trophy back to Sheriff Street to cap his first year as a manager in style.
"I was in the Pat's squad when they won in 2014. I played in all the previous rounds but had to have back surgery four days before the final. That was unfortunate. But it'll be nice to stand on the sideline and watch my team play.
"I had to throw myself in last week. We were down to the bare bones. But I was confident in our lads. It wasn't the prettiest game, just one of those where you had to grit your teeth and get through it. The reward was to pay in the Aviva Stadium.
"All the lads I've brought in are from around the area. I know their uncles, their brothers, their das. They've given us a new lease of life. They are the next generation that will progress Sheriff into the future. They've given some of the older lads a new lease of life.
"I didn't have to go searching high and far."