Pep Guardiola insists "everyone feels the pressure" as Manchester City look to take another step closer to the title away at Burnley on Sunday.
City beat rivals Manchester United 2-0 at Old Trafford on Wednesday to move back to the top of the Premier League table.
Liverpool could leapfrog the champions again with a win tonight at home to Huddersfield but City boss Guardiola is only concentrating on the Clarets.
"It is always tough for the way they play," Guardiola said of Burnley. "They do really well what they do.
"It is the end of the season, the last games, everyone feels the pressure to win. We are going to prepare to try to control their strong points."
Guardiola was unable to confirm whether Fernandinho would be fit to face Burnley but he did say that fellow midfielder Kevin De Bruyne was out of the clash.
On Fernandinho, he said: "It is a problem in the knee. We will see tomorrow."
"One hundred points in a season - if you want to compete you have to do that"
Guardiola also took time to praise his side after a gruelling few weeks, during which time they exited the Champions League against Tottenham.
He said: "The incredible thing was we beat Tottenham at home after the Champions League defeat. They showed me the character and the personality that they want to win."
Guardiola also credits Liverpool with helping to maintain his side's high standards.
He added: "We helped them to achieve that and they helped us maintain that level."
"Liverpool realise to win the Premier League right now you have to make a lot of points. That's what we have communicated to each other really well.
"You know when Usain Bolt makes a 100-metre race that's the standard and the other people have to achieve it. For grand slams Jack Nicklaus, Tiger Woods - that is the standard, it's the same.
"One hundred points in a season - if you want to compete you have to do that."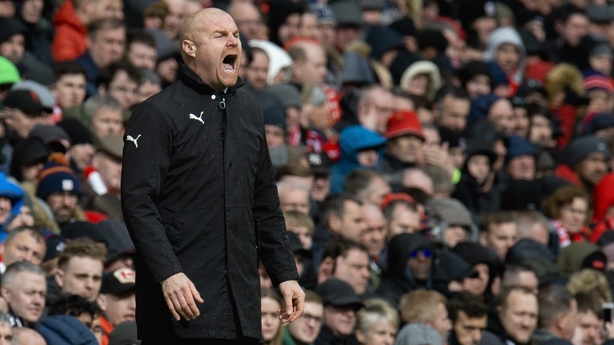 Meanwhile, Clarets manager Sean Dyche has City not to expect a comfortable path to three points.
Burnley are all but mathematically safe from the threat of relegation that has hung over them for most of this campaign, sitting in 15th place, nine points above 18th placed Cardiff City with just three games remaining.
The Clarets put themselves in that position thanks to a battling 2-2 draw against Chelsea at Stamford Bridge on Monday, a performance which shows Dyche's team are capable of upsetting a big six team.
The Burnley boss is sure that Guardiola will know his team will face serious resistance at Turf Moor.
"Their approach will be of a serious nature," Dyche told a news conference on Friday.
"I don't know Pep Guardiola but I would imagine he's learned there's no walk in the park in the Premier League. There's no naivety, they won't be coming to Turf Moor expecting a walk in the park and we won't allow them that."
Burnley beat Tottenham Hotspur at home in February and drew at Old Trafford against Manchester United at the end of January while last season's clash with City in East Lancashire ended 1-1.
"We've been close with a lot of the big sides," said Dyche. "They (City) are a top side. You have to be on top of your performance levels. You need the odd bit of luck, you might need a decision but you have to focus on performance."
Although Burnley are safe, barring a remarkable series of results and a significant shift in goal difference, Dyche says they won't be relaxing just yet.
But the Burnley manager concedes they have less pressure than City who cannot afford to offer any opportunities for Liverpool.
"They have the demand to win the title, while we have a different one," he said.
"That can be a weapon - you can't relax but there's a tiny bit of freedom because it is about them. We want to win and prove we can at least challenge the elite.
"The top six this season are miles in front. It's a big challenge and it's one we look forward to."