Lido Lotefa has crammed quite a bit into his 18 years.
He was ready to give up on his dream of becoming a professional footballer 16 months ago after a frustrating spell at Bohs, before a move to Dundalk and an arm around the shoulder from Stephen Kenny completely changed his trajectory.
Lotefa was given a full-time contract before Christmas as reward for a scorching run of form with the Lilywhites' Under-19s. His skills and technical ability turned heads at Oriel Park and he's benefiting from the terrific set-up and competitive environment that's part of the culture these days at the reigning Premier Division champions.
Still, it hasn't been straightforward.
Lotefa's first taste of soccer came on sand pitches in the Democratic Republic of Congo, the country of his birth, where his friends would play in their bare feet with rocks for goals.
When he was five, the family moved to Ireland, though Lido's father - who had enough talent to represent Congo at underage level - initially stayed behind before joining them later.
The Lotefas' first experience of life in the Emerald Isle came at the direct provision centre in Mosney, Co Meath, a colourful holiday destination in a past life that now homes around 600 asylum seekers.
A small, diverse and close community, the residents established their own team, Mosney United FC, which competed against other boys in the local Drogheda League.
Oscar Sibanda, formerly a resident at Mosney who went on to have spells with Shamrock Rovers, Drogheda United and Galway united, was a mentor, and it was in these games Lotefa's ability began to flourish.
"Mosney was my first football team in Ireland," he tells RTÉ Sport.
"We had some talent! All the boys in Mosney, whatever your background, we'd just come and play. For our home matches all the people would come out to watch and support us."
After two years the family moved to nearby Balbriggan, and his development picked up pace.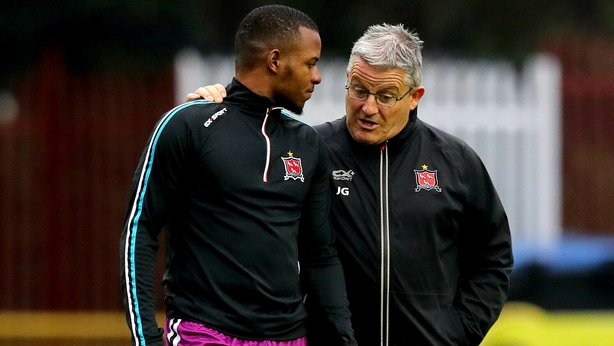 As Lotefa entered his teens, star turns with his secondary school, Balbriggan Community College, led to a move to Bohs' Under-13s, where he stayed for two years before moving to St Kevin's Boys and then back to Bohs when he turned 17.
If Lotefa anticipated a smooth path to the big time he was about to experience a couple of cruel bumps on the road. Still in his his formative years, he suffered two major setbacks.
The first was a trial at Coventry City that collapsed because he was not allowed to fly alone due to his refugee status.
"I was with St Kevin's. I got my visa sorted, and on the day of the flight I'm checking in with my friend Gavin Kilkenny [now at Bournemouth]. He checks in. I check in, and they say, 'you're not allowed fly by yourself because you're a minor'. I was 16. But so was Gavin. He was able to fly; I wasn't.
"The agent got on the phone to say, I'm in Birmingham waiting on Lido and Gavin. They said to me, 'no, you're not flying'.
"My mum looked at the next flights to try and come with me but they were €500 for one person. Crazy. The scout that was meant to meet me was Darragh Leahy's dad. Darragh was at Coventry. It just didn't work out and [a trial] never happened again."
It was back to Kevin's and then back to Bohs where things initially went well. Lotefa played, and scored, regularly but he hit the wall after stepping up to the Under-19s.
"My last six months at Bohs was terrible," he says. "I wasn't getting a look-in at all. I knew where I stood. You just know yourself.
"I rang the Under 17s manager, Jimmy Mowlds. He was like my dad. I could tell him anything. I told him, 'Jimmy, I need to leave, can you help me find a club?' He said he understood and rang Mick Neville, who was manager of the Dundalk Under 19s."
A move was agreed, and Lotefa headed to Louth. It would be a transformative experience - and result in a crucial crossing of paths with the future Republic of Ireland manager.
"Going to Dundalk I had no intention of playing for the first team. I just wanted to enjoy it again because I was ready to quit football. My mum talked me into going back. I'd picked up bad habits: drinking, going out before match days because I knew I wasn't going to play.
"I lost that professionalism. I went to Dundalk Under-19s and didn't start for the first few games. I knew it was going to take time.
"I trained well, I felt happy again. I started to play games. I scored six goals and set up six more in ten matches. I found my feet again.
"We got to the quarter-finals of the league and got knocked out by UCD. After that I got a call from Stephen Kenny saying he wanted me in the first team, out of nowhere. Next thing, I'm in full-time with the boys. This is a month before the FAI Cup final! I'm travelling with the squad, I was on the bench against St Pat's."
It was dream stuff for Lotefa but the reality of life with the big boys was no stroll in the park either.
The teenager had one overriding emotion after his first day of first-team training: "Shock!"
The standards were enormously high.
"They demand a lot from each other," he says. "They're all really nice. At Dundalk, everyone stops you, 'aw what's your name, where are you from?' I felt at home straight away.
"I remember one time I was trying to mark Patrick McEleney. He kept spinning me, inside and out, six times in a row. I just gave up and instead of pressing him I ran back. He was making a show of me!"
Lotefa didn't get to spend much time under Kenny's watchful eye - his time at Dundalk was coming to an end - but the current Ireland Under-21 boss made a positive impact. He coaxed more from Lotefa, and filled him with confidence.
"Stephen Kenny always talked to me, made sure I was happy and had everything I wanted. He's a great guy.
"He encourages you a lot. You might not have the best game but he'll roar encouragement rather than rip into you. At other clubs you'll hear, 'you were s**t today!' Stephen Kenny is one of them managers that if you make a mistake, he's not going to mill in to you. He'll say, come on, get up, do better!'"
Rubbing shoulders with the seniors was a thrill, but things were about to get even sweeter.
Having been suitably impressed with his displays, Dundalk offered Lotefa a professional contract. It was the perfect Christmas present.
"I was overwhelmed," he reflects. "There were a couple of teams interested in me. I got an email saying, 'you have been offered a professional contract from Dundalk Football Club'. I moved to the town then. The set-up is top class."
New @DundalkFC 3rd kit 😍 , all donations go to @Temple_Street 👏🏽. pic.twitter.com/WnixgITO53

— Lido243Lotefa (@lidolotefa10) March 27, 2019
Kenny may be gone but Lotefa says the routine has remained much the same under Vinnie Perth and John Gill. "Monday and Tuesday are just football football, football. Thursdays are purely tactical, positional play, setpieces."
At a club loaded with so much talent, he's had to bide his time with the Under-19s. A senior start came in the Leinster Senior Cup game against Athlone Town at Oriel in February, but it didn't go according to plan. The First Division outfit pulled off a shock 1-0 win. Lotefa was downbeat.
"Being honest, I was s**t. I was scared to make a mistake, scared to do anything. I didn't want the ball. But as the game went on, I knew that wasn't who I was. I'm a person that needs the ball. I started getting the ball in the midfield, pass. Off the defence, pass. We ended going out though and we were very, very disappointed."
That experience hardened him, and when he got the nod against St Pat's in the second round of the EA Sports Cup last Monday, Lotefa felt more prepared.
"I was ready. I said, 'I cannot shy away today'. I grew out of it and said, 'if I make a mistake just get on with it'. I actually didn't start the best… but it was good."
A 2-1 win and a more assured display left the 18-year-old in a much better place. Now he's ready to kick on.
Lotefa will become a naturalised Irish citizen this summer, another important milestone. He was part of the Republic of Ireland Under-18 Schools team that lifted the Centenary Shield last year but full international recognition has not yet been possible. He's dreaming big.
"My days [of reckonable residence] are over on 10 June. I can't feature for Ireland without a European passport," he adds.
"I just want to embrace the culture at Dundalk, the fitness, the level and carry that forward with me. Sometimes my mates come down to watch me. That's nice.
"But it puts more pressure on me as well..."