When Louise Quinn pulled on her Arsenal jersey for the first time it was a surreal moment. She felt like someone who had just walked into a sports shop to buy their favourite team's shirt and was merely trying it on.
Joining Arsenal was more than just a big opportunity for the Ireland player it was the culmination of years of hard work, she had really arrived.
The towering centre half has dedicated her life to sport and being part of one the biggest football clubs in the world showed her just how far she'd come.
Those who have more than just a passing interest in football know there's very little glamour in the women's game.
For most who follow their dreams, it's a life of hard graft and the financial reward is nothing like what their male counterparts receive.
On the flip side, playing professional football and fulfilling a lifetime ambition is reward enough.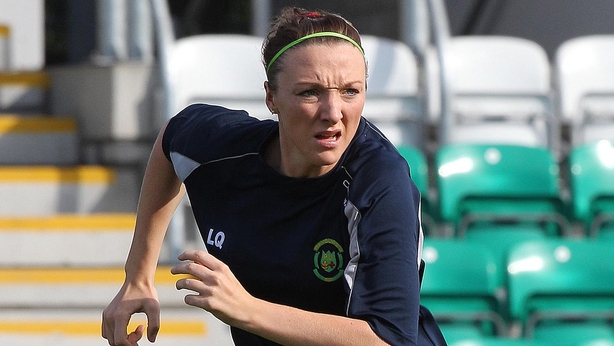 Quinn is one of those players who followed her dreams and she also made her own career happen.
As a player she was talented of course but when she decided to embark on a career in football the opportunities were limited and the pathways weren't defined.
Of course there were players like Yvonne Tracy and Emma Byrne who had paved the way at Arsenal but professional contracts weren't commonplace.
For as long as she could remember Quinn wanted to give professional full-time football a shot, she was sure of that but she wasn't sure how to make it happen.
Her dad wanted her to finish college so she got her degree but as soon as she finished she put her mind to getting a club.
That meant spending hours putting together a highlights reel and sending it to an agent.
"I could have gone to America and done the college thing but my goal when I was younger was always to make the national team," explained Quinn.
"I was a sub on some underage teams and there were patches when I wasn't in at all. That's why I wanted to play abroad; everything I did and wanted to do was to be an Irish player.
"I got talking to Gerry Dunne who was at the time our goalkeeping coach and he did video analysis.
"The course at Carlow IT had just opened up and that's where I did my editing. I used their system; I sat in there for seven hours to get seven minutes of video.
"My good friend Fiona O'Sullivan who played for Ireland gave me the details for an agent and that was it, we put it out there and that was it - gone to Eskilstuna United in Sweden."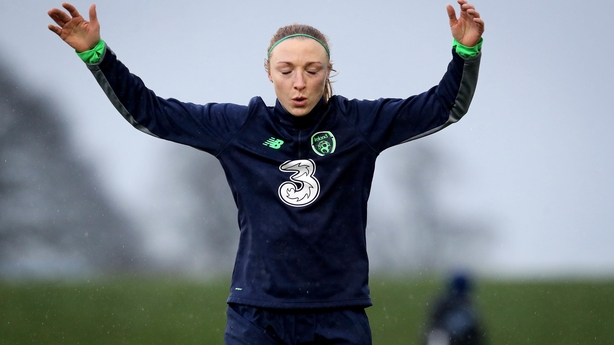 Although Quinn had reached a major milestone by securing a club, in ways the hard work was really just beginning. Moving away from home was difficult and so adapting to the new language and the weather conditions too.
"I arrived in the start of February and there was about four feet of snow. I remember sitting in the breakfast area of the hotel and you could barely see out the window. I just thought, 'where the hell am I?'."
The Wicklow native was in Södermanland County in Sweden. When she arrived in 2013 her new team were in the second division but they were on an upward curve. After a dramatic last game of the season gained promotion to the top level.
"It was so much fun that first year, it was challenging of course but you'd be on a bus for seven hours for a trip but it just wasn't a problem, you just do what you have to do."
In the second year of her stint there they finished a very commendable mid-table and then in the third year they finished second.
"We could have and should have won the league and then we had Champions League it was an amazing time, I couldn't be more proud.
"It was a such a community team there, we were so involved, we went to schools set up girls camps, a few of us did a bake-off, I dressed up as a banana.
"It was just ridiculous stuff. We started off with around 200 people at a game and then we finished up with over 6,000 coming. We had to get extra seats in the stadium."
Although Quinn loved it in Sweden she struggled with being homesick and it eventually got to a stage where she knew she needed to move closer to home.
But she knew if she wanted a career with the Republic of Ireland so playing with a professional team was important for her development and form.
Moving to England was the next best thing to returning to Ireland so when an opportunity to play with Notts County came her way she grabbed it.
However things didn't run smoothly and she hit a bit of a stumbling block when Notts County folded two days before the Women's Super League season was due to start.
It was a setback but it led her to Arsenal and she is grateful to have been given that opportunity.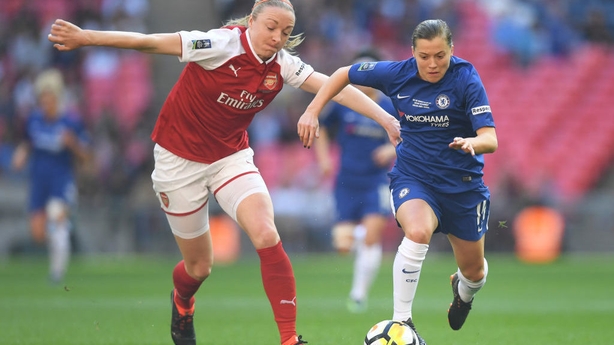 "The day the team went into liquidation my agent was on it and she made the calls that needed to be made.
"It was a very difficult time but as it turned out Arsenal were looking for a centre-half so it worked out well.
"I feel very lucky to have got to a team like Arsenal. The history of the team is so impressive, especially with the Irish connection.
"When I got my kit I sent pictures of it on to my friends. It was such a major thing, I'm used to it now but I know I'm going to look back and think, 'okay I play for Arsenal'.
"It's great having Katie McCabe here too, there is a big Irish connection here and it's nice to have always been an Irish player here. We are keeping the Irish here."
Quinn is a leader on and off the pitch. When the Ireland women's team fought for better terms and conditions in 2017 she was front and centre.
She was also a rock in Ireland's defence as they fought hard to secure qualification for the women's World Cup.
They ultimately fell short but it made Quinn more determined to help bring her team to a major tournament.
Having Colin Bell as manager has helped improve the team and so has the increase in numbers of the squad playing professional football. However Quinn feels that if the structures in Ireland improved so would the national team.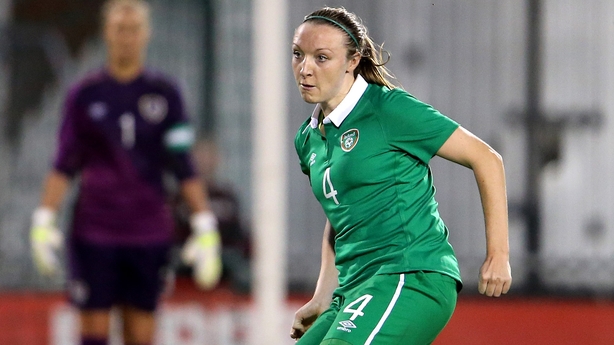 "What the Irish team have done in the last two years has been huge and Colin has been pushing that but it seems that a lot of players are abroad now.
"It's tough but in Ireland you would have to make it in some way semi-professional if you want players to stay. Linking up with a player's work place of college to sponsor them is a good way of doing it."
She doesn't imagine it will happen in her lifetime but Quinn is hopeful. Right now the 28-year-old is focused on her club and has big plans for 2019.
Winning the league is top of her agenda and with Quinn's determination anything is possible.