When Northern Ireland and the Republic of Ireland meet for a friendly at the Aviva Stadium this Thursday, it will be almost 25 years to the day since Jack Charlton brought his team to Belfast in search of the point they needed to qualify for USA '94.

It had been tit-for-tat in a tight Group 3, with Ireland, Denmark and Spain all in the mix for qualification ahead of the final round of games.
The top two would make it to America, and Charlton's seasoned outfit just had to better the Danes' result against the Spaniards in Seville.
Given that Spain had to win, there was a chance a draw would do it for the Irish.
Northern Ireland were out of the running. They'd been well beaten 3-0 at Lansdowne Road the previous March and though they'd held Spain to a scoreless draw at Windsor Park, they'd also dropped points against Lithuania, after squandering a two-goal lead, and lost twice to Denmark in a patchy campaign.
Still, all that went out the window on Wednesday, 17 November, 1993.
It was a visceral, red-raw night with a build-up that had stewed in a poisonous cocktail of political and religious divide.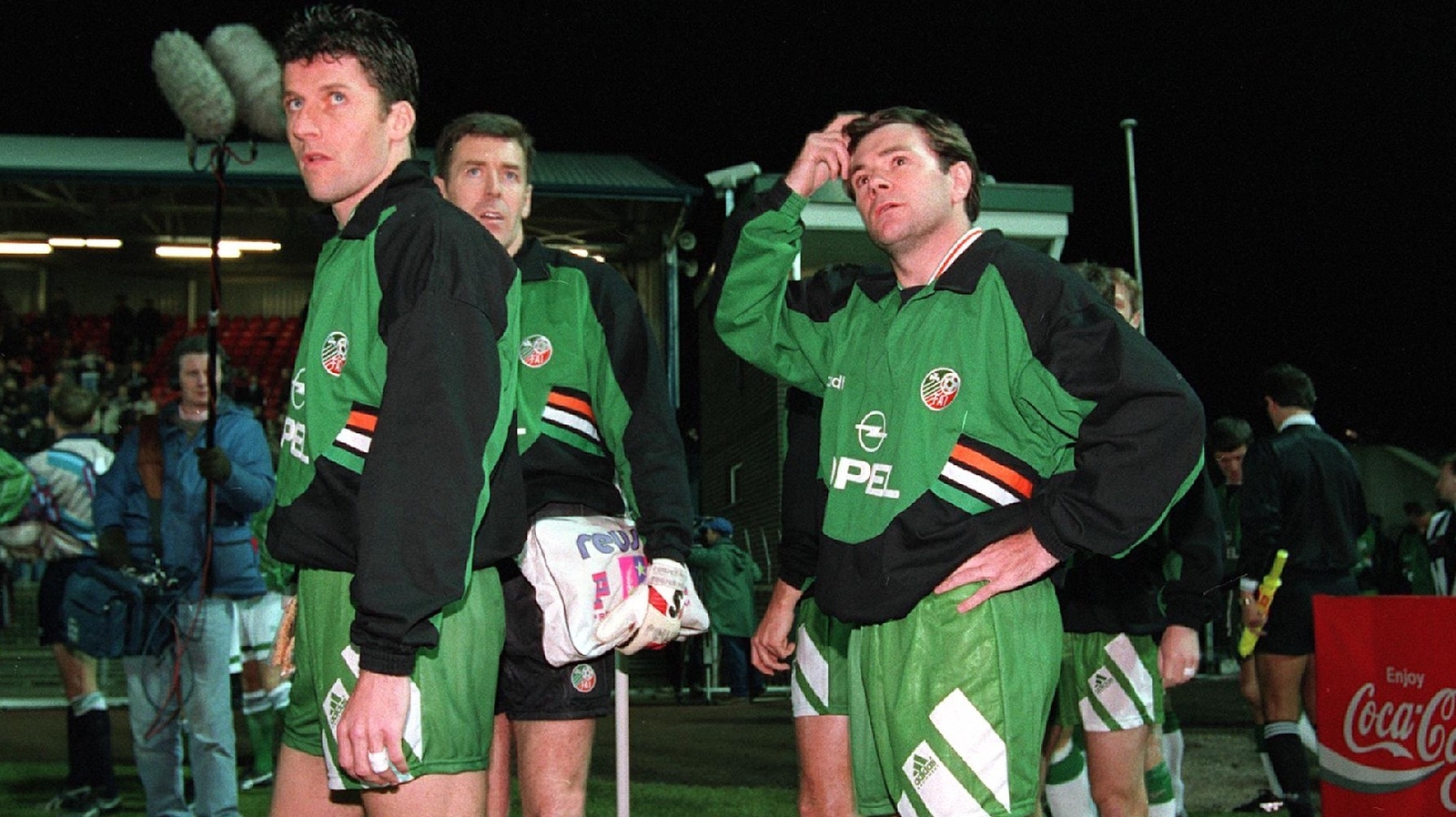 Three weeks before the match, on Tuesday 23 October, two members of the IRA had walked into Frizell's fish and chip shop on the Shankill Road in Belfast. They had word that a meeting of the UDA was to take place in a room above the premises and intended to evacuate the chip shop before planting a bomb with a short fuse.
The bomb went off prematurely, killing ten people - including two children aged seven and 13 - and leaving many more injured. The meeting had been rescheduled.
Seven days later, on the eve of Halloween, UDA gunmen entered the Rising Sun bar in Greysteel, Co Derry. After one of the men shouted, 'trick or treat?' they opened fire, killing seven people and injuring another so badly that he later died of his injuries.
A desperate climate of fear existed, and it was in the middle of one of the darkest periods in the history of the Troubles that Ireland ventured north to play a football match.
Northern Ireland boss Billy Bingham tossed an oily rag on the fire by labelling Charlton's team "a bunch of mercenaries... happy to be picked because they couldn't find a way of making it with England or Scotland. I take a totally cynical view of the whole business. I am not prepared to skirt the issue, the same as I am happy to state it is our intention to stuff the Republic".
John Aldridge had responded robustly, saying: "We are all Irish whether we play for the North or the Republic, and just because we speak with a Liverpool accent or a Manchester one makes no difference. When I was first picked it was not pound signs that flashed before my eyes but the shamrock."
But Bingham had been riled by Republic fans chanting, 'There's only one team in Ireland' in the Dublin fixture and freely aired his dislike of Charlton. He was desperate to stop them going to the States.
There was no denying or escaping the volatility.
The visiting team coach drove slowly through the streets of Belfast towards the ground with the lights turned off and players sitting on the aisle seats rather than close to the windows for security reasons. It was deathly quiet with a police presence on board and an escort both in front and behind the bus.
There had been speculation that the game would be played at a neutral venue, with Anfield, Old Trafford, Wembley and even stadia in Italy mooted. In the end, it stayed at Windsor Park.
It would be a night of unbearable tension, right to the very end.
17 November, 1993
Ray Houghton (Republic of Ireland midfielder): "We were quite upbeat about the actual game. We knew a win guaranteed us qualification, and with a draw there was a chance of us going through. We'd already played Northern Ireland in the group stage and we'd beaten them. We were fairly confident going into it, but it was really intimidating.

"I remember going to the game and we had armed police in front of us. We had guards on the bus. It was the first time I'd experienced that going to a game, where the security was so high. We weren't going into it with any joy. It wasn't like, 'oh yeah, I'm really looking forward to this!' It was a case of getting in there, getting the job done, and getting out."
Gary Spain (Republic of Ireland fan): "I'm from Limerick but at the time I was living and working in Galway. I drove up from there. There was four of us who were pretty good friends, one of whom has since passed away, and we were supposed to be going. One of the lads, his father begged him not to go so he didn't. Then another fella pulled out. So it was Tim and myself. We tried to sell the other two tickets and we couldn't sell them.
"They were £10 each. We couldn't find anyone down south who wanted to go. In the end I did find two guys I didn't know and haven't met since. I ended up driving all of us up from Galway on the day of the game.
"I was 27. I took two half days from work. I left at lunchtime on the Wednesday, stayed overnight and drove back on the Thursday morning. That was purely so we would be driving in daylight. I'd been across the border plenty of times but it had become very tense after the Shankill Road bombing. The tension totally changed. I really didn't want to be driving at night up there."
Ger Canning (RTÉ Sport reporter): "Derry played Donegal the day after the Shankill bombing in Belfast and the atmosphere was extremely tense. British army helicopters were overhead throughout the match, as people feared a reprisal. I was glad to get away from Casement Park that afternoon. It was a very unpleasant experience.
"Next month I travelled by train with Stephen Alkin and the late Tadhg De Brún to Belfast. There was an eerie tension in the city and real sense of fear. We stayed in the Irish team hotel outside Belfast overnight.
"I remember we tried to kill time before the game by playing snooker in a hall in Antrim Town. We were the only ones in the venue and had been taken there by our TV technical expert who had driven to Belfast in his Dublin registered car. I think we began to feel a little vulnerable with just one exit from the building and a worry that some lunatic gunman might spot the car, amid the tension that was gripping the city. It was too easy to be in the wrong place at the wrong time."
There was unmistakable mischief in the air, a real feeling of being there representing the 'evil enemy' from the South
Ireland had been greeted by a gang of youths who cocked their hands to mimic shooting guns and roared abuse as they approached the ground but once inside they could focus on the task at hand.
Northern Ireland were limited but extremely motivated and with very few Republic fans present, a partisan, noisy Windsor Park would make life as difficult as possible for Charlton's men.
Still, the boss inadvertently eased nerves when he told his team to watch "Alan McLoughlin from their corners", mixing up his own midfielder with Northern Irish centre-half Alan McDonald. When the chuckles died down, Ireland headed for the tunnel.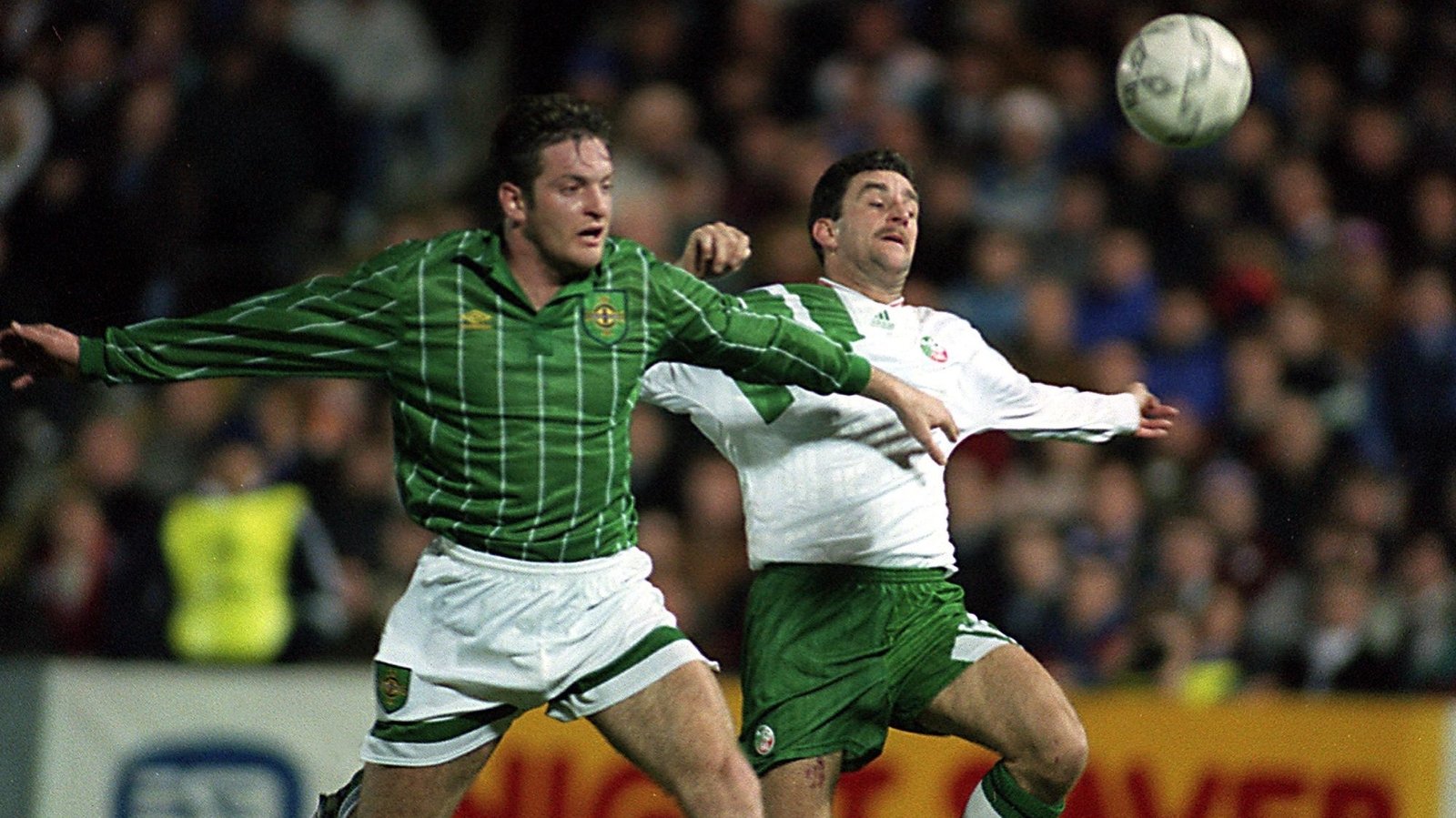 Ger Canning: "A couple of hours before kick-off we arrived in Windsor Park, a ground with a mix of old and new. There was an impressive new stand down one side of the ground and the rest was old style. We did one or two pieces from the ground pre-match. There were policemen all about the stadium, lots of police dogs, the dressing rooms were down in a corner of the old stand. We noticed one Northern Ireland player coming in from the warm-up with his arms heavily tattooed, and the letters UVF enscribed.
"Once the match was underway we stood on the sideline near the dressing rooms. There was unmistakable mischief in the air, a real feeling of being there representing the 'evil enemy' from the South, even though we were only media people.
"Billy Bingham was trying to rouse the crowd by waving his arms and getting them to make the atmosphere even more hostile. It was probably the most volatile atmosphere we've ever experienced at a sports event in this island."
Gary Spain: "We were in with the home fans. There were very, very few Republic fans at the game. You couldn't have worn your colours. We arrived very early so were in the ground almost as soon as the gates opened.
"England kicked off at 7pm against San Marino and our game kicked off at 8pm. I'd a radio to my ear. I was already in my seat when England kicked off and San Marino scored after seven or eight seconds. It was very relaxed going into the game. I was chatting to people around me, Northern Ireland fans, there were people there with kids... but just before kick-off it all changed.
"A group came out of a pub and sat in front of us. Up to maybe five minutes before kick-off it was very low-key. Then this group came in and they were singing sectarian songs and everything. I knew straight away I had to keep my mouth shut.
"Loads of the fans around us would have know we were from the Republic but the guys in front of us didn't. I think some of the recollections are a bit overblown about it. It was by no means the worst atmosphere I've experienced at football, by no means the most intimidating."
Ray Houghton: "They were proud lads. They weren't going to give us anything. We all knew each other. Some of us had been on the same teams. We all knew what we were about. It was no surprise they were fired up."
The game itself was pretty mundane. Neither side created anything of note for the first 70 minutes, with a howling wind and nerve-riddled players making for a scrappy spectacle.
Meanwhile in Seville, Spain were down to ten men. Goalkeeper Andoni Zubizaretta got his marching orders after losing his head in a raucous atmosphere and cleaning out Michael Laudrup just outside the box.
Enter 23-year-old international Santiago Canizares, who would have the game of his life. He produced save after save to galvanise the home crowd and sap belief from the Danes, before Fernando Hierro headed home from a 63rd-minute corner to blow the group wide open.
At that point Spain and Ireland were going to America. But in Belfast, with 71 minutes on the clock, Reading striker Jimmy Quinn - close friends with McLoughlin, a former team-mate at Swindon who'd just come on for Ray Houghton - looped a supreme volley beyond Packie Bonner to put Northern Ireland one up.
Pandemonium.
Ray Houghton: "You seen the reaction of the Northern Ireland players. You'd think they'd won the World Cup – that was how much they wanted to beat us that night, and for obvious reasons of course. It was a great goal. What a volley. He gave Packie no chance, it just floated over him and into the net. You do panic a bit. The minutes tick away. You know you need at least one goal."
Gary Spain: "Alan Kernaghan [who had played at underage level for the North] got awful abuse. He got the worst of it. They were abusing all of our players. It was when they scored that it just went bananas. That was the thing - they really wanted to stop us going to the World Cup. I think that came as a bit of a shock to people. People had been saying the game didn't matter to them... it really mattered to them. It mattered to them as much, if not more, than it did to us. And we were the ones trying to go to the World Cup!"
Alan Kernaghan (Republic of Ireland defender speaking in the book Stuttgart to Saipan - The Players' Stories): "You could feel the venom in it. 'Pope-sucking whore', 'your mother's the Pope's whore'. That sort of stuff. You just get on with it. Try and immerse yourself in the game. Sometimes it's as if the whole crowd goes dead bar that one person and you can see them and hear exactly what they're saying. It's difficult not to have a reaction to it."
Ireland were staring into a bitter failure. McLoughlin's heart sank as he tried to find his feet in the chaos and now realised the task had become ten times harder. On the Ireland bench, Charlton was preparing another change, telling Tony Cascarino to strip. But Cascarino, perhaps distracted by the madness of the whole occasion, had left his jersey in the dressing room.
Unzipping his tracksuit to reveal a plain white T-shirt, he gave his manager the bad news. It did not go down well. Someone was sent to hastily retrieve a jersey so he could enter the fray but at the same time, Ireland had embarked on an attack down the right. Nigel Worthington barged into Eddie McGoldrick to cough up a cheap free-kick, a rash piece of defending his team would pay for.
Denis Irwin's delivery was cleared only as far as McLoughlin on the edge of the box and he controlled it with his chest, before steering a precise volley past Tommy Wright.
Ireland were level.
Gary Spain: "I lost it when we equalised. I totally lost it. I jumped up, and the three lads with me didn't budge. They kind of disowned me after that! We were in the back row of the lower tier of the north stand, on the halfway line. I jumped up and went, 'YEAAAAAH!' and in mid-air I suddenly realised, s**t I've made a mistake here!'
"One of the guys in front of me turned around. He'd been one of the worst of all the abusers. I think he was in shock. I likened it to a dog chasing a car. He'd been screaming 'Fenian bastards' and all this and it was like a dog that catches a car and then thinks, 'well what am I meant to do with it now?' All he said to me was, 'what's the score in Seville?' I had a radio, nobody else had a radio, and of course there was no internet or mobile phones in those days. A group of the Northern Ireland fans sat around me."
Ray Houghton: "I came off, which I was really disappointed with. Jack actually said to me when I was sitting on the bench that maybe it was the wrong decision to bring me off, but it was too late. Then Alan steps up scores. And it's the right decision then, isn't it? It was a great finish from Al. The relief - and that's what it was, relief - was palpable."
Alan McLoughlin (speaking to RTÉ in 2014): "The safest place to be was on the pitch itself! I was more than happy when Jack gave me the shout because I felt more comfortable on there than I did sitting on the bench. We got a free-kick in the far corner, Denis took it. Niall Quinn did a great job, he just held off one of the defenders - I think it was Iain Dowie - and I knew as I hit it... my technique was right, the way I struck the ball was right, it travelled towards the keeper and moved away from him. I knew straight away it was flying into the bottom corner."
Ger Canning: "After Ireland drew level and the minutes ticked away I can recall Ray Houghton and Tony Cascarino jogging up and down the sideline and Ray asking us how much was left."
Ireland saw it out. But there was confusion at the final whistle. The game in Seville was still going on, with Denmark throwing everything at their hosts in search of the equaliser that would have sent them through. There was a five to ten-minute period of purgatory. While Mick Byrne jigged and reeled on the pitch, Charlton bullishly sought out journalists for clarity on the group's other key game.
He eventually found a monitor that beamed a live stream from Estadio Ramón Sánchez Pizjuán and prayed Denmark would not score. They didn't. Ireland had squeezed into America on goal difference, alongside the Spaniards.
Gary Spain: "I gave an update to the fans around me say, 'it's over, we're through'. Your man just said, 'jammy bastards', and walked off. I didn't feel under threat. I was young, I was single, I was a bit stupid maybe. I go back to Con Houlihan's quote about the World Cup in 1990 when he said, 'I missed the World Cup, I was in Italy at the time'. It was only when I got back to Galway at lunchtime the next day and my colleagues said 'wow you're alive'. I said 'what do you mean?' They said 'Jesus it was terrible last night'. I said, 'we qualified for the World Cup, it was brilliant!'
"It was tense. But it wasn't a war zone and the match wasn't that bad. I never felt under threat."
Ray Houghton: "When the final whistle went the lads didn't know whether to celebrate or not because the other game hadn't finished. It took a while before we found out the result.
"We got changed, we went straight to Belfast Airport and we flew back to Dublin. I think we went out that night! We got back early enough that we could go into town and celebrate qualifying. It was a bit surreal. We wanted to make sure everyone got away from the ground safe and well. The security levels were incredible. It wasn't until we were on the plane that we started to relax a bit. It was very jubilant."
Ger Canning: "We had to wait because the other match Spain v Denmark was still on. Jack was really on edge. The camera was on Jack and he was swearing under his breath. I told him to be careful with his language as the microphone could be 'live' at any moment. He liked me even less after that. Finally the other match ended and we got our interview.
"The team boarded their coach. Verbal obscenities were being hurled in their direction by fuming supporters of Northern Ireland. I'll always recall Niall Quinn turning around as just getting into the bus and replying: 'I'll send ye a postcard from the States lads!'"
Alan Kernaghan: "I prefer to remember the game for the outcome and how it came about rather than anything else. That was just the start of mobile phones. I had one and tried to ring home and never got through. To this day my missus still goes on about it, not phoning her."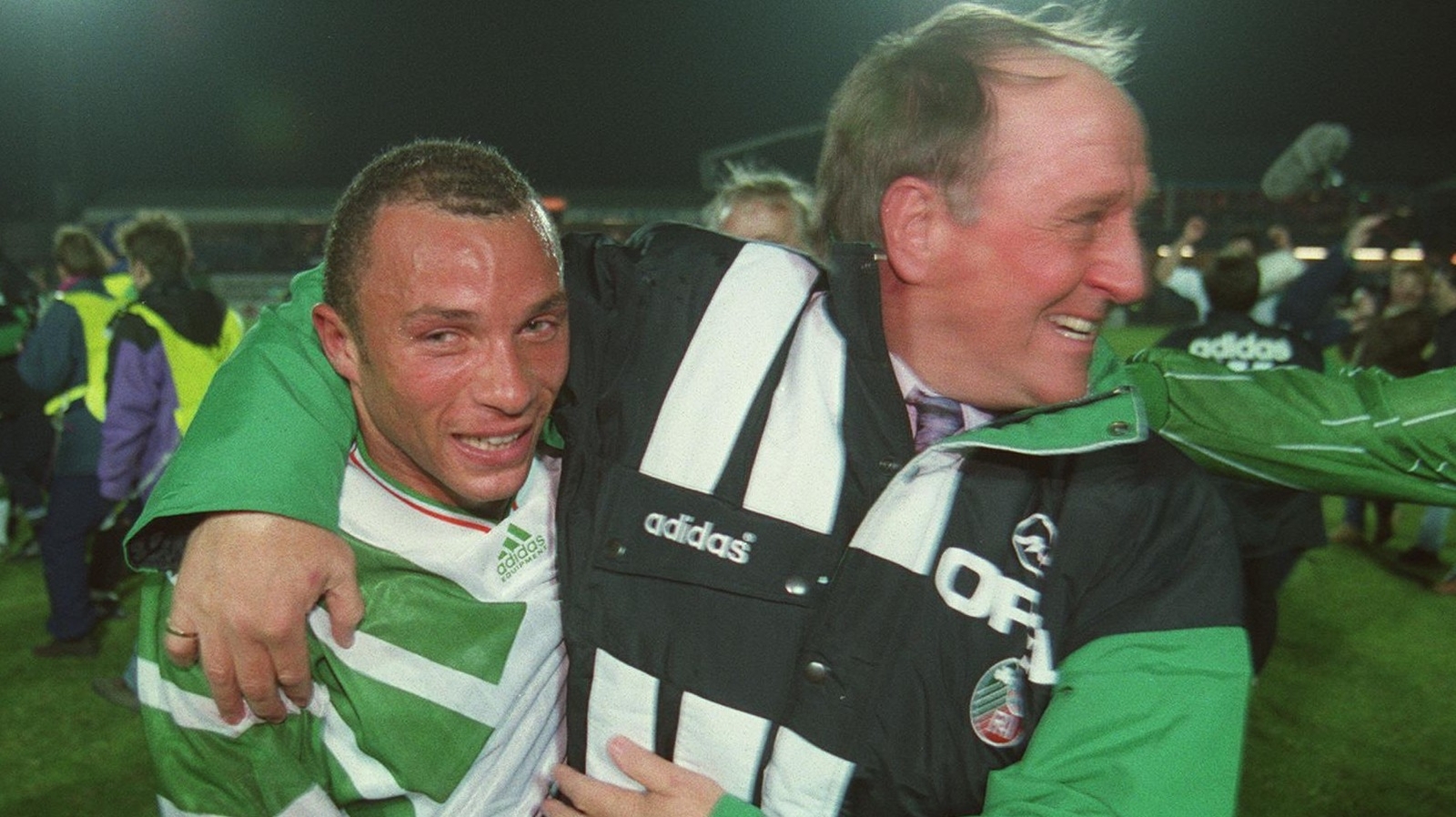 Ireland returned to a triumphant turnout of fans in Dublin Airport. A hugely difficult night had ended in glory, and they were heading for another World Cup. There, Charlton's side would produce perhaps the last truly great performance of that era, the 1-0 defeat of Italy at the Giant's Stadium.
Almost exactly a year later, they were back at Windsor Park. This time, in a Euro 96 qualifier, they eased to a 4-0 victory thanks to goals from John Aldridge, Roy Keane, John Sheridan and Andy Townsend. But the team was ageing, and a golden period was coming to an end.
The 2-0 play-off loss to the Netherlands at Anfield would be the Englishman's swansong. He resigned afterwards, to be replaced by Mick McCarthy.
No Ireland manager has come close to achieving the highs of the Charlton reign. It is defined by Stuttgart, Genoa, New Jersey, by Houghton, O'Leary, Timofte and Schillaci.
And by one night in November. Perhaps the most difficult night of all.