Denmark manager Age Hareide says he hasn't spoken to Martin O'Neill since jokingly thanking Ireland for allowing Christian Eriksen so much space in the second half of the second leg playoff game between the sides  in Dublin last November. 
In his post-match press conference following last year's 5-1 win, Hareide thanked Ireland for "giving us so much space", noting that the Irish defence and midfield had shut down the Danes in the opening leg in Parken Stadium but had allowed Eriksen the freedom to prosper in the second half. 
The Spurs attacker struck a hat-trick in the second leg, exploiting Ireland's ragged second half shape to kill off the tie well before the final whistle.
Hareide, who subsequently led Denmark to a last-16 exit at the World Cup in Russia, said he hasn't spoken to O'Neill since his puckish post-match comments last year. 
In a more diplomatic frame of mind ahead of tomorrow's encounter, the Denmark coach reminded his listeners that Ireland might have gone two goals up early on.
"I haven't spoken to Martin. In the second half especially, I don't know if the (Irish) players were tired, because we got a lot of space for Christian. Not so much in the first half.
"It looked like they more tired than us in the game. We should also remember that in the first half, after they scored to make it 1-0, they also had a chance to make it 2-0.
"So, it's small differences in football and you need to take the opportunities.
"But during the second half, Christian got a lot of space to play. They changed their formation a bit in the second half, that might have been the reason I don't know."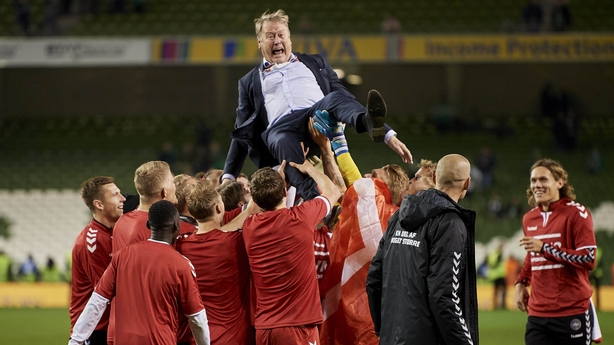 The Norwegian is expecting a stiffer encounter on Saturday, acknowledging that Ireland are "normally" difficult to play against. (It was after the suffocating first leg goalless draw in Copenhagen that Danish defender Thomas Delaney compared playing against Ireland to "opening a can of baked beans with your bare hands.')
"Normally, it's always difficult to play here. Ireland is a team who is well organised and work hard. They work hard every time. 
"Normally, they are hard to beat and hard to breakdown. I think the attitude and the spirit is the strength of the Irish side. And we expect them to be at their very, very best tomorrow because they are probably seeking some revenge for the game in November."
"He's a good player. There's no doubt about that. He's an important player for us. But we haven't focused that much on the fact that he's been away. I think it's important to focus on the players we have. We just have to try and fill that role or else all play a different way without him.
"I think we've shown we have a lot of good players in Denmark. The team is working well for each other. I don't think missing Christian will be any kind of excuse after the game." 
Denmark will run out at the Aviva Stadium boasting an enviable record in competitive matches, aside from their World Cup exit on penalties at the hands of eventual beaten finalists Croatia, and topping their Nations League group is the next target.

Hareide added: "Take away the penalties against Croatia, we have 20 games unbeaten.

"If we win tomorrow, we are definitely looking to top the group, that's for sure - but we know the difficulties. Games against Wales and Ireland will be even matches and we are aware of that.

"That's our attitude. We know it's going to be tough and tight, and this is also a chance for the Irish team to be a part of the race for the top, so we expect a tough game."