Jeff Hendrick has revealed he sat down with Roy Keane in the thick of his latest controversy as he attempts to learn all he can from the Republic of Ireland assistant manager.
Keane found himself in the limelight once again last month after an X-rated version of his summer bust-up with Harry Arter and Jonathan Walters was made public, leaving some commentators questioning the former Manchester United skipper's suitability for his role as Martin O'Neill's number two.
But amid all the fuss, the former Ireland skipper took Hendrick to one side to talk him through his performance in the 4-1 Nations League defeat in Wales, and the Burnley midfielder insists he relished the opportunity to pick the 47-year-old's  brain.
Asked how he found Keane in his dealings with him given the most recent furore, Hendrick said: "I enjoy it.
"After the last game, we played Wales and there were a few clips that I didn't do well in. I sat down with him and he talked me through it and helped me, and I tried to put that into practice in the Poland game.
"Personally, I thought my performance was better [against Poland]. I'm sure he did it with a few other players and the team's performance was better as well, so we'll keep sitting down and picking his brain.
"He played in the same position as I do, so it's always good to do that."
In the meantime, Keane and Arter have resolved their differences and the Bournemouth midfielder, who is currently on loan at Cardiff, is back in the squad for Saturday's Nations League clash with Denmark and Wales' return trip to Dublin on Tuesday.
It is a double-header which is being viewed by some as a watershed for the management team with Ireland's last two competitive fixtures, a 5-1 World Cup play-off defeat by the Danes and last month's reverse in Cardiff, having set alarm bells ringing.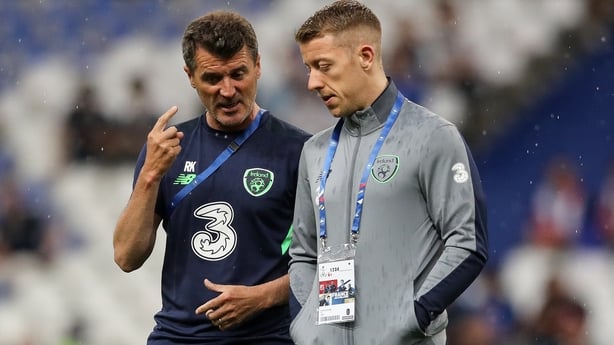 Denmark were inspired by hat-trick hero Christian Eriksen when they romped to victory at the Aviva Stadium in November last year after drawing 0-0 in Copenhagen three days earlier, and his absence through injury this time around is a boost.
O'Neill said: "We chased the game and got picked off in the match, and we had a world-class performance from a world-class player, who simply was sublime on the night and played very well. In the end, we were well beaten in the match.
"At the same time, they'd look at some of the players that we have missing, players who did brilliantly for us - a world-class player and our captain Seamus Coleman, and of course we haven't had the services of Robbie Brady and James McCarthy for some time."
Hendrick remembers that night only too well, but is grateful for an opportunity to put things right on Saturday.
He said: "Everybody was hurting - we were, the fans were. That's the way it was, that's the way the game turned out. It wasn't a good night.
"But we have a lot of new faces in now. Everybody's worked hard, everybody's training, everybody's looking bright and up for the game."