There are numerous examples of passion for football stemming from the troubles at Bray Wanderers and Limerick and they come from players, but also elsewhere.
The Seagulls' John Sullivan spoke eloquently with Tony O'Donoghue last week about having to pay for his own operation, when apparently told by his club they could not fund it. A player with a low-profile, nicknamed "Truck", did not seem a likely candidate to embody the mood of an entire community of the game, but it was startling.
He had a message to convey, an important one given a lack of wage for almost two months, but at the end of the interview an expressional change broke out for the warmth he still had for Bray and that he might play for them again.
He said they hadn't upset him, apart from not getting paid. It seemed impossible that a player so poorly treated could have the sentiment. That was not planned. 
A second example was the closing stages of Soccer Republic on Monday. As Peter Collins read a statement that Bray had been thrown of the IRN-BRU Cup, a competition that lacks all of the sweetness of the sponsor, Stuey Byrne and Alan Cawley had to react. There could be no rehearsal.
The statement was just minutes old. Byrne let out a gasp of frustration and disbelief, while Cawley sat coiling further and further as he awaited his turn to speak, before labelling the sanction "a joke" and having to be stopped by the presenter as they ran out of time. By that stage he looked fit to jump off the couch.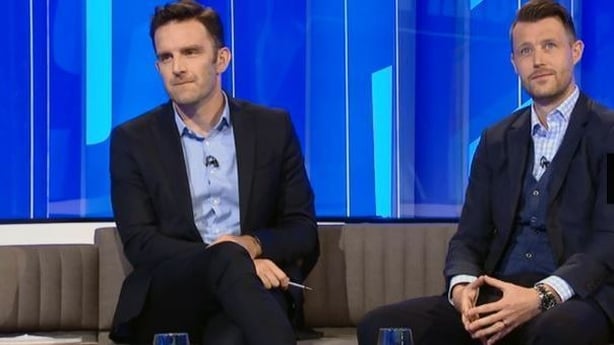 That, again, was not acted, but summed up an amazement of how did the programme have to end with talking about being removed from a largely Scottish competition being a punishment for leaving a group of men wageless for weeks on end. 
An interview with Fran Gavin on Saturday Sport drew much criticism for his performance, but there was some valid points made by the competitions director for the FAI. Licensing was needed when the FAI took over the running of the league. It did work. The takeaway lost among it is why Irish football remains so close to the same point of when the process started. 
We need your consent to load this SoundCloud contentWe use SoundCloud to manage extra content that can set cookies on your device and collect data about your activity. Please review their details and accept them to load the content.Manage Preferences
A handful of clubs can operate at a level where they are a fully functioning professional outfit. Dundalk, for example, had a mid-season warm-weather break abroad for their full-time squad to prepare for the Europa League qualifiers.
They have wealthy owners who took over after the club earned millions from their success in the competition and are run to a high standard by an experienced chief executive. They recently paid a five-figure sum to bring Patrick McEleney home on a three and-a-half year contract 
However for the majority, the life of a senior club remains week-to-week, still just hoping to meet the next wage cheque.
It could be seen as bad luck for the FAI that problems have arisen at two outfits at the same time.
Internal conflict in Bray has led to their issue, Limerick's owner simply can't fund their budget any longer after lots of investment, but the symptoms run deeper in that so many years on from the governing body taking control of league, it still generates nowhere near enough money as a whole to make it sustainable as an entity. 
Gavin stressed the progress made on moving underage football focus to League of Ireland as a major plus.
But it is a bare minimum, and necessary in order to develop players for international football and give them a senior professional pathway. The benefit the League of Ireland has given the Republic of Ireland team is phenomenal.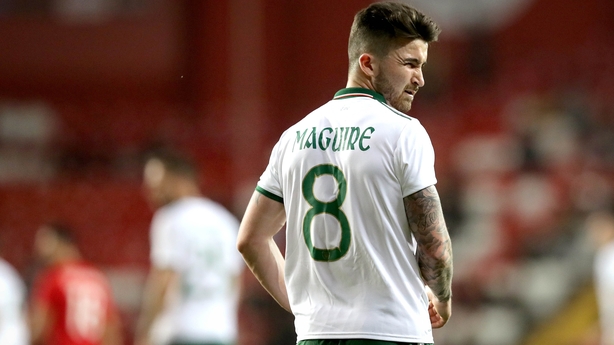 The other pluses he spoke about were the Dundalk vs Cork rivalry and positive European results. Both clubs are thriving and will get bigger and better. They too were helped from their knees by the FAI, but created their own success in the aftermath.
It would be completely remiss to not mention the assistance the FAI gave to some clubs when close to hitting the wall. That was only going to be stage one of the growth of the League of Ireland, however. The next is creating an environment where all can prosper and that is not going to be solved by low-level funding. 
Damien Delaney signed for Cork from Premier League side Crystal Palace, a signing which was not made possible because of the €110,000 for winning the league last year, but the €1.1m the Rebels will take home if they win a European tie this year.
There was big investment in the early years of FAI-rule. Marketing employees were fully and then partially financed, before eventually funding was removed.
The prize money, which had been slashed, was increased two seasons ago, only on the back of selling match rights to a company to distribute to bookmakers to satisfy a demand in the market. The money was distributed equally. 
UEFA provide the FAI with sizeable funding for underage teams, which again is distributed, as otherwise clubs simply couldn't afford to run up to five teams a weekend. UEFA's contribution is €825,062, while the FAI this year introduced a €250,000 grant to be split between 20 clubs. 
Put together, it's a valuable sum and breathes life into a club where they can be proud to develop their own players, keep pitches busy, but yet again you wonder where and what would it be without the European football body. 
Cork City and Bohemians have been given funding to employ staff under a "more than a football club" scheme. 
The project, which is jointly run with the Welsh social enterprise Vi-Ability and funded by the European Regional Development Fund, offers a community fund. Clubs were invited to apply, 11 did, and two won out.
The Rebels and the Gypsies are provided with funding for two full-time and one part-time staff member. Sadly it can be likened to a family of 20 feeding two of their starving members when some food arrived from an outside source. 
Gavin said at the time: "It's an important initiative and hopefully we'll be able to extend it out to all the clubs. That's the plan we'd have long-term. But these two clubs, along with others, have shown they don't just talk about stuff, they go out and do it."
That today comes with a dose of irony. 
It is a theme of where very little of it feels like true FAI-giving, and so much of it feels like existing not living. 
Keith Long wrote in the Bohemians match day programme last week about a major flaw at his club. Bohs, after trying to win big with their own property and crashing, have had to embrace poverty.
They have done so in a manner that is an example to all. From selling a soul, they took it back by using their foibles and marketing themselves into a superb Friday night out, with bars full of noise and stands even louder.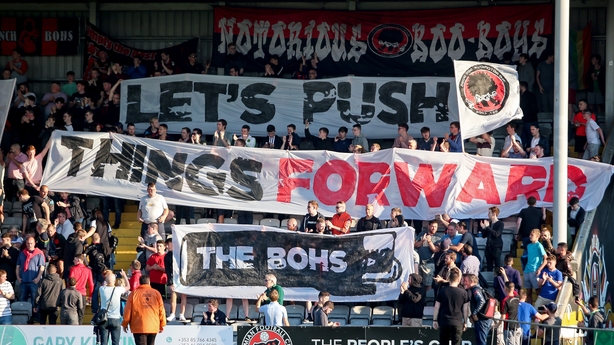 The nostalgic feel to the stadium has become that bit more real with the club displaying heart and soul, assistance in their local area, hungry players, imagery around the stadium and tapping into the culture that was among their support. That fan base has grown.
Long, however, had to write about volunteers trying to maintain their pitch and appealed for the current watering system and pitch staff to be improved upon. He rightly praised the volunteers, but it needs more professional work.
As the game went on, the hard and patchy surface made it a poor watch and tricky for players to pass the ball. The Bohs manager appealed to the local council to help, but the point is that the great Dublin club cannot afford to get a good system to water their pitch. 
When clubs can only afford to pay 42-week contracts on a part-time basis, there is no budget for watering facilities, and that sucks some of the life the Bohs board have put back into the club. The FAI have partnered with the council to buy the stadium, but that is some time away from starting, never mind finishing.
Long's point was he does not have the luxury of waiting for things to change. It is damaging his team and the product. Bohs have done so much right, got their house in order, secured that funding, but unless they become one of the four European qualifiers, it is tough to see the next phase of growth. 
The same season-long contracts are the reason for fixtures being jammed into a short space of time, because those without European riches are barely making ends meet and cannot fund longer deals. 
But the main problem right now is that the passion of Sullivan, Cawley and others is not as obvious in those that run the FAI.
That is hurtful to a community where you rely on a volunteer ethos, the same group Gavin praised so strongly in that interview. 
His answers to Joanne Cantwell were like reading from a manual that offered nothing in the way of "we should be doing better" or this is a wake-up call.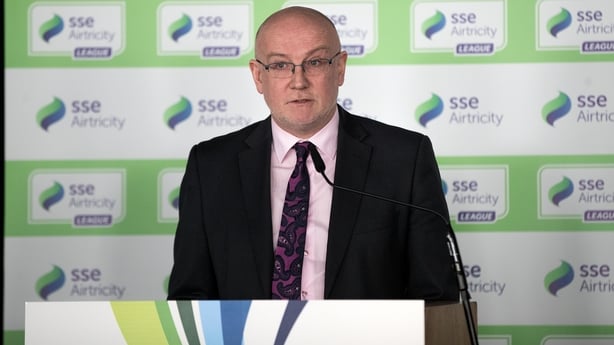 Gavin could not bring himself to say by now there should be a better climate for senior clubs to live a steadier life and be on a path to sustainability.
It felt like there was some pain in his voice at players going without wages, but the sympathy didn't turn into an admission of any fault or that the FAI would try more to create a brighter future for all. 
Years down the track, the grand plan to turn the league into a thriving product looks to have failed, yet the answers stay the same around the few things that are good. 
And last night, to read a group of players struggling to pay bills on the verge of strike would not be playing a lower league or Under-20 Scottish team this September, all because there wasn't a more appropriate sanction to hit their club approaching rock bottom, was one more insult. 
When 20 per cent of the top division of the most beneficial league to the future of our international team are on the verge of saying 'we will not put on boots any longer', it goes beyond the functionality of club licencing. 
It is about better feeding the same hopes and desire of those passionate about the League of Ireland and changing stock answers into more presence and stronger investment. 
Sullivan said after his interview with RTÉ Sport: "There comes a time in one's life when they have to make a stance or a sacrifice in order to create a better environment and future for the next generation." 
That message has been sent to the FAI in this saga. The future for Irish football is not a change of licencing, but signing up to a licence of change.