Republic of Ireland defender Matt Doherty is hoping that playing in the Premier League next season will help him challenge for a starting place in the Irish team.
His side, Wolverhampton Wanderers, were promoted to the Premier League after winning the Championship in April.
Earlier this year, Doherty made his senior debut off the bench during the friendly against Turkey. On Monday he came on late in the defeat to France in Paris.
With Seamus Coleman back from injury the competition for the right back position is intense.
"Seamus has been playing in that position, he's obviously a top class player who has been playing in the Premier League for years,"  explained Doherty.
"I've a lot of catching up to do but I'll give it my best shot. I've been in quite a few squads lately even though I'm not playing I'm fortunate that I am in and around it I guess, if I can solidify my place next season in the Premier League that's the main thing for me to do."
Doherty is also comfortable playing as a left back but his focus is getting his place on the right.
"Who knows what will happen I might be playing well enough to get in. I'm not thinking about what side I should on, I'm a right back so I'll look to challenge there."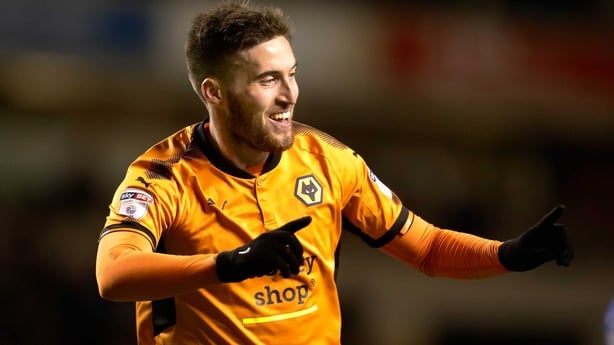 "I have played left back but there are three left backs in the squad now I have to respect the fact that they are left backs and I am not a left back.
"If I was put there I would happily take up and play. At the end of the day my position is right back and I will challenge as much as I can, there are people in the squad who are left back and they will get first choice ahead of me."
Wolves are back in the Premier League for the first time since 2012 and Doherty will relish the chance to test hmself against some of the best in the game.
"I'm looking forward to seeing if I can hold my own against some of the best players in the world and do my own thing too.
"I want to see if I can play and cause some problems, that's the exciting bit to see where my game is at."