Republic of Ireland boss Colin Bell said he'll be bursting with pride when Arsenal pair Louise Quinn and Katie McCabe walk on to the Wembley turf for the Women's FA Cup final, and admitted they'll be living out his boyhood dream.
Defender Quinn headed the winner against Everton to send the Gunners into the decider, while McCabe came off the bench for the last 12 minutes of that cagey semi-final.
The Irish internationals will face Chelsea this Saturday (5.30pm) at the iconic venue, and Bell will be there to cheer them on.
"I haven't been at Wembley since 1981," he said. "I'm a big Man City fan. It was City against Tottenham in the FA Cup final. It was a draw actually and I didn't go to the replay.
"I called Katie last week and said to her, 'you know that I'm English?' She said 'yeah yeah of course'. I said, 'well every English schoolboy has the dream of playing at Wembley Stadium in the FA Cup final, and you and Louise now have that chance'. It was just to put it into perspective what an event this is going to be.
"Last year it was Meghan Campbell (who was brilliant in Manchester City's 4-1 defeat of Birmingham in the final), and she had a fantastic game.
"I'm hoping both girls will start. Louise is probably playing the best football of her career at the moment, scoring that decisive goal to get them there.
"I'm going to be so proud of them. It's a massive day for them and a massive day for women's football."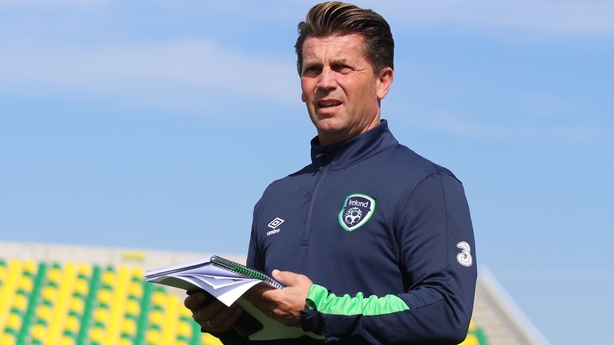 Bell plied his trade with Leicester City and Mainz as a player and has worked with some of the best coaches in the game, including Liverpool manager Jurgen Klopp.
He led Frankfurt to Women's Champions League glory back in 2015 and has extensive experience of working on the continent. Seeing Irish footballers broaden their horizons is, he believes, healthy, but the Englishman was also keen to talk up the growing stature of our own Women's National League.
"I can't force my players to go to England, to Germany, France or the USA," he said.
"If somebody wants to go that way, fantastic, I'd obviously support that. If the girls want to stay here and play for whatever club it is in the Women's National League, that's also fine. But we need to restructure their weekly plan.
"That's what's happening at the moment. I'm pleased with the relationship I have with the coaches of the National League teams. We have good communication.
"I can't achieve anything here without the support of the Women's National League coaches and of course the coaches of the clubs abroad.
"That is the position as a national team coach."