Wigan manager Paul Cook described unsavoury post-match scenes as "not correct" after the Latics' stunning FA Cup victory over Manchester City was soured by a pitch invasion.
Sergio Aguero was involved in an altercation with a fan and lashed out as hundreds of home supporters ran on to the DW Stadium pitch following Wigan's 1-0 fifth-round victory given to them by Will Grigg's 78th-minute goal.
Aguero had to be restrained while visiting fans were seen tearing up advertising hoardings and throwing them on to the pitch.
Cook said: "It's not correct, but I haven't seen these incidents so I'd rather not give an opinion, but players' safety is paramount for everyone."
Pep Guardiola was also back in the locker room prior to the Aguero incident and said he had not seen it.
"It's safer when the fans are not there, but sometimes it happens," he said.
The Football Association is certain to review the footage and Aguero could find himself in hot water.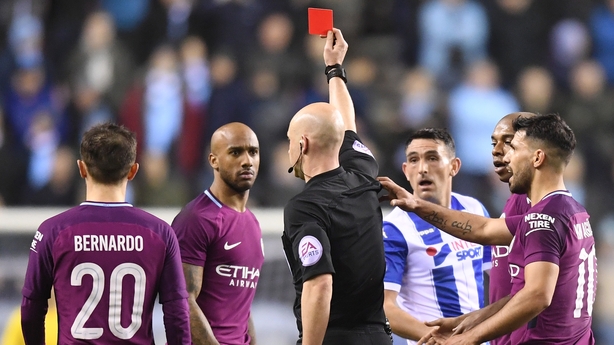 It was a fiery encounter, with the big flash point during the match coming in first-half injury time when Fabian Delph was shown a straight red card after sliding forcefully into a tackle with Max Power and catching the Wigan player with his studs.
Referee Anthony Taylor initially pulled the yellow card out of his pocket and then appeared to change his mind, with Guardiola reacting furiously.
He was involved in a heated exchange with Cook in the tunnel heading in for half-time, but both men played down the incident afterwards.
Guardiola said: "Nothing happened in the tunnel, nothing happened with my colleague. It was just please stay in your position, that's all, and then finished."
The City boss has called for better protection for players from dangerous tackles after some strong challenges and, with the boot on the other foot, did not change his tune.
He said of Delph's sending off, which was deemed harsh by many pundits: "For me it's an unnecessary action. The referee decides what he decides. It can be a red card. We have to learn."
Cook was reluctant to go into the incident or its aftermath, saying: "I think we should speak about the game. We'd all have different opinions. There's a lot made of tackles. I felt at the time it was a straight red. I don't think Pep and his bench thought it was but that's football. We're never going to agree."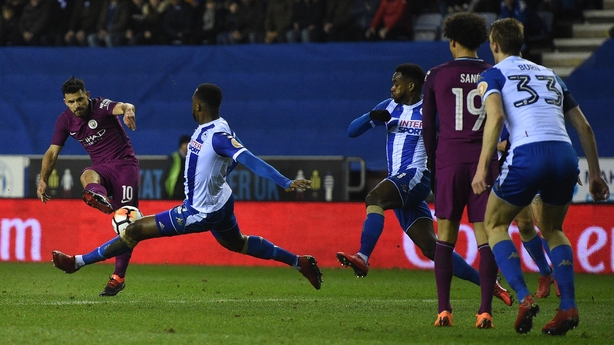 The result, which was even more unexpected than Wigan's FA Cup final triumph over the same opponents five years ago, marked the end of City's bid for four trophies this season, and Guardiola played down the significance of the red card.
He said: "We played good in the second half even with 10 so the influence in terms of the way we played wasn't too much. Of course with 11 it's easier. We conceded one shot on target in 90 minutes and we lost. Football is like this.
"Of course we are sad and we want to go through because the FA Cup is a nice competition and you want to go to the quarter-finals, play at home against Southampton, but football counts what happens in 94 minutes.
"They score a goal, we were not able to, so that's why they deserve to go through. We congratulate Wigan for their victory."
Wigan had just 17 per cent possession and four shots compared to City's 29, and a hoarse-voiced Cook said of the final minutes: "You just shut your eyes and pray.
"We knew a lot of things had to go right on the night against such a quality team. We had to dig in, we really did, and the lads did that in abundance. As a team it's an outstanding night for us, it's one we should enjoy."
It is the third time in six seasons Wigan have reached the quarter-finals, and they must now attempt to balance the excitement of a home tie against Southampton next month with trying to get their League One promotion push back on track.
Cook said: "When the draw was made, no one texted each other, it was like we weren't in it. Now we play Southampton at home. I'm sure Southampton are as shocked as we are because they were probably thinking how disappointed they are going to the Etihad.
"It's a fantastic game for everyone. You're a game away from Wembley. What an occasion it will be. We have to concentrate on the league now, the FA Cup becomes a massive distraction, but we're in it."