Brendan Rodgers believes Celtic have set themselves up nicely for the second leg of their Europa League last-32 clash with Zenit St Petersburg after a 1-0 home win over the Russian side.
Callum McGregor's stunning late strike in his 150th appearance for the Hoops, after taking a pass from substitute Charly Musonda, gave the Scottish champions a deserved advantage for the return game next week.
The Parkhead manager said: "We played very well. We know it is going to be a difficult game in the second leg, as it was in the first game.
"We will reflect on the game and see where we could be better. But what we know is that we have put ourselves in a good position.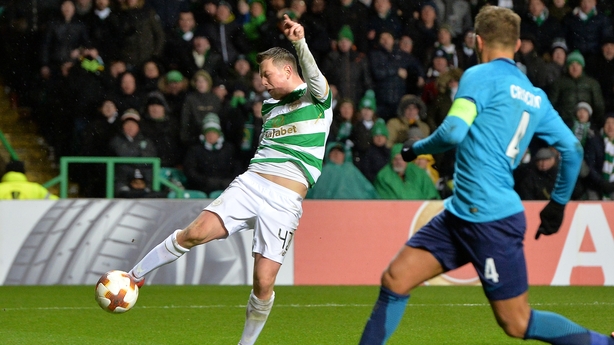 "To get the goal is important and equally important is to get the clean sheet because Zenit will have to come after us a little bit more and that opens up the space on a fantastic pitch, when we know we have speed and creativity in the team.
"We know it will be a real good test for us like tonight and we look forward to the second leg."
Rodgers believes Zenit's need for a goal next week could play into Celtic's hands.
The former Swansea and Liverpool boss said: "Like all of these games, if you can keep a clean sheet that is important.
"The stability the team had, they concentrated and organised themselves very well and that is important.
"To then get the goal... we know that we can score goals and they probably need to come out a little bit now to chase the game, and of course that can give us more space and opportunities to score.
"But like the first game, it is going to be tough game but we have given ourselves an opportunity."