There was a total contrast inside the Parken Stadium within the space of two hours; the spine tingling and uplifting atmosphere that greeted the home side as they entered the arena was replaced by downbeat and borderline disgust volleyed at those same players as the team traipsed off following the 0-0 draw in Copenhagen.
Player performances were scrutinised while the manager was criticised for his approach to the match against Ireland.
The Irish team, conversely, were clapped and cheered throughout by the travelling faithful, some players even posing for selfies with the front-row supporters, perfectly positioned close to the players' tunnel.
But leaving loyalties aside for a moment, the Danish reaction must beg a serious question of what their supporters and media expect from their team.
Age Hareide's side took the game to Ireland from the start and bossed the match, virtually unchallenged right until the mad minute before half-time when Cyrus Christie almost gave Ireland a shock lead.
Denmark were in total control. The midfield three of Christian Eriksen, Thomas Delaney and William Kvist were running the show as their Irish equivalents were chasing shadows, unable to get a foothold in the game.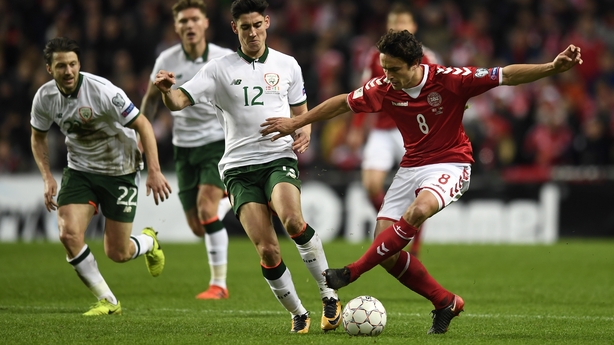 Adding to the Danish attack, Jens Larsen was causing real problems up the left flank, while even captain Simon Kjaer was pushing forward from his centre-half position, creating attacking options for the home side.
The chances, as expected, arrived and were only thwarted by an in-form Ireland keeper as Darren Randolph saved first from Larsen and then Andreas Cornelius.
On any other day, Pione Sisto would have stuck that rebounding Eriksen effort into the back of the net.
Denmark should have been in cruise control by the time that the Irish team did manage to get into the game 15 minutes into the second half.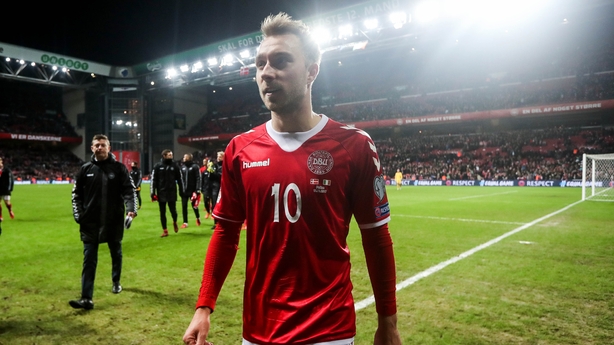 The home coach's only real mistake of the game thus far was probably starting with two target men up front leading the Danish attack.
Shane Duffy and Ciaran Clark relish such challenges and were rarely threatened by either Cornelius or Nicolai Jorgensen, despite both big men showing good touches on the ball, linking well with playmaker Eriksen sitting in behind.
And the manager's mistake was emphasised when he finally threw Yussuf Poulsen into the mix, the RB Leipzig man causing immediate concern in the Irish defence, a trend which continued until the last minute when it was Poulsen himself who was denied by yet another Randolph save.
So when Martin O'Neill was asked at the pre-match press conference whether Ireland enjoyed a psychological advantage over the Danish going into the Dublin decider at the Aviva tonight, the manager was correct in his assessment that Denmark should have every right to feel optimistic about their chances of reaching the World Cup.
"No I don't think they're damaged at all," said O'Neill. "Their manager said beforehand that if they come out with a 0-0, he wasn't concerned about going away from home.
"I think Denmark will feel they are capable of doing that. I don't think they are psychologically damaged in any way."
If Denmark are in the right frame of mind, they can take a similar approach to this game and taking on a more attack-minded Ireland should suit their style, as they should be able to find a bit more space going forward.
Of course, they will certainly know that they are going to have to fight for everything if they are going to get through to the World Cup.
And Delaney's comments about Ireland and the tin of beans shows that the Irish style has certainly got inside their heads.
A positive start for Ireland might break the Danish spirit but their experienced players should see them fight this one out until the death.
Denmark XI (possible): Kasper Schmeichel; Peter Ankersen, Simon Kjaer, Andreas Bjelland, Jens Larsen; Thomas Delaney, William Kvist, Christian Eriksen, Pione Sisto; Andreas Cornelius, Yussuf Poulsen.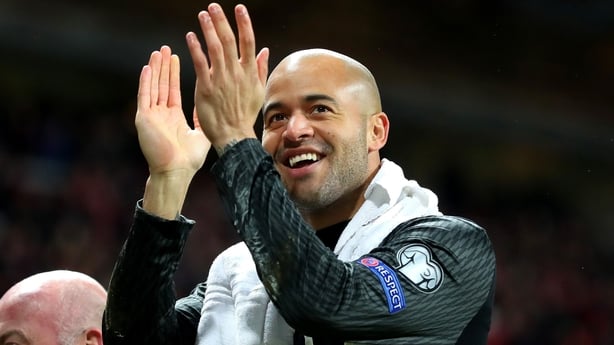 Goal concern for Irish World Cup hopes
The Ireland manager knows that his goal led a charmed life on Saturday night and the realist in O'Neill would accept that there is a very good chance that Denmark will score tonight.
His stingy defensive four and keeper Randolph might have something to say about that, but if Denmark do manage to hit the back of the net at any stage of the contest, it will mean that Ireland will need to score at least two goals to progress.
Ireland played five times at home in the qualifying campaign yet only managed four goals, three of which came against Moldova and Georgia.
So, in essence, Ireland scored once in the three big games against Serbia, Wales and Austria, and that should be a real concern.
O'Neill again spoke of his lack of a natural goalscorer but the manager surely expected goals to come from other areas of the pitch throughout the campaign.
"You have to treat the game on its own merits," said O'Neill. "You can't look at the past now and say well we didn't do this, and we didn't do that.
"Some of the games we might have scored more goals but we're not prolific.
"We have to find the net and we think we're capable of doing it. It won't be easy and it's a tough match for us, a really tough game. "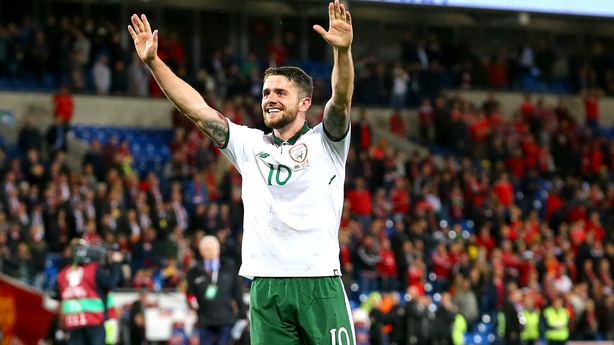 No set-piece joy despite firm focus
The Ireland manager places enormous importance on the set-piece aspect of the game and spends lots of time working on both attacking free-kick and corner strategies as well as defending opposition efforts.
So it must bemuse him that Ireland have yet to score a goal from a set-piece throughout the entire campaign, considering Robbie Brady's ability to deliver the perfect ball and the fact that players like Shane Duffy and Ciaran Clark always pose a threat in the opposing penalty box.
O'Neill could not offer any explanation as to why Ireland have yet to be rewarded, other than stating that other teams work on set-pieces as well.
"The whole idea of taking set pieces is that you are in control when you're taking them and you're in less control when they are being forced against you.
"We might have a plan to score a goal and one to try not concede from a set piece but the other teams are doing exactly the same.
"The best teams in the country don't score from every set-piece, the best teams in the country concede goals from them. So there are two elements to it.
"We'll try to be a little bit better if we can but, as I mentioned, we're not prolific goalscorers. But we have to find the net and maybe a couple of times."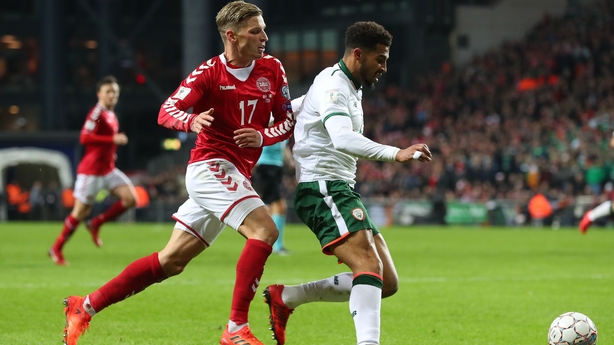 Coleman close but Christie deserves plaudits
There was a welcome sight at Abbotstown at training on Monday morning as the Ireland skipper was spotted togged out in training gear.
Coleman is, of course, over in a supporting role this week, yet signs are positive that the Everton man is on the right side of that horror leg break and should hopefully be back in competitive action early in the New Year.
But in Coleman's absence, Cyrus Christie has gone about his business quietly, yet most effectively as the Middlesbrough man has barely put a foot wrong throughout the games which he has deputised for the skipper.
Christie's mid-summer move to 'Boro has proved beneficial for the player and his performances in the green jersey have perhaps gone unnoticed.
Always looking to play on the front foot, Christie was one of the very few Irish players to take the game to Denmark on Saturday and his battle with Danish left-back Larsen should again prove most entertaining.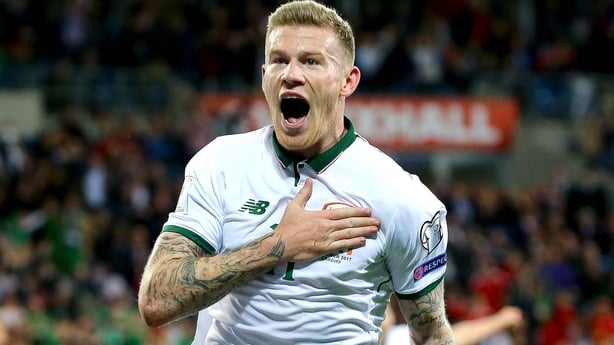 Who will put up their hand to send Ireland through
Two years ago, it was Jonathan Walters who stepped up in the play-off, bagging a brace in the home fixture against Bosnia to send Ireland on their way to France for Euro 2016.
Throughout this campaign, James McClean has proved the talismanic figure, while Daryl Murphy has also chipped in with three goals.
But following on from the exploits in France, a lot more was expected from certain players in this campaign, most notably Robbie Brady and Jeff Hendrick. 
While the latter grabbed a goal way back in the opening away game in Belgrade, neither have displayed the form that they showed in France.
And while the manager would not concur with the observation that Brady has not hit form on the international stage, you get the impression that O'Neill expects one of his Euro darlings to come good tonight.
"Some players maybe in certain games haven't played as strongly," said O'Neill.
"Robbie, Jeff, I think all those boys who forged great reputations in the Euros know that but they should take something from it.
"While every minute has not been glorious for them, they are still capable of doing it."
Watch Republic of Ireland v Denmark live on RTÉ 2 and the RTÉ Player from 7pm, commentary and analysis on RTÉ Radio 1 and live blog on RTÉ Sport Online from 7pm