Ireland boss Martin O'Neill revealed his players practised penalties in anticipation of tomorrow night's do-or-die Dublin clash going right down to the wire.
After a goalless draw on the play-off first-leg meeting in Copenhagen, the Danes come to the Aviva Stadium knowing an away goal would require their hosts to score twice to snatch a ticket to Russia next summer.
That could see O'Neill's men playing almost as cautiously as they did on Saturday night, and the manager admitted the prospect of a shootout has been considered.
"We practised penalties," he said. "Some of the lads were practising... it's on the evening isn't it? That's the most important thing.
"I remember that great (European Cup) final between Liverpool and Roma. A couple of great Brazilian players, the best players in the world, downed tools and didn't take a penalty. At least we have people who want to take them and I think that's half the battle.
"I think you have to have to cover all eventualities. It only takes a second to score a goal.
"The minute a goal is scored in a game that eradicates a lot of things; it eradicates extra-time, penalty kicks and things like that. We may need a couple of goals in the game as well too because to keep out Denmark for two games might be tough."
A jam-packed Lansdowne Road will have its part to play too if Ireland are to make back-to-back major tournaments for the first time in 27 years.
Thousands travelled to Denmark at the weekend - the majority without tickets - to support the team, once again earning praise from the local authorities for their good humour and behaviour.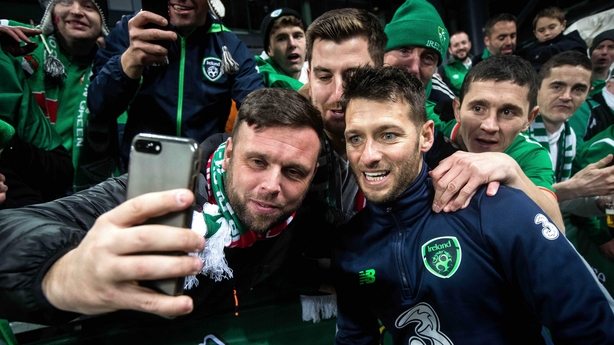 O'Neill added to that praise, and highlighted the importance of the crowd on what is certain to be a nerve-jangling night under the lights.
"I am (proud). We had phenomenal number descend upon France. I think they came with awards. The fans have been absolutely fantastic. That's a lot of people... and a lot of drinking too beforehand.
"To behave themselves in that manner is a great credit to them The fans for the Republic of Ireland have been extraordinary.
"In the last the years of competitive football, the crowd have stayed with us in a really big way.
"Of course there are moments in the game where they will get frustrated with us... but I think they realise that the side is really well meaning and the one thing that I can absolutely guarantee from the players is that they have given absolutely everything - everything, you couldn't have asked for any more.
"I think from that viewpoint the crowd appreciate that and have done for the last couple of years."
Watch Republic of Ireland v Denmark live on RTÉ 2 and the RTÉ Player from 7pm, coverage on RTÉ 2fm's Game On from 7pm, live blog on RTÉ Sport Online from 7pm