Everton boss Ronald Koeman admits his future at Everton is in doubt following this resounding defeat at home to a resurgent Arsenal.
No wins in their last five matches, just two victories in the last 13, eight points from nine games and only six league goals add up to a whole host of problems for the Dutchman.
Even Wayne Rooney's recreation of his famous breakthrough goal as a precocious 16-year-old against the same opposition and in the same Goodison Park net to give Everton an unexpected early lead could not mask the issues the Toffees face.
It was an advantage they never looked like holding as Nacho Monreal equalised just before the break with Mesut Ozil, Alexandre Lacazette - after Everton midfielder Idrissa Gueye was sent off - and Aaron Ramsey hammering more nails into Koeman's coffin.
Substitute Oumar Niasse pulled one back thanks to poor defending but fittingly Alexis Sanchez had the final say with the last kick of the game as Arsenal's eased to a first away win of the season.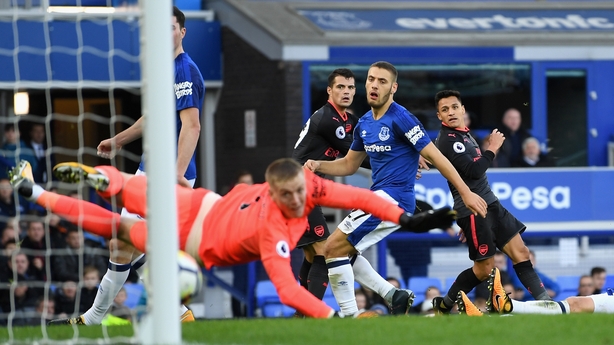 How the Dutchman, who spent £150milllion in the summer, must wish he could call on the pace of a player like Sanchez, the creativity of Ozil - both of whom are not even guaranteed to be at Arsenal next season - or the finishing of Lacazette.
The three caused problems from the third minute with the overworked Jordan Pickford tipping Ramsey's shot around the post after Sanchez and Ozil combined to cut Everton wide open through the middle.
It was a recurring theme for the England goalkeeper, comfortably Everton's man of the match, as he went on to deny Sanchez (three times), Lacazette (twice) and Granit Xhaka in the first half.
The pressure is increasing on Koeman following a fifth defeat in nine league matches.
Asked whether the heavy loss could cost him his job, he told Sky Sports: "I don't know.
"I told the players I believe in them, the commitment of the players. But if you are negative thinking - and everybody is doing that in this moment - all these kinds of decisions are not in my hands.
"That is normal because that is football. We have played nine Premier League games, against the first five of the Premier League last season, but this is not the position that is good for Everton.
"I understand that. I have worked a long time in football. First of all, I don't think it is too late (to turn things around)."