Marouane Fellaini saw red for headbutting Sergio Aguero as Manchester City retained a slim advantage in their top-four battle with Manchester United following a frantic goalless draw at the Etihad Stadium.
Fellaini's moment of madness - a clear butt on Aguero as the pair clashed following a trip by the Belgian - came six minutes from time in a tense stalemate that leaves City a point in front of their neighbours and in charge of the Champions League race.
Fellaini had been booked moments before for a trip on the City striker and was in wide-eyed and animated mood as he eventually left the pitch, a stunning denouement to a match the home side dominated without getting on the scoresheet.
Aguero came closer than anyone to breaking the deadlock, hitting the base of the post from a yard in the ninth minute, and City piled on the pressure right up to Gabriel Jesus' disallowed goal in injury-time only for United's 10 men to hold out for a scrappy point.
Jose Mourinho may have been missing the likes of Paul Pogba, Zlatan Ibrahimovic and Juan Mata but in uniting Fellaini, Michael Carrick and Ander Herrera in midfield he appeared to be acknowledging his side were outgunned.
So it proved, as Pep Guardiola's side enjoyed the lion's share of possession and opportunities, though United had chances to dish out an undeserved bloody nose when Henrikh Mkhitaryan and Herrera wasted first-half efforts.
The opening exchanges were a flurry of activity, little of it entirely effective but all of it fast, frantic and full-blooded.
There were a handful of heavy challenges and some permissive refereeing from Martin Atkinson, with Nicolas Otamendi closer than most to being penalised for a tussle with Marcus Rashford.
Physically, the England striker is no match for the Argentinian but it quickly became clear that any foot race between the two would finish handsomely in the teenager's favour.
On three occasions Rashford ate up the ground to speed past Otamendi, but as the first half progressed that began to look like the only ace up United's sleeve.
City were a better unit overall and should have taken the lead when good work from Raheem Sterling and Kevin De Bruyne teed up Aguero.
He nipped into the six-yard box and connected low with the outside of the post. A quick glance at the skies confirmed the striker's assessment of his own effort.
Yaya Toure was doing his best to puncture United's attempts at controlling midfield, at times patrolling the central areas with his long, languid strides.
At one stage the Ivorian eased away from Herrera and Henrikh Mkhitaryan with a couple of neat touches before freeing Leroy Sane, who was only stopped by a brilliant sliding tackle from Eric Bailly.
Despite struggling for fluency United still had two wonderful chances to score in the first period.
The first was a gift from Claudio Bravo, who flapped at Anthony Martial's cross and inexplicably pawed the ball back to Mkhitaryan. That the resulting shot was punted straight back at him was merely good fortune.
Herrera was just as culpable seconds before the break when City switched off defending a Rashford free-kick and he planted a free back-post header into the stands, with the goal yawning.
After the restart battle lines were redrawn - United shifting deeper and more compact, inviting City on.
Fernandinho was close to meeting De Bruyne's cross, Aguero continued trying his luck and Sane found no takers for a penalty claim against Antonio Valencia.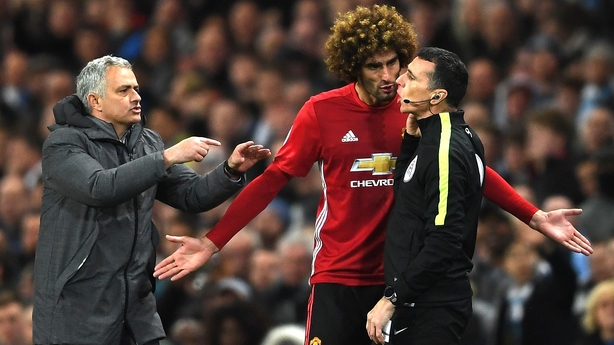 The closing stages provided gripping drama, Bravo coming off injured before Fellaini ensured an unwanted spotlight when he embarked on his shocking battle with Aguero.
One trip earned him a caution, seconds later another drew Atkinson's whistle and as the men squared up Fellaini resorted to unacceptable physicality.
Once ordered had been restored, and even then only just, City laid siege in pursuit of a winner. Aguero might have done it with a better connection from close range and Jesus did find the net from an offside position, leaving United hanging on for the final whistle