Stephen Bradley blamed 10 minutes of madness for Shamrock Rovers' implosion at Bray Wanderers on Friday night, and warned his side that only hard work will turn the tide.
Darren Meenan blasted home a fine goal in the early stages at the Carlisle Grounds after a bright opening from the visitors.
That was completely undone, however, by a subsequent collapse that left manager Bradley scratching his head.
"There's no magic formula for us, no secret."
Ex-Hoops striker Gary McCabe levelled on 41 minutes and two more before the break, from Dylan Conolly and a McCabe penalty, left Rovers reeling.
They never recovered, with Michael O'Connor's red card nine minutes from time for lashing out at Connolly compounding a miserable 4-2 defeat.
"We obviously took the lead and after that we had ten minutes of madness really and it cost us the game," Bradley said.
"We started really well, scored the goal and for ten minutes after that we didn't manage the game. We made all the wrong decisions.
"We gave away a penalty; whether it's a penalty or not, why we even give the ref the (opportunity to make) the decision... I didn't think it was a penalty. I thought it was a terrible decision but we still gave him the decision to make. It kills us.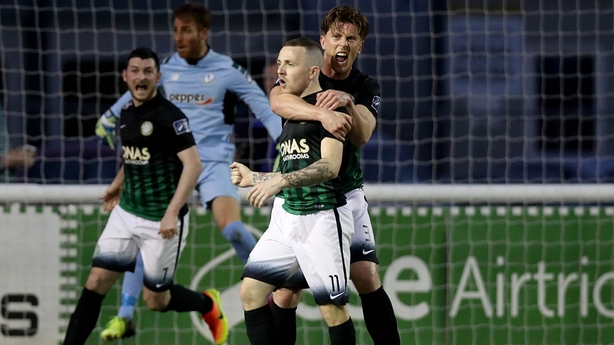 "(It was) an unbelievable decision by Mikey (O'Connor). The ball is gone out of play, there's no need for him to do what he done.
"We controlled the game early, up until we scored. After that, we stopped doing what we're good at. We stopped playing, stopped moving the ball, our shape went. For ten minutes after we scored we gave the game away."
Rovers are sixth in the table, having won four and lost six of their first 10 games. 
Next up is a clash against Limerick in Tallaght. Bradley warned only solid graft will get the team back on track and iron out their patchy form.
"We have to go back and work harder," he said. "There's no way out of it only working at it.
"There's no magic formula for us, no secret. We've been too inconsistent. We've won games and then lost or drew. That's not acceptable for us; we need to be better than that."