Jose Mourinho reminded Chelsea supporters of his Stamford Bridge successes and had to be separated from successor Antonio Conte during Manchester United's feisty FA Cup loss on Monday night.
Chelsea's most successful manager pointed to himself, then the pitch and signalled with three fingers - for the number of Premier League titles he won in two spells - after being subjected to abuse from a section of fans behind the visiting dugout in United's 1-0 quarter-final loss.
One section of supporters chanted "F*** off Mourinho", "It's all your fault" - a reference to Chelsea's implosion last season - "You're not special any more" and "Judas".
Mourinho told the post-match media conference: "They can call me what they want.
"Until the moment they have a manager that wins four Premier Leagues for them, I'm the number one.
"When they have somebody that wins four Premier Leagues for them, I become number two.
"Until this moment Judas is number one."
Fourth official Mike Jones was required to intervene as Mourinho protested and Conte took exception.
Mourinho was sacked by Chelsea for a second time in December 2015, seven months after winning the Premier League title. He was boss when Chelsea won their first championship in 50 years in 2005.
The self-proclaimed Special One was appointed United boss in May 2016 and suffered his biggest defeat in English football as United lost 4-0 to Conte's Chelsea in the Premier League last October.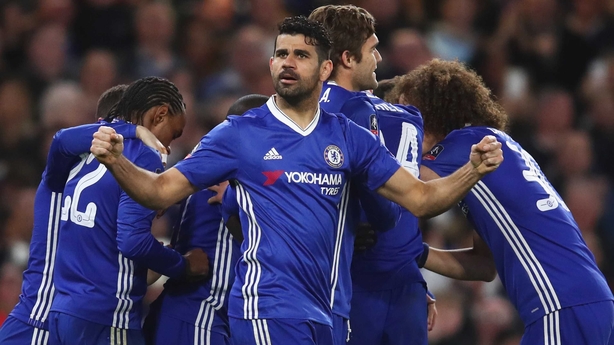 Chelsea supporters turned on some of the Blues players days later, but now Mourinho, who won the EFL Cup with United last month, is out of favour.
Chants of "Antonio" drowned out those of "Jose Mourinho" from the visiting United fans as Chelsea won courtesy of N'Golo Kante's goal.
Chelsea head coach Conte feared Eden Hazard would be seriously injured during the bad-tempered 1-0 win.
Conte called for Eden Hazard to receive protection from officials after Ander Herrera was sent off after picking up two yellow cards for tackles on the Belgian international.
"For Hazard, (for) 20, 25 minutes it was impossible to play football, because he received only kicks," Conte said.
"A tactic to play and go to kick an opponent? It's not football for me.
Meanwhile, Chelsea have been drawn against Tottenham and Arsenal will face Manchester City in the semi-finals of the FA Cup.
Despite the thrills and shocks served up by the likes of Lincoln, Sutton and Millwall, four of the Premier League's current top five are left in the competition.
The clubs boast 32 FA Cup wins between them, with Arsenal leading the way with 12.
Chelsea and Spurs met at the same stage in 2012 when the Blues ran out 5-1 winners through goals from Didier Drogba, Juan Mata, Ramires, Frank Lampard and Florent Malouda.
Amazingly Arsenal and City have met just twice before at any stage in the competition, the most recent of which was a 2-1 fifth-round win for the Gunners in 1971.
The matches will be played over the weekend of April 22-23, with the final on Saturday, May 27