Celtic boss Brendan Rodgers has emphasised ahead of his side's Champions League trip to Manchester City (7.45pm) how happy he is with the Scottish club and that he is not thinking about making a return to English football any time soon.
The ex-Swansea and Liverpool manager took charge at Celtic over the summer and they are yet to lose a domestic game under him, sit eight points clear of Rangers at the top of the Ladbrokes Premiership and lifted the Betfred Cup eight days ago.
In Europe it has been a different story, with the Hoops heading into what is their final Group C game at the Etihad Stadium tonight already guaranteed to finish bottom of the pool.
Rodgers, though, has stressed he is "living the dream" managing the "huge" Glasgow club, and that rather than regarding them as any kind of stepping stone, he wants to stay with them for as long as he can.
Rodgers - Man City game 'part of our development' https://t.co/7Xjgy7wix3

— RTÉ Soccer (@RTEsoccer) December 6, 2016
The Antrim native - whose team claimed one of their two Group C points to date when they drew 3-3 with City at home in September - said: "I could have stayed and maybe gone back into the Premier League again, but going to Celtic, it is a huge privilege for me.
"I don't see it as a stepping stone. I'm going to be coaching hopefully for another 20 odd years, and it is highly unlikely I'm going to be at Celtic for 20 years because of how the modern game works, but my intention is to be at Celtic for as long as I possibly can, to help the club grow and develop, and to take it as far as I possibly can.
"I grew up supporting the club and I'm very fortunate.
"For me, I'm living the dream, being the manager of Celtic.
"The most important thing for me is happiness - if I'm happy, I'm winning. And I don't necessarily need to be working in the Premier League to be winning.
"We'll see where the next 20 years take me, but at this very moment in time and certainly for the immediate future I'm very, very happy."
Rodgers has also said he agrees with chief executive Peter Lawwell's view that if Celtic were a club playing in the English top flight, they could be "the biggest".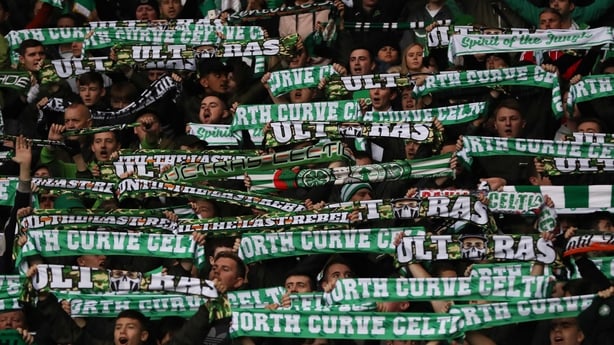 Lawwell was quoted by The Herald as saying: "If we played in a football league like the English Premier League, I think we could be the biggest.
"Because there is no barrier then; we have the whole bit so there would be no barrier to where we could go.
"We have got the profile of a big European club but we don't have domestic TV revenues. Our fundamentals are so strong."
When asked about those comments, Rodgers said: "I think it could well be. It is a huge club. What Celtic don't have is the finances.
"I think we have the third-highest average attendance in Britain. People look down on the Scottish game, but that says everything for the power and size of Celtic.
"The support base is worldwide and every player who comes to play at Celtic Park throughout history - the Lionel Messis of the world, everyone - talks about the atmosphere there.
"If you bring that foundation and, instead of maybe £2million from TV money, you can get over £100million, plus everything else that is generated by that, then you are in a different ball game altogether."
Although it is effectively a dead rubber - City are guaranteed to finish in their current position of second - Rodgers has described tonight's clash as a "big game" that is important for his side's ongoing development.
Celtic come up against a City outfit who are fourth in the Premier League after their 3-1 home loss to Chelsea on Saturday.
And Rodgers, whose Liverpool team fell just short of winning the Premier League title in 2013-14, said of his opposite number, ex-Barcelona and Bayern Munich boss Pep Guardiola: "I think it is just going to take Pep that wee bit of time to impose the game he wants.
"He really is a top-class manager, and has proven that - but the Premier League is different. He won't have had before the level of competition that's in the Premier League."