Dundalk's success shows that League of Ireland clubs need to get their own houses in order and not look to blame outside factors for their fortunes, according to Richie Sadlier.
Despite a hectic fixture schedule, Stephen Kenny's side wrapped up their third SSE Airtricity League Premier Division title in a row last night with two games in hand.
The Louth side also have an Irish Daily Mail FAI Cup final and three Europa League games in the pipeline.
Sadlier, a former board member at St Patrick's Athletic, believes some fans are prone to lazy criticism regarding the state of domestic football and says the Lilywhites have shown the way.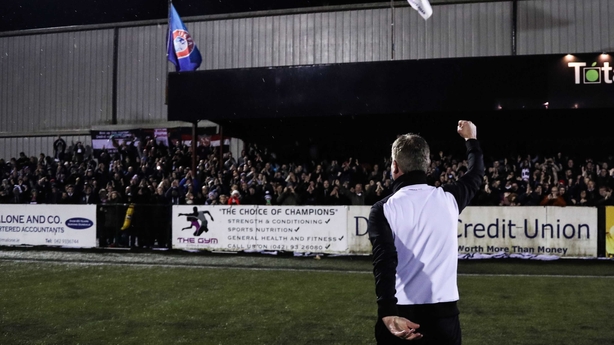 "There's a tendency in the league to begrudge," the ex-Ireland international told RTÉ Sport.
"They think the Government funding could be more, the media coverage could be better.
"There are a lot of things that people are quick to point out that is lacking in this league and that the obstacles are there.
"Ask Stephen Kenny – they are not pointing out obstacles. They are just looking at a goal, saying this is what can be achieved.
"They've set the template as to how it can be achieved and they've done it.
"All the other clubs can now look at this lot and see what's possible because this hasn't been done on the back of a load of money being pumped into the club. That's not the case.
"All the other clubs can't sit there and go 'we would have done that if we had their backing'. They didn't have the backing; a few years ago this club was on its knees."
Fellow RTÉ pundit Stuey Byrne agreed that clubs need to help themselves.
"People watching the league longer than me are convinced they're the greatest there's ever been in this country" https://t.co/1KAsvpLLCZ

— Soccer Republic (@SoccRepublic) October 23, 2016
The ex-Shelbourne player said: "The other clubs need to respond. Trying to advance football here has to be led by the clubs themselves.
"We're not going to get much in the way of huge financial backing from relevant different parties, it has to be led on the pitch and Dundalk are ultimately the team that are leading the way.
"We don't have huge resources in Ireland for football clubs, we don't get an awful lot of financial backing.
"It tends to be quite cyclical. One club comes out of nowhere and does it all themselves, literally grabs the rest of the league by two hands and drags them along.
"I completely believe in that model of one team setting the standard for the others to catch up."